Fans have been rooting for the transgender teen Jazz Jennings from the reality TV show 'I Am Jazz' to be able to live the life she's been dreaming about for a while. After undergoing gender confirmation surgery, she is finally in the body she always felt belonged in. 
Soon after her surgery, she began her journey to find love too. During the fifth season of I Am Jazz, she introduced her boyfriend, Ahmir Steward. Jazz said,
"I didn't expect that to happen to me right after surgery."
However, the couple has broken up, and the split happened in April 2019. Although they are not together as a couple, Ahmir still supported Jazz throughout her gender confirmation surgeries.
So, who is Ahmir Steward? Tag along as we got everything you need to know about the guy. 
How Ahmir & Jazz Met?
Ahmir and Jazz met for the first time at a Philadelphia Trans Health Conference. Later, he reached out to her after he tagged her on one of his Instagram posts. They soon made plans to meet while she was in the city.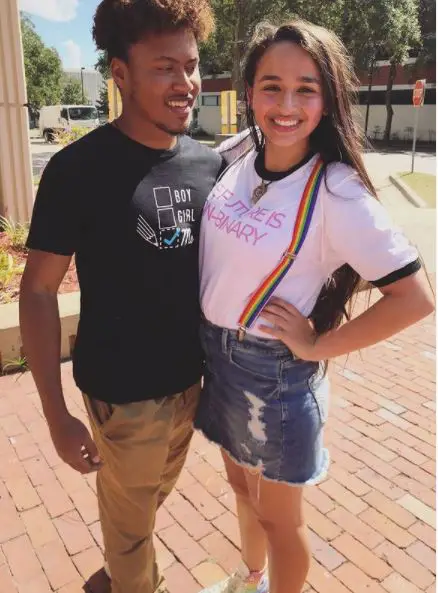 It was also said that Ahmir reached out to Jazz through the mailing address she made for her subscribers. 
However, the couple put an end to their relationship but remind friends. , on the show I Am Jazz,
Is Steward Transgender?
Ahmir, who became well known after his relationship with Jazz, made many fans think he was transgender. However, he is not transgender but is a Major Supporter of LGBTQ Rights & Feminism. 
On his Instagram account, Ahmir is very vocal about supporting LGBTQ rights and feminism. 
"I'd … like to take this time to ask all of my followers that are against Feminism to kindly do me a favor and click that unfollow button. Let's spread love and positivity this year."
Who Is Ahmir Steward?
Ahmir hailing from Philadelphia, is a reality star. He joined TLC's I Am Jazz in August 2018 and has been starring in the show since then. 
Prior to starring in the show, he worked as a packer for nearly four months and later joined TruMark Financial Credit Union as a member service. However, he only worked for seven months in the company. 
Check Out: Dance Moms Star Zackery Torres Is In The Process Of Transitioning
In October 2020, Steward started working at Walmart for a short period. Then he planned on joining the Air Force, but sadly the plans did not work out well. 
In addition, Ahir, who graduated from Maritime Academy Charter School in 2017, isn't currently going to college or working. Due to his no further plan on education and job, Jazz's father, Greg Jenning, seems somewhat concerned about Jazz. Greg said, 
 "Admittedly, I'm not sure where the commonality is and what's making this click so positively for Jazz. But ultimately, we can't stop him from coming to Florida."
Moreover, Jazz's friends also told Jazz to take it slow with Ahmir. However, Ahmir's Instagram stories revealed that he recently enrolled at the University of Southern California. 
Ahmir's Parents
Ahmir was raised in Philadelphia, the United States, by his anonymous parents. He has kept his parent's identity and information extremely low-key; however, he mentioned his father lives in Fort Lauderdale on the show I Am Jazz. 
Also, while talking on the show about his parent's approval for his relationship with Jazz, Ahmir said his father was on board, but his mother wasn't. 
"My mom is not actually as accepting as I originally thought she would be," Ahmir shared in an episode of the show. "She didn't acknowledge you for who you were. She would say 'he' and 'that's a man because he was born a man.'"
He added, 
"The most hurtful thing my mom said was that Jazz was still a man and that I would be gay for being in a relationship with Jazz."

"[I] lost it because I'm not gay. I'm not attracted to men. And Jazz is a female, so it just didn't make sense to me."
Ahmir also talked with Jazz and said that his mother would kick him out of the house if he continues dating Jazz. 
"[My mom] might not let me back in the house, to be honest. …That's just how she is. And I'm very outspoken. So yeah, that could potentially lead to me, I guess, being kicked out of the house or whatever else."
One of the reasons for Ahmir and Jazz's breakup might be because of their parents.