Music producer Mark Ronson has tied the knot with Grace Gummer, the daughter of Hollywood star Meryl Streep!
Mark Ronson, who celebrated his 46th birthday on Saturday and announced his engagement to Streep's daughter in June. He took to Instagram to share a black and white photo from the couple's wedding ceremony with his 900K followers.
Along with a black-and-white picture, he added a note: "To my truest love...out of nowhere, you made 45 hands down the greatest year of my life. And i'm sure it took me 45 years to become the man worthy of your love. I hope I spend every one of these birthdays by your side til my last day. And beyond. Forever and ever yours ❤️❤️❤️❤️❤️❤️ (and yes, we got married) 📸 @brigittelacombe"
Mark Ronson, the Oscar winner for "Shallow," and Grace Gummer, the actress from Mr. Robot, married after a year together.
Also Read: Who Is Blake Knight? Everything About 'Teen Beach Movie' Star Garrett Clayton's Husband
Mark Ronson is the guy behind numerous mega-hits, including Bruno Mars' "Uptown Funk," Amy Winehouse's "Valerie," and Lily Allen's "Oh My God." On the other hand, Gummer, 35, followed in her mother's footsteps and has been in Mr. Robot, The Newsroom, and American Horror Story. She is presently starring with Christian Slater in Peacock's Dr. Death.
Mark and Grace have been dating since 2020 when they were first seen on a New York dinner date.
The pair, who are notoriously secretive about their personal lives, kept their wedding details confidential. However, early this year, there were rumors that the couple was engaged, and they made their first public appearance together in July at a Gucci event in the Hamptons, New York.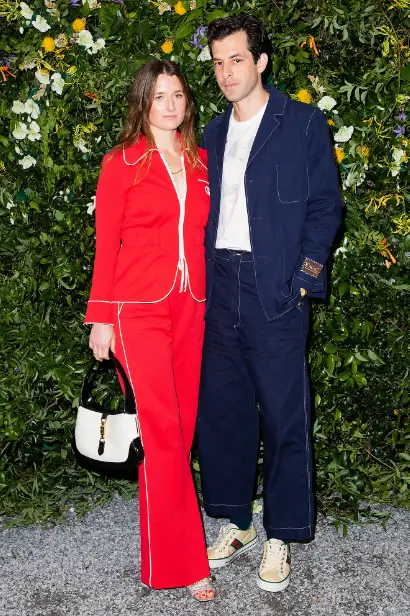 When photos of Grace wearing a massive diamond ring surfaced in May, Page Six stated that Ronson and Gummer were engaged after dating for a year.
The CEO of The Diamond Pro, Mike Fried, told Page Six Style that the stone was likely 3-5 carats and might be worth more than $100,000. On August 5, Page Six announced that the couple was planning to marry that weekend, in a ceremony that had been pared down from a bigger event due to the pandemic.
Peep This: Jensen Karp And Actress Danielle Fishel Have Welcomed Their Second Baby!
Mark revealed on The FADER Uncovered podcast that he and Grace only got engaged two months ago, also admitting that the pair have a "very corny" plaque that commemorates their first kiss, which they shared while listening to Tame Impala's album, "InnerSpeaker."
It's the second trip down the aisle for both parties: Ronson was previously married to French actress Joséphine de La Baume from 2011 to 2018, and Gummer was married to musician Tay Strathairn for just shy of a month and a half in 2019. Ronson was also previously engaged to actress Rashida Jones from 2003 to 2004.