K-pop stars BTS will release their new album called BE in November. The band had canceled their Map of the Soul ON E' live concert due to the COVID-19 Pandemic. 
BTS, a seven-member South Korean boy band, is also known as Bangtan Boys. The band comprises Kim Nam-Joon stage name RM, Kim Seok-jin, stage name Jin, Min Yoon-gi, stage names Suga and Agust D, Jung Ho-Seok, stage name J-Hope, Kim Tae-Hyung, stage name V, and Jeon Jung-kook, stage name Jungkook. 
The band was formed in 2010, making its debut in 2013 under Big Hit Entertainment.
Following the success of the first full-English song, "Dynamite," which broke YouTube records racking up 101.1 million views, the band has another new music in the house.
Big Hit Entertainment announced on their Twitter on 28th September 2020 that BTS "BE" will be released on November 20.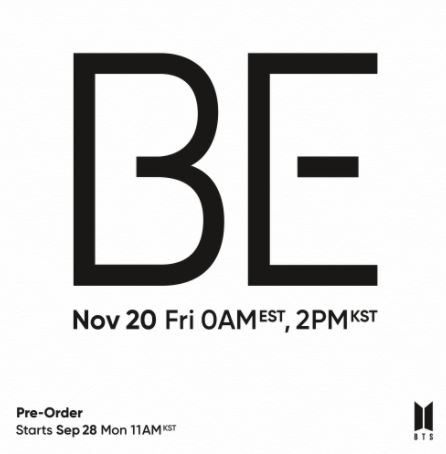 Further, the announcement said, 
"The new album imparts a message of healing to the world by declaring, 'Even in the face of this new normality, our life goes on."
In recent years, K-pop has become a global pop culture phenomenon despite having difficulty climbing the US charts in a foreign language. K-pop groups have found alternate ways (releasing songs with English lyrics) to connect with fans in the west. 
Another K-Pop: Blackpink's New Merch Is Everything About Their New Song "Icecream"
BTS also stepped out of their comfort zone back in 1990 to sing in English. Now, K-pop has faced a final hurdle as their song are played on US radio, as stations generally don't play much non-English language music.