Blackpink in your area! Well, stay tight and get ready to whoop the excitement level to get charged to the fullest.
With just a week to go until the release of the debut Korean-language album "The Album," Blackpink revealed the title of the forthcoming single 'Lovesick Girls.' 
Blackpink members have loaded up their new album with a whopping 8-tracks, starting with two pre-release  "How You Like That" and "Ice Cream" feat. Selena Gomez. The other six following are brand new: "Pretty Savage," "Bet You Wanna" feat. Cardi B, "Lovesick Girls," "Crazy Over You," "Love To Hate Me," and "You Never Know"!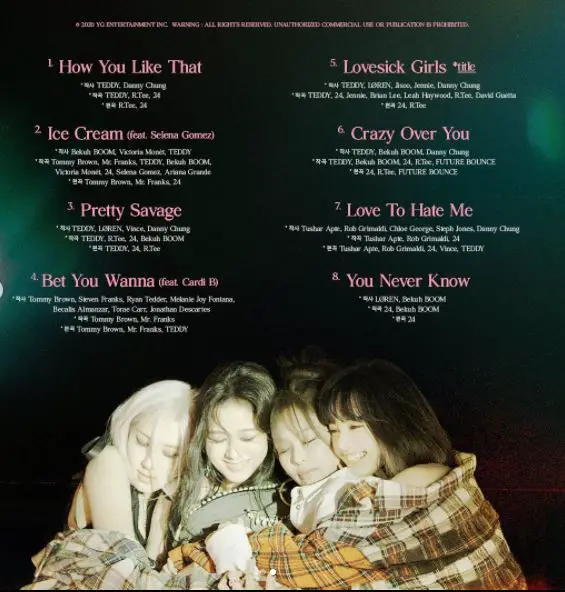 The Blackpink members Jennie, Rosé, Jisoo, and Lisa, went on their social media account on the 27th of September reviewing "Lovesick Girls" as a "title" (or main) track. Blackpink's teaser poster showed the girls leaning on one another in nighttime lighting with the song's title.
 "Love Sick," which is slated to release on 2nd October, will be the third single released from 'THE ALBUM.' 
Meanwhile, the k-pop girl band Blackpink also announced that on 1st October, a day before the release, to join them for "Comeback Live," a live streaming event at 9 p.m. ET on VLive.
Blackpink also announced a new documentary, Light Up The Sky, premiering on Netflix on 14th October. 
Blackpink Collaboration: PUBG Just collaborated With Notable K-Pop Band BLACKPINK
According to billboard.com, Blackpink is also said to launch a pair of high-profile singles, teaser posters galore, exclusive collectible merch, and a line of Blackpink dolls!