Dr. Colin Dias is a psychiatrist based out of California and is affiliated with multiple hospitals in the state, including USC Norris Comprehensive Cancer Center and Keck Medical Center of USC. 
He was also known as the husband of Married To Medicine: Los Angeles star Lia Dias. Reportedly, Lia filed for divorce on grounds of domestic violence.
Colin & Lia's Marriage Wasn't Always On The Rocks 
Colin and Lia got married on 24th May 2014. However, it was reported that the couple secretly got married in 2013 in Las Vegas. 
Before they got hitched they were reported to went through an on-and-off relationship. They share two children; Kaylin Rose born on 30th September 2015 and Colin Jr. born on 2nd November 2016. Lia also has a daughter named Kayla Nichole born on 14th June 2004 from her previous relationship. 
After almost 8 years, Colin and Lia's marriage fell apart after Lia realized that she could never become a stay-home-mom. Lia moved into one of her rental properties alone after Colin refused to send their two children with her. Kayla was also left with Colin. 
Check Out: Who Is Gail Golden? Everything To Know About The Rumored Girlfriend Of James Harden
On 17th August 2021, Colin filed for divorce and the law enforcement reunited Lia with her children. 
On 6th September 2021, the Married to Medicine: Los Angeles star Lia Dias confirmed that Colin pushed her to the ground and kicked her. She further continued to list a plethora of violent incidents that led to the divorce.
Meanwhile, Colin in his court documents claimed that Lia was "erratic and emotionally abusive" through their 7-year plus marriage. He also alleged that his wife punched him in the gut after abdominal surgery. Lia admitted to punching Colin but in self-defense
Who Is Colin Dias?
Colin Dias was born on 27th November 1972. He embraces a mixed ethnicity as his father belongs to Indian and Portuguese heritage whereas his mother is Egyptian.
He stands at the height of 5 feet 6 inches (1.67 meters). He is shorter than Lia. 
Talking about his social media account, Colin can only be discovered on Facebook. 
For education, he attended Bishop Amat High School in 1986 and graduated in 1990. Thereafter, he joined California State University, Fullerton to earn his B.A. and B.S. degree in Biological Science and Biochemistry. He graduated in 1995. 
In 1996, Colin joined Howard University College of Medicine; henceforth, graduating in 2002 with his M.D. in medicine. 
Thereafter, he interned at Keck School of Medicine of the University of Southern California. 
More From Us: Willie Garson's Cause Of Death Has Been Confirmed: The Actor Died From Pancreatic Cancer At The Age Of 57
In July 2009, he joined the USC Department of Psychiatry and Behavioral Sciences as associate chair for clinical affairs. 
After that, he worked at USC Keck School of Medicine as interim chief, Division of Child and Adolescent psychiatry. 
In 2008, Colin became a medical doctor for Psychiatric Emergency Services. 
Moreover, he has also served as Chair of, Department of Psychiatry for PACIFICA HOSPITAL OF THE VALLEY. 
As of now, he has accumulated experience of more than 20 years in the field. He has made an estimated net worth of $4 million. 
Colin has not made an appearance on Married To Medicine. Lia mentioned that Colin couldn't film the show because of contractual issues. However, every one of the show had met him, had drinks with him, partied with him, and been to their home.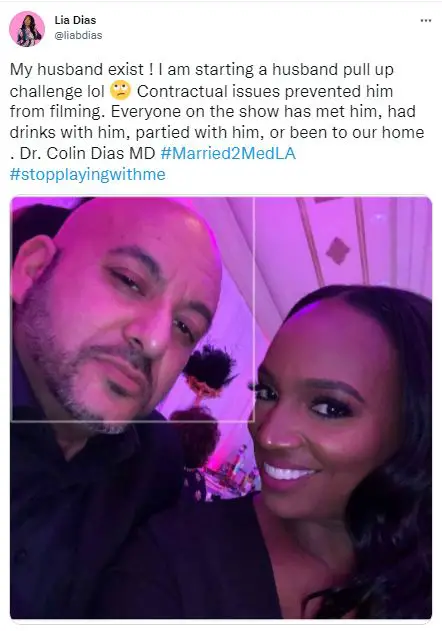 Lia Dias Tried To Kill Her Husband
Lia Dias was detained after reportedly approaching her spouse too closely despite having a restraining order against her for allegedly threatening to murder him.
Lia was detained by LAPD in August for breaking the terms of the stay away order, according to LAPD. and she ended up spending a few nights in jail after being charged with two misdemeanors.
According to our law enforcement sources, Lia was apprehended for allegedly breaking the restraining order by approaching him and his Beverly Hills house within 100 yards of each other.
Lia claims she merely went to the house to get her mail and that it had been empty for a while. Lia claims that when she came, she observed U-Haul trucks on the premises loading some of her personal goods.
She claims her estranged husband phoned the police and informed them she was armed. She claims that she eventually got her items returned, including some jewelry belonging to her late mother.
Colin Dias, Lia's estranged husband, has been under court-ordered protection from her ever since he claims she threatened to kill him in November and then attacked him a few days later while he was out with their two children at a PetSmart.
During that time, Colin said Lia threatened to kill him over the phone one morning after telling him she had access to weapons. He claims that after she assaulted him in the El Segundo PetSmart in front of their kids, she was arrested for domestic assault.
Lia is expected to stay as far away from Colin, his house, and their children as possible.
The entire affair, according to Colin's attorney Robert Eisfelder, is a "private family concern" for his client. and states, "Colin will let the police, district attorney, and family court handle the situation. He has no further comment."