Nathan Apodaca aka Doggface208 is a man of many talents most notably skateboarding. He went viral after he posted a skateboarding video on TikTok, Instagram, and Twitter gaining a whole load more fans. 
Doggface208 can also bag and stack potatoes, fight fires and embroider beanies with the best of them. 
Now, people want to know more about Doggface208. Scroll below as we have prepared this article unveiling everything about him. 
All Facts On Nathan Apodaca
Nathan Apodaca better-known by his social media handle @doggface208 seems to be in his late-30s and while some online sites noted he was 38-year-old as of 2021. 
He was born to Toni Apodaca and Julia Apodaca in Idaho Falls, Idaho. His father is of Mexica descent and his mother hails from the Northern Arapaho tribe in Wyoming. His father worked in a warehouse as a forklift operator. 
He grew up in a Mexican household alongside his three siblings Tony Apodaca, Erica Apodaca, and Nicole V Apodaca. His brother Tony is currently in a relationship with Vicenta Munoz and has three daughters. 
Don't Miss: Everything About Marika Dominczyk: Scott Foley's Wife Of 14 Years Also Appeared In Grey's Anatomy
Back to Doggface208, he stands at the height of 5 feet 10 inches (1.77 meters), weighing 87 kgs. He has inked multiple tattoos all over his body and always shaved off his head. 
Talking about his social media presence, he has established quite an impressive social media following before the fame. After the fame, his followers on Instagram under username @doggface208 has reached 3 million. 
However, he is almost nonexistent on Twitter and Facebook. 
Moving on, for education, he attended Skyline High School in Idaho. Later, he attended Idaho State University and enrolled at Eastern Idaho Technical College. 
Talking about his professional life, in 2000, Doggface208 joined Circle Valley Pro where he worked as a forklift operator and also worked in shipping and receiving until 2013. 
Thereafter, he worked in Fort Hall Wildland Firefighting dept from 2013 till 2020. 
Besides his regular job, Doggface208 established social media after he was introduced to the app by his daughters. His daughter taught him to use the app and with the help of them, he quickly became popular for his lighthearted dance videos.
His video where he skated on a highway drinking cranberry juice earned him the whole recognition. Soon his TikTok account got flooded with followers. As of now, he has 6.8 million followers and 98.3 million likes. 
Other than his career, his net worth remains hidden from the public. 
Moving towards his married life, he is married to Estela Chavez. The couple shared in September 2021 that they are expecting their first child. They will welcome their baby boy in February 2022.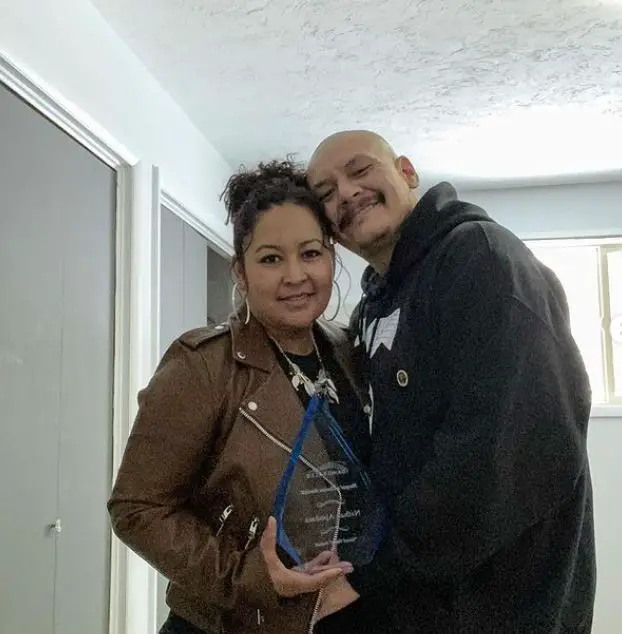 In addition, his wife has a teenage son from her previous relationship and he has two daughters; Angelica Apodaca and Makyla Apodaca from his earlier romance.