It took quite the competition to determine the winner of Top Chef season 18. The season saw finalists Shota Nakajima, Gabriel "Gabe" Erales, and Dawn Burrell cooking it up for the $250K prize.
While the three did their utmost to prepare a four-course progressive meal for their final Elimination Challenge, it was Gabe Erales who took the title of the Top Chef.
However, alongside the title of the winner, Gabe brought his past controversies to light that put the show on a difficult spot. 
Gabe Erales Fired From His Job After Being Accused of Sexual Harassment
When 'Top Chef' crowned Gabe Erales the winner, it didn't take long for his past incidents to come up. This led the viewers to question the decision of the show introducing a chef with a problematic past.
Interesting Read: Meet Claudia Heffner Peltz! Facts About Nicola Peltz's Mother
Gabe Erales was accused of sexual harassment and fired from his job in December 2020. The Austin American-Statesman revealed that Gabe's former boss, chef Philip Speer said he fired the chef for repeatedly violating the Comedor policies against harassment of women.
An anonymous source close to 'Top Chef' revealed that the production of the show's season had already finished when Gabe was terminated from his executive job in December, and that the network found nothing inappropriate with his behavior on set.
Since there were no official allegations against Gabe and his termination was the only information the network had, they proceeded to air the show, mostly out of fairness to showcase the work of the chefs.
Gabe's publicist declined to comment while Gabe provided more details to the American-Statesman about his firing. According to Gabe, he had a sexual relationship with a woman from his kitchen staff during the summer of 2020. After returning from the filming of 'Top Chef' in November, Gabe said he cut her hours based on her performance. However, he also admitted to communicating with her in an "unprofessional manner."
On the other hand, Philip Speer "did not deem the woman's work as sufficient reason for hours being cut" according to the outlet.
Peep This: Who Is Lea Kyle? Quick-Change Artist Got A Golden Buzzer From Heidi Klum
Amidst all the controversies, Gabe has decided to proceed with his plans of opening a restaurant in Austin after "really reflecting on these mistakes and taking the necessary steps to be a better husband, a father, a chef and a leader, through therapy, through spirituality."
Gabe Erales' Bio, Family
Gabe Erales was born on July 3. His age remains unknown as of now. While Gabe grew up in El Paso, Texas, his roots are Mexican as his parents hail from Mexico. His mum was a huge influence on him when it came to cooking. 
"The majority of my ethos as it relates to food, sourcing, and cooking was inspired by Mother. Growing up in a family of nine, she was so efficient in cooking elaborate meals that brought a sense of togetherness for a very large group." 
His restaurant menu includes 'cochinita pibil,' a dish Gabe's mum used to make for him. 
While there is not much known about his father, he has posted pictures of him on Instagram. Gabe also has six siblings, five brothers and a sister.
Gabe Erales' Married Life, Children
Gabe is married to his wife, Linda Young. Based on the posts on his Facebook, it is not hard to assume that Gabe and his wife have been together for more than a decade. 
While You're Here: Who Is Joey Joy? Is He Still Together With Carly Lawrence?
Together, Gabe and his wife have three children, two daughters, and a son.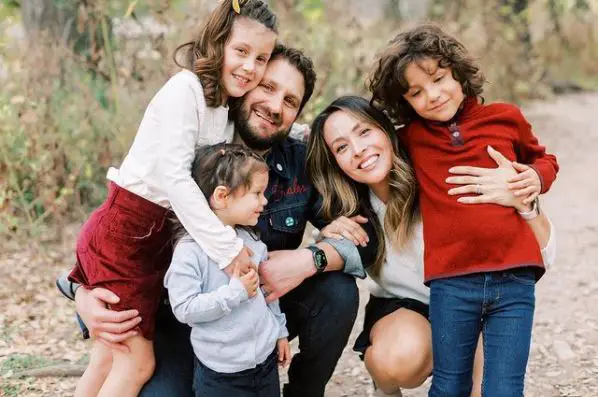 His family often makes appearances on his social media. 
Social Media
Gabe has a considerable presence on social media platforms with more than 25.4K followers on Instagram where he posts under the username @g_erales
He also has a Twitter account under the username @g_erales with 95 followers. However, his tweets are protected and only limited to his followers.