Gina Youbi is a singer of the musical group, '2Racun Youbi Sister.' She is a dangdut singer - dangdut is a genre of traditional Indonesian popular music style that has Malay, Hindustani, and Arabic elements.
Here are some interesting facts about Gina Youbi.
10 Facts About Gina Youbi
Gina Youbi was born Gina Fipit Aryantini on April 21, 1987, under the zodiac sign of Taurus. 
She was born in Bandung, West Java, Indonesia, and is an Indonesian by nationality.
Interesting Read: Who Is Christopher Rufo? His Fiery Exchange With MSNBC Host Joy Reid!
Her parents are Rita Rosmayanti and Nyanyank Saefulloh. She grew up with her siblings, Gita Youbi and Ghea Youbi. 
Gina is a part of the band '2Racun Youbi Sister' with her sister, Gita Youbi. You can find Gita on Twitter under the username @gitayoubi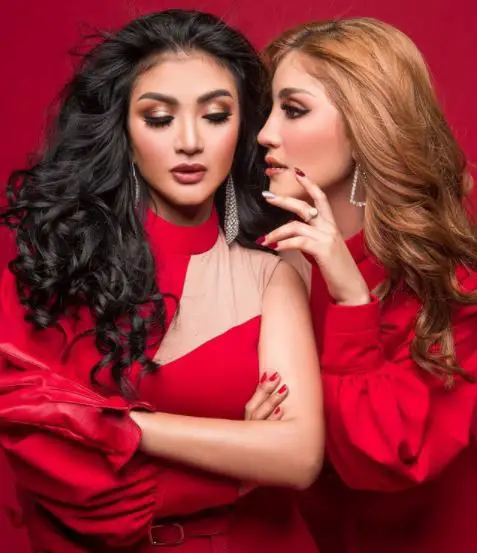 Gina signed with E-Motion Entertainment to start her career in the music industry in 2010. She soon made her debut in 2011 with the R&B song, 'Jack Bahlul.'
More of her discography includes songs like 'Dari HongKong' (2012), 'Gelisah' (2014), 'Hey Siapa Kamu' (2014), 'Merinding' (2015), and 'Di Sana Menanti di Sini Menunggu' (2019).
Peep This: Netflix's 'Too Hot To Handle' Is Back With Our Favorite Narrator Desiree Burch
Gina has also made appearances in several Soap Operas. That includes 'Aca Aca Nehi Nehi' (played as Rossa) and 'Tangis Kehidupan Wanita' in 2018, 'Oh Mama Oh Papa,' (played as Vina) 'Menembus Mata Bathin The Series,' (played as Martha) 'Firasat,' (played as Alysa) and 'Jodoh Wasiat Bapak' (played as Elsa and Lastri) in 2019, and 'Jodoh Wasiat Bapak Bapak 2' in 2021.
The singer maintains a considerable presence on several social media platforms. She is very active on Twitter where she tweets under the username @ginayoubi with more than 25.8K followers. She is also active on Instagram under the username @ginayoubi21. 
Gina also runs a YouTube channel by the name 'Gina Youbi Official' where she posts vlogs with more than 60.7K subscribers and over 7 million views in total. (She created the channel in March 2008)
Although there are no details on this information, Gina Youbi's Indonesian Wikipedia states that she married a man named Arief Fadillah in 2019.