Recently, 46-year-old Hélio Castroneves made headlines as the only four-time winners of the Indianapolis 500. He is also the fourth-oldest winner (Al Unser, 47, 1987; Bobby Unser, 47, 1981; and Emerson Fittipaldi, 46, 1993).
The race was postponed to August a year ago due to the pandemic, and this year it was held with permission to open 40% of the grandstands. 
Upon his victory, Hélio, the speedway owner, ran nearly a mile down the front stretch from a victory lap on foot. He said, 
"I was drawn by the positive energy of everyone. For a long time these people want to see a four-time winner. I say that because they tell me. Every time we sign the autographs, they are like, 'I've never seen a four-time winner. I want to see it.' That's what probably made me thank all of them because they made this place special."
Everyone cheered with him on his victory, and his wife Adriana Henao seems to the happiest amongst others. 
Who Is Adriana Henao?
Hélio Castroneves' love life Adriana Henao was born on 17th September 1980 in Columbia. As of now, she lives in Fort Lauderdale, Florida, with her husband and daughter. 
The Columbian native has, however, kept her parents, family background, education, and sibling's detail a mystery. 
Adriana runs a self-proclaimed "Mother Daughter Pajamas" business Instagram account under username @be.plumah, where she has more than 1K followers. On her Instagram account, she has involved her daughter Mikaella and showcases her daughter's creative process on creating a new product. 
More From Stuffsthatmatter: Who Is Cheyenne Floyd? Teen Mom OG's Star Has Welcomed A Son
The mother-daughter duo models for their product, and Adriana has a great height, rock the pajamas. Moreover, she also has an athletic body with great height, and it's no surprise to find that she runs marathons. In 2014, she competed in the New York City Marathon. 
In addition, Adriana also has a partnership with the owner of YULY 360. She has made a net worth of $2 million; meanwhile, her husband Hélio has a net worth of $40 million. 
Their Love Life
Adriana Henao and Hélio Castroneves have not been married but are engaged since 2015. However, some media mentioned Adriana as the wife of Hélio. While the details on if they are married or not remains a mystery, they have a daughter named Mikaella Castroneves. On 28th December 2020, she turned 11.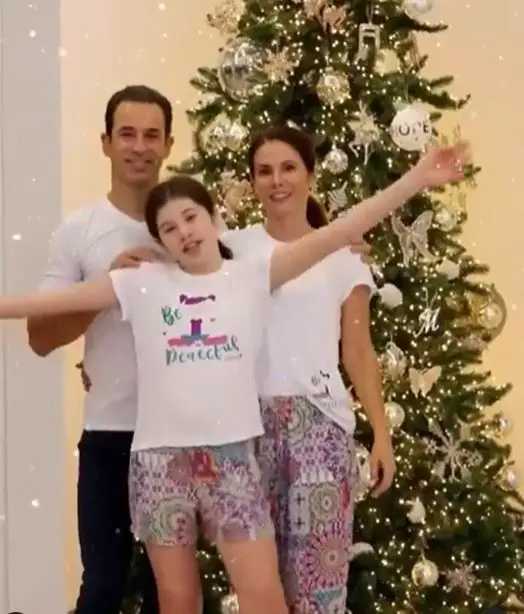 On their Instagram account, from time to time, the couple often shares their family time moments with their fans. 
While their married detail is unknown, as a family, Adriana, Hélio, and their daughter enjoy their life as a family.