Salome Jackson returned for a third season on the VH1 reality Tv series Cartel Crew. She is in the main roles along with Nicole Zavale, Michael Zavala, Michael Blanco, Stephanie Acevedo, Kat "Tatu Baby" Flores, Ali Cabrera Tapai, Eddie Soto, Carlos "Loz" Oliveros, and Mike "Majix" Yuen. 
As Jackson returned for the show, she was also seen grieving following her sibling sister Giselle "Gigi" Rengifo. Her sister was shot to death at a party on 18th May 2021 in Miami. Police identified the shooter as Michael McGowan. 
Salome is calling for justice for her sister's death. 
Salome Sister Gigi 
Salome, a.k.a. Betty idol's 17-year-old sister, was shot to death in Miami's Little Havana neighborhood. After her death, the hashtag #JusticeForGiGi was inspired by family and friends.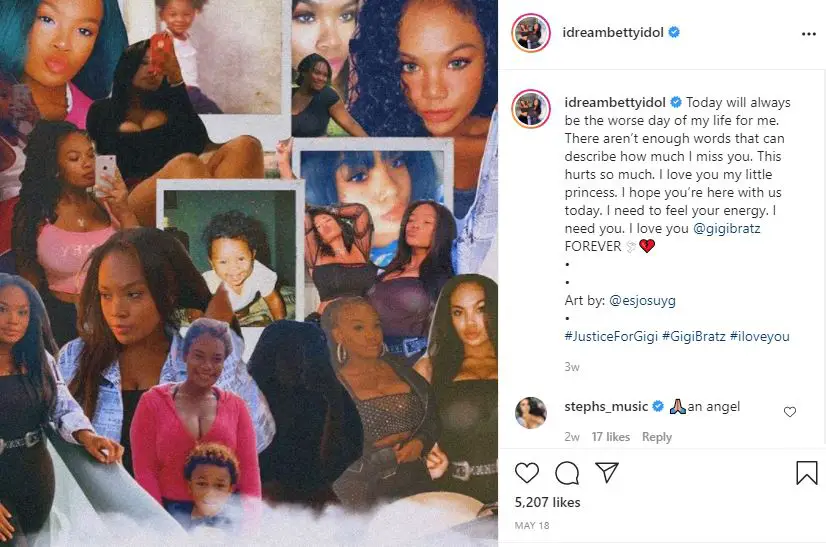 The identified shooter Michael McGowan was charged with manslaughter after he was arrested the next day. 
However, he was released from jail two weeks after he pleaded not guilty to a felony count of manslaughter. 
Also Read: Was Angela Hession Aware Of Her Husband John Weaver's Sexual Overtures?
On the other hand, Salome said her sister's death was not an accident and stated no justice in Miami. In an interview, she also referred to a video and said McGowan clearly showed off a gun with a bullet in the chamber before the party. 
Salome has demanded a trial by jury, and on her Instagram, she wrote, 
Every day is literally a FIGHT, and we won't let up until OUR VOICES ARE HEARD! They can watch and hate, but my family is my EVERYTHING! We CRY, and yes, this emptiness that we have in our hearts will never be filled bc this man decided to take one of ours. But being quiet and scared to fight the system, the same system that we as children were taught to protect, will never happen. We want JUSTICE!
Salome, her family, friends, loved ones, and fans are fighting for Gigi's justice using the hashtag #Justice4Gigi. 
The petition was filed by a Change.org.petition, which gained nearly 40K signatures. The petition says, 
On May 18th, 2020, at approximately 8:28 pm, a 17-year-old girl named Giselle Rengifo was murdered by a gunshot wound to the head and found in the prone position. The person who shot her is named Michael McGowan. He is being charged with "manslaughter" and is currently on "house arrest without bail" after only serving 2 weeks of jail time. All 4 people with Giselle at an air BnB where this took place said it was an accident, but there is video evidence and screenshots of the killer's intentions and how he was fully aware of what he was doing. We need justice for Giselle Rengifo now. This killer cannot just get away with murder. To put this in perspective, Giselle is dark skin, and due to this, we all know if she were a white girl or a different ethnicity, they would not let the person who did this walk free. This boy needs to be put in jail and charged correctly. This sweet 17-year-old girl was taken from her family overnight, and the person who did this has to be held accountable. The Miami Police Department is ignoring all of the evidence. We need Justice for Giselle. This is unacceptable and another example of the corrupt system that claims to be protecting us.
Who Is Salome Jackson?
Salome and her late sister shared the same birthday, i.e., 16th June. Salome has reached the age of 31 and will be 32 in some days. 
Talking about her parents, her father is Columbian, and her mother is Black and is originally from Houston, Texas. 
From the show Cartel Crew, it was known that Salome's father had connections with cartels in Miami, Florida. He went to jail after his involvement with the criminal organization. 
Until July 2018, her father was still not released, but she often gives him a visit. 
Salome also shared about the chaotic childhood she lived due to her father's previous connections to cartels. She was being held at gunpoint, living on the run between Texas and New York, and her home being raided by cops. 
Plastic Surgery & Transgender?
Salome was rumored to have plastic surgery; however, she has neither affirmed nor denied the speculations. 
Transgender comments on online platforms also surrounded her. The speculations might have circulated after her best friend D.Smith shared, saying she does not take offense to be called a transgender person. 
Don't Miss: Learning About Brad Mondo's Family! The Hairstylist Is Influenced By His Late Father
Having a height of 5 feet 7 inches (1.70 meters) has an hourglass figure with a measurement of 42-26-43. 
She has posted herself looking hot as hell on her Instagram account, where she has 261K followers. 
Career & Net Worth
Salome Jackson is an up-and-coming singer, artist, and television personality. In 2019, she joined Cartel Crew in a supporting role until she was promoted to a starring role on the third season. 
Previously, she had appeared in season five of Love & Hip Hop: Atlanta and did not return to the show after the season's reunion special. 
As a singer, she has sung the hook on Rick Ross's single "Thug Cry," streamed on Spotify and Soundcloud. 

From her career, Salome has collected an estimated net worth of $500K. 
Is She Married Or Still Dating?
When it comes to relationships and dating, Salome Jackson has a few rules set for herself. She revealed that she does not date guys from the same industry and also explained that she is strictly into guys and is more into long-term relationships. 
Salome also mentioned that she is more attracted to personality, someone with a good sense of humor, men who are clean and not messy. While she was describing her type, she revealed that her ex-boyfriend was messy. 
Check Out: Swimsuit Model Flora Carter Spotted With Twitter CEO Jack Dorsey!
Moreover, Salome said that she was once engaged but was cheated by her fiance with "some scallywag." 
Due to being cheated, she got scared of dating again but eventually fell in love and started dating. However, her boyfriend's mother disliked her and thought her a gold digger which brought differences between them. Her boyfriend also did not support her musical career and eventually broke up. 
Salome also pursued a romance with American rapper Lil Scrappy during their Love & Hip Hop stint.