Upcoming Drag Race UK star Charity Kase has had racist tweets surface!
Drag Race UK season three competing queen Charity Kase (who uses she/her pronouns while in drag) has apologized for historic racist posts on her social media. 
"I totally accept that this doesn't excuse my behaviour. I want you to know how deeply sorry I am. I am not that same young boy today."
Her apology came after tweets from 2013 and 2014 were unearthed in which she had frequently used the n-word and been culturally appropriative.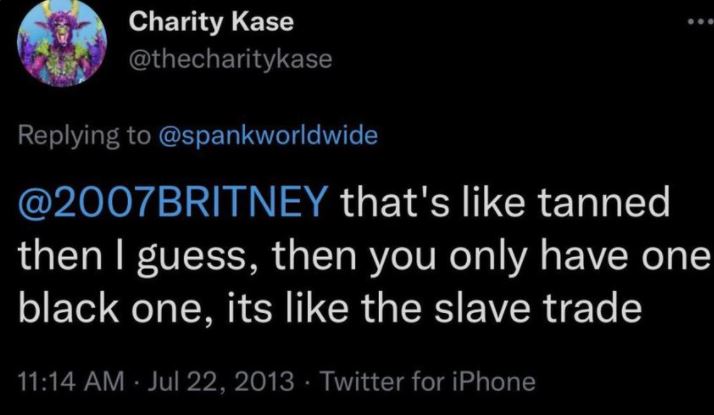 On 23rd August 2021, she posted a statement that begun, 
"Today some tweets surfaced from eight years ago which consist of me using disgusting and offensive language in a casual and colloquial way. I was 16 and uneducated at the time, unaware of cultural misappropriation and the impact of my use of language."
The 24-year-old London-based queen continued:
"I take full responsibility for these unacceptable tweets, and I hope you can understand that they do not represent me now or what I stand for today. Seeing them again has left me ashamed of myself. I want to apologise unequivocally to my fans, who are disappointed and offended by me, and in particular to anyone whom I may have caused any form of trauma. Please forgive me. I have changed and grown and am committed to growing further to using the platform and privilege I have to amplify the voices of people of colour."
After her apology, fans showed mixed reactions: some welcomed the extensive apology and pointed out that age doesn't excuse racist behavior. 
"This is hugely disappointing. It's clear you have not taken the time to really inform yourself or your fans of the impact of your actions," tweeted one. "Don't tell us you've changed, show us."
"Age isn't an excuse, I'm 16 too and age is never a reason to be uneducated or racist," commented another. "If you're old enough to have a Twitter, you are old enough to deal with the repercussions of your own words."
Some took Charity's support and claimed that she shouldn't be judged for her past mistake.
At this point, season one Drag Race star Crystal said,
"People should not be judged for things they said on the internet when they were a child."
A spokesperson for the BBC told PinkNews: 
"The BBC is against racism in all its forms. These historical tweets were from when the individual was a minor.  Charity has expressed sincere remorse, apologised, and made clear they have grown and changed as a person."
Due to the premiere in September, season 3 of Drag Race UK has already been met with criticism over its lineup.
Who Is Charity Kase?
Charity Kase, born on 16th November 1996, turned 24 in November 2020. She hails from her hometown of Preston, Lancashire, England. Her parents are named Phil Whitfield and Mandy Whitfield. Her father has sometimes appeared on her social media. 
Meanwhile, her mother, Mandy, is present on Facebook, and per her FB bio, she worked at The Shake Factory from June of 2018. Previously, she also worked at the Premier Inn as a former housekeeper. 
More about Charity's family, she has a sister, who often features on her mother's Facebook account. 
Real Name & Pronouns
Charity Kase's real name is Harry Whitfield. She uses the pronoun She/Her while in drag and He/Him when out of drag. 
Profession & Net Worth
Charity Kase has always been fascinated by fantasy worlds and magic. She soon started going to drag shows and on Drag races. From there, she got inspired to create her looks. As of August 2021, she has been doing drag for 7 years, and initially, she experimented with makeup. 
Coming from a village, she didn't fit all around, where people haven't seen expression from drag artists. However, that did not stop her from becoming a drag queen. 
Check Inside: Jake Foulger Featured As A New Cast Member Of Season 9 Of Below Deck
Charity Kase also had a supportive family who inspired him to pursue drag. In January 2017, she announced she would be doing 100 days challenge creating a different persona. Her first drag was a lizard. On her 100th creation, she announced that she would be extending it to 365 days as she felt even more creative. She was also featured in Vogue for its beauty routine along with other magazines. 
As of now, Charity Kase is Drag Race UK season three competing queen.
She also owns a website where she sells merch that includes T-Shirts and hoodies of different sizes and designs. Charity Kase has made an estimated net worth of $600K. 
Some Facts On Drag artist 
Charity stands at the height of 5 feet 10 inches (1.77 meters). 
For education, she studied full-time art and design and discovered her interest in textile and sewing. Later, she transferred her college to London but dropped out of college after she was sucked up into the nightlife scene. 
Also Read: Who Is Barcelona Super-Fan & Playboy Model Luana Sandien?
In 2015, she was diagnosed with HIV positive after people took advantage of her while attending the nightlife. She was devastated after being diagnosed as she was just 18 and did not know much about HIV. After that, however, drag became her escape.
Per her personal life, she is not married and cannot be located about her dating life as her IG content features only her work.