MTV's The Challenge viewers are no stranger to the six-time competitor, Kyle Christie. He has etched his influence in the show throughout the years with his strategies and humor to win the competition.
While he has yet to get his win, Kyle is determined to land one in the new season, The Challenge: Spies, Lies & Allies. 
But, where does Kyle spend his time when he is not competing on The Challenge?
The answer lies at home in the UK where his model girlfriend resides with him. Let's get to know the reality star's girlfriend, Vicky Turner.
Who is Vicky Turner?
Vicky Turner was born on September 20, 1995, under the zodiac sign of Virgo.
For her education, she went to Northumbria University and graduated with a First Class Honours degree in Journalism. 
Interesting Read: Who Is Barcelona Super-Fan & Playboy Model Luana Sandien?
She is a model by profession and is part of the agency, Boss Model Management. 
Before that, she used to be a model at Tyne Tees Models. That was also when Vicky was crowned the winner of Miss Newcastle 2015. She then went on to claim second place in Miss England and third in Miss Universe Great Britain. 
According to the website of Miss Newcastle, Vicky has modelled at 'London Fashion Week' twice for two separate brands. 
The website also revealed that Vicky raised more than £3000 for several local and international charities.
Peep This: Drag Race UK Queen Charity Kase Issues Apology For Racist Tweets: 'Forgive Me, I've Changed'
Currently, Vicky is also contributing as a social media manager for The Social Co. 
Social Media
You can find Vicky on Instagram where she shares content with more than 33.2K followers under the username @vickelizabethx
Vicky Turner's Relationship with Kyle Christie
Although they have not spared details on how they met, Vicky and Kyle have been dating since 2018. Three years into the relationship and the couple is expecting their very first child together. 
Both of them went on to their respective social media to reveal the big news.
Kyle posted a picture of the couple holding up the sonogram and wrote, "Little bit of you & a little bit of me…….that's what it takes to make Family (heart emoji) I promise you kid, you are going to have one hell of life. Baby Christie due September"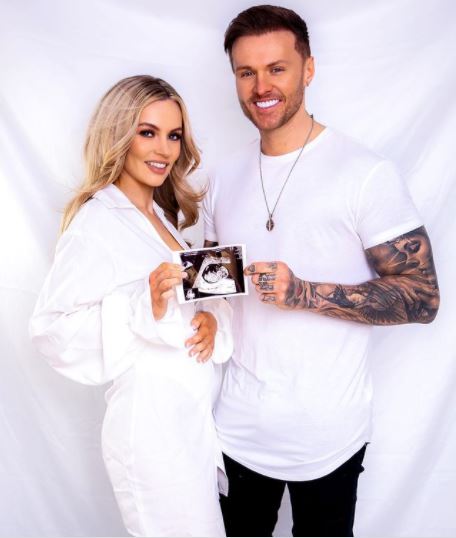 Vicky also posted the same picture and wrote a similar caption as it read, "Half of me and half of you (heart emoji) Baby Christie due September 2021"
While You're Here: Who Is Celina Smith? NBC Announced She Will Play The Titular Role In Annie Live!
The couple held a gender reveal party in July 2021 and Kyle made sure to announce that they were expecting a boy!
He posted pictures from the gender reveal with Vicky and expressed his appreciation on the caption for her.
"Thank you to everyone who came to our gender reveal, it really was worth the wait. Thank you so much to my beautiful partner @vickelizabethx you are going to make the most perfect Mama in the world my heart is so full. I love you."