William Frederick Burr, popularly known as Bill Burr, is known for his appearance in shows like F Is For Family, Breaking Bad, and The Mandalorian. He has also co-founded the All Things Comedy and hosts a comedy podcast titled Monday Morning Podcast featuring his wife, Nia Renee Hill. 
Nia Renee, who never gets mad at her husband's poking fun of her interests and personalities, made people wonder who she is. All the endless fun Bill made of her in front of the entire world never became the cause for Nia to get mad at him. 
Well, read on to unveil all info on Nia Renee Hill!
Facts On Nia Renee Hill
Nia Renee Hill was born on 2nd June 1978 in Los Angeles. However, some sites stated her birth year 1969, and in response to the year, Nia tweeted, saying she already feel 80 due to the wrong year. 
When she was too young, her parents separated, and she decided to live with her father. Her father worked in comedy and acting, which lured her into the entertainment business world. 
Nia also developed an interest in fashion; thus, she attended Emerson College in Boston, Massachusetts, and studied Fashion Designing and Acting Courses.
After graduation, she started working for MTV as a casting associate and as a talent coordinator for Comedy Central. Later, she did numerous styling internships and worked as a stylist in a short movie, Pizzazz: Where's My Movie?
Also Read: What is 'Queen Sugar' Star Kofi Siriboe's Take on Dating?
Eventually, Nia landed a role in the film Carpool and on a TV show Lila, Long Distance, in 2011. 
Similarly, her other TV credits include F Is for Family, Santa Clarita Diet, Chappelle's Show, and Divorce: A Love Story. 
Moreover, apart from her acting career, Nia has written blog posts and articles about racism, problems related to women's lifestyle, and feminism. She is very open-minded, and in one of her blogs, she wrote,
"Here's a sampling of the various types of men I've dated: Black, White (Irish, German, Italian), Jewish, Latino, and various combinations of all of the above. Do you want to know which were my favorites? The ones who didn't treat me like s—t. The ones who cared about me."
She has made a net worth of $5 million from her career, and her husband Bill Burr has an estimated net worth of $12 million. 
Renee stands towering tall at the height of 5 feet 7 inches (1.70 meters). 
Nia and Bill Burr have been married since 2013. The couple first met around 2005 at a comedy show, and shortly after their first meeting, they started dating.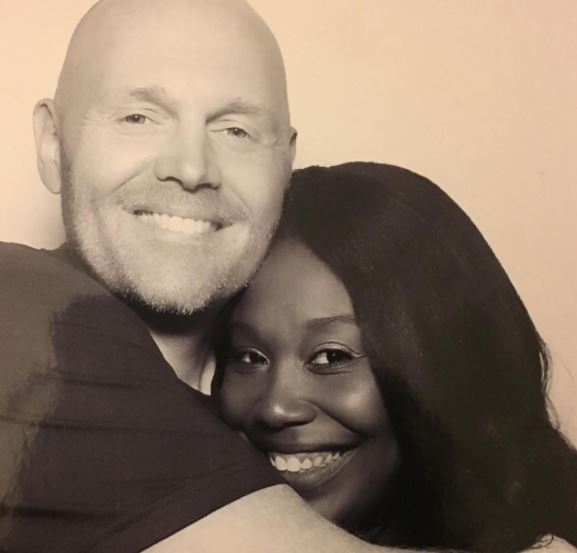 In 2013, they tied the wedding knot and moved to Los Angeles, where they started their life together. 
The couple shares two children; a daughter named Lola Burr, born on 20th January 2017) and a son born in June 2020.