Ruby Rose first got her start in showbiz as a part of the Girlfriend Model Search competition in 2002. Later, she started working with brands like Milk and Honey, Galaz, Maybelline, and Urban Decay Cosmetics.
However, her life was not always this hot and happening as she suffered from bully verbally and physically due to her sexuality and gender variance.
In 2014, she produced the short film "Break Free," inspired by her struggle with gender presentation and fluidity.
Ruby Rose's Coming Out Story
Ruby Rose was born on 20th March 1986 in Melbourne, Victoria, Australia. An artist raised her as a single mother, and Ruby describes her mother as her role model.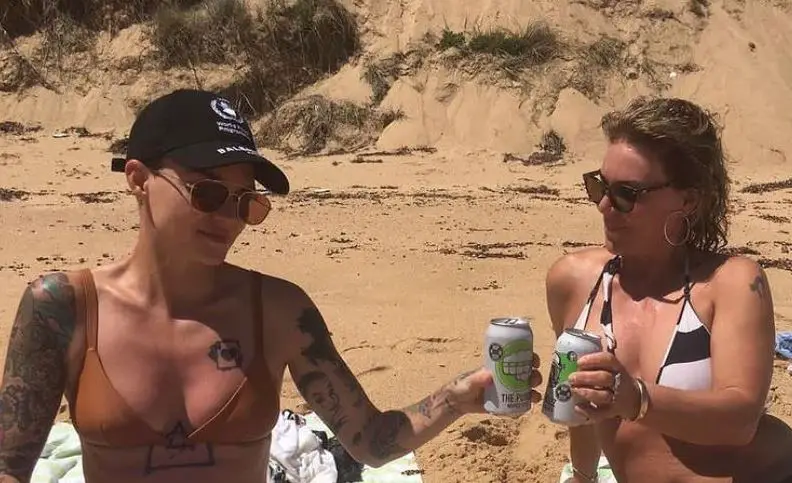 At the age of 12, Ruby had her first coming-out conversation with her mother. Surprisingly, her mother already seemed to know about her sexuality. Ruby further added, saying her mother knew when she was six. 
When Ruby had her conversation with her mother, she did not know how to word it; thus, she said, 
'I think I should let you know that when I eventually get a boyfriend, there'll be a girl.'
Her mother was very supportive of her choice; however, her classmates were the opposite. At age 12, she was bullied excessively (verbally and physically) by her male peers. Moreover, not only at school, but her relatives also bullied her.
Due to constant attacks and abuse, she suffered from depression, which leads to suicidal thoughts. She also suffered different disorders, including clinical depression (which was initially misdiagnosed as bipolar disorder) and complex post-traumatic stress disorder, which made her suffer from mental health issues all her life.
However, during her battle, she was not alone and always had her mother by her side, supporting her during all the battles.
Inspires Others To Break Free From Gender Expectations 
Ruby produced the short film Break Free in 2014. Her short film describes her struggle with gender presentation and fluidity. It also explains what it is like to have an identity that deviates from the status quo. 
Before she made a short film, she was unemployed as she could not get a manager, agent, or audition. Henceforth, she decided to make a short film as a way of being able to give herself something to do and to study her craft.
In the film, Ruby appears with blonde shoulder-length hair, full makeup, and a tight-fitting dress. She strips down, cuts her hair, removes her makeup, and shows off her full sleeve tattoo. After her makeover, she wraps her breasts, wears a strap-on, and dons a suit. 
Ruby explains her film by saying, 
"In this film, I am telling my story, which involved bandaging my breasts in the '90s. I had no education on the harm Ace bandages cause as I was just a kid. I do not recommend anyone trying to tape down their breasts to use them."
Soon, Ruby's short film went viral, getting millions of hits. She also receives an email from Jenji's office about auditioning for Stella In Orange Is The New Black. 
Since then, she has appeared in Resident Evil: The Final Chapter, Pitch Perfect 3, The Meg, and the first openly gay superhero, Batwoman, in 2019-2020. 
Changing Looks With Haircut Transition
Ruby is one of the most versatile fashion chameleons and often experiments with androgynous and more traditionally feminine looks. 
During an interview with People magazine, she explained she has a very eclectic style that is comfortable and showcases her internal and external feeling. 
Now, as all people are familiar with, her short hair had long hair once upon a time. Her hair was styled with blunt, full-frontal bangs sweeping over her eyebrows. Soon after her debut, she styled her hair with an all-black pixie cut with long, asymmetrical side bangs.
Ruby has also styled with short platinum blonde strands, worn a wavy wig going feminine, an edgy New Wave-rocker hairdo, and a lavender bob.
Ruby rocked all the style she put on with her free and fearless Devil-may-care attitude to a personal style.