Model Demi Rose garnered massive attention when she dated Rapper Tyga back in May 2016. Since Tyga is the former flame of another top-ranking model and entrepreneur, Kylie Jenner, closure was expected. 
During her relationship with Tyga, many fans of Kylie and trolls alike were quick to lash out with hateful comments. Nevertheless, her respect for Kylie never changed, and still today, the Birmingham native remains amicable with her ex-partner since they split in 2017.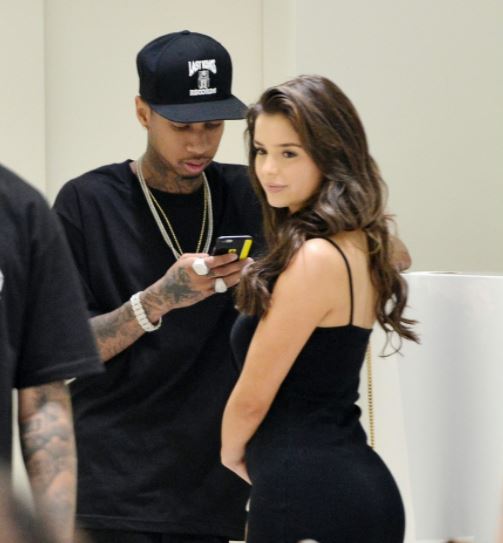 Interestingly though, the notoriety that Demi accumulated doesn't simply stem from Tyga alone, and the beauty has even acknowledged it sharing,
I was quite known before I even met him. But I'm still referred to as Tyga's ex… 
With over 15 million followers on Instagram alone, she was a promising model before she stepped into the gossip limelight. After all, her bombshell looks with lucrative curves and physique only adds to her beauty which explains the huge attention she (and other attractive models)  has received today.
But with all these achievements come scrutiny and some debased rumors as well. Because still today, many people are uncertain and wonder if her attractive physique was achieved from plastic surgery. Unfortunately, many outlets still claim the latter part to be true, but it turns out that many have been false all along.
Demi Rose's Before Surgery Claims Are Merely False
In the entertainment industry, false claims and curiosity among fans about surgery aren't a new thing. Today, stars including Britney Spears, Cardie B achieved the optimal definition of beauty through expensive plastic surgery.
But achieving a great alluring body doesn't always require a big pile of cash and pills because Demi herself is living proof of that.
Interestingly the model's well-wishers have been asking questions about her surgery for quite a long time, and she has time and again clarified on this matter herself. But nobody is ready to believe* inserts tired face emoji*.
In 2014, she expressed her frustration with a tweet quoting the same pattern of questions, and it was evident from the tweet that she was tired.
How much surgery have you had?" Put that up your ass, none. I'm young what do you expect​
However, if it isn't plastic surgery, how did she end up with this environment-inducing body? The answer seems to be pretty simple, actually.
Nutrition & Hard Work Is The Key For Demi's Attractive Measurement
How did Demi achieve a waist that measures 4 inches and hips of 26-inch? During an interview with The Sun in 2018, she let on secret quoting,
genes, a hell of a lot of hard work and dedication in the gym, and a good, well-balanced, nutritious diet.
She trains about 4-5 times a week under the supervision of Dean Delandro, owner of HD Personal Development and Reset Yourself Ltd.And in case you want to get the idea on what goes to achieve a bum like Demi's, the outlet even listed out the specifics as provided below.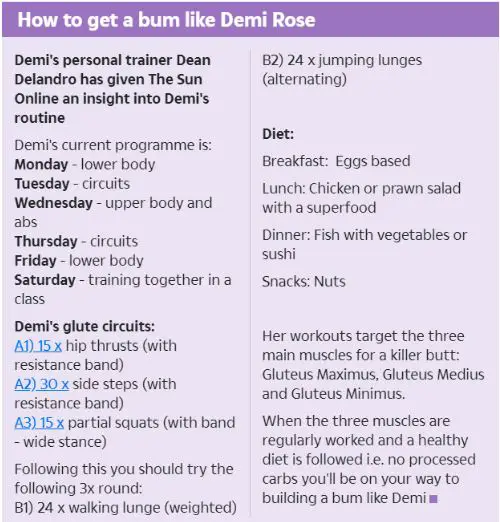 Also, she received training from a Nike trainer who has trained athletes like Anthony Joshua. So yeah, while the alternative and hard route sound pretty expensive as well.
She Did Underwent Eye Surgery Though
In 2014, Demi had opened up about getting eye surgery, i.e., laser eye surgery. It is a procedure to improve vision by removing a certain amount of tissue from the cornea, and the procedure is effective for about 10 years. Due to her career demand and challenges, such as photoshoot in several weather conditions, she had always wanted to get the surgery. She underwent this procedure in paid collaboration with Optical Express, a UK-based healthcare company.