Jason Knauf has been in the headlines ever since he made bullying accusations against Meghan Markle. 
But, there is more to him than the allegations that brought him to light. Let's get to know Jason a bit more through this article.
Who is Jason Knauf?
Jason Knauf was born in 1982 in Huntsville, Texas - his parents soon moved to Conroe, Texas, and finally relocated to Virginia when Jason was of young age.
He grew up with his two brothers, John Townsend and Andrew Knauf. Last reported, John was the owner of a construction company named Townsend Construction and Andrew was the Houston fire captain. The two live in Conroe along with Jason's aunt and uncle, Carol and Robert Knauf.
Interesting Read: Mike Polisky Resigned From The Position Of Northwestern University Athletic Director
Jason's mum, Joanne Knauf, always made it clear to her kids that they could be anything they wanted, except the King of England. 
"...I think he (Jason) got as close as you can get. It's quite incredible, a pinch-able moment as a parent, and he handles it with grace. It's about all you can ask as a parent, really." - Joanne Knauf to The Courier of Montgomery County in a 2018 profile
Jason joined Kensington Palace in 2015, where he was a trusted advisor. He served as the Communications Secretary to The Duke and Duchess of Cambridge and The Duke and Duchess of Sussex.
He stayed with the role from February 2015 to March 2019 before going to work as Senior Advisor to the Duke and Duchess of Cambridge, Prince William and Kate Middleton.
His Educational Background
For his education, Jason went to the University of Pittsburgh and then transferred to New Zealand to continue his studies.
Also Read: Meet Jack Whitehall's Girlfriend Roxy Horner | Everything About The Fashion Model
He soon earned degrees in Political Science and International Relations from the Victoria University of Wellington in New Zealand.
After that, Jason went to the London School of Economics and graduated with a master's degree in Politics and Communications.
Tourists Mistook Jason's Grandmother for the Queen
Did you know that several people (mostly tourists) mistook Jason's grandmother for the Queen?
Jason's grandmother, Wanda Maddux, visited him in London when he was arranging tours at Windsor Castle, Buckingham, and Kensington Palaces. Tourists saw him pushing his grandma in a wheelchair and mistook her as the Queen.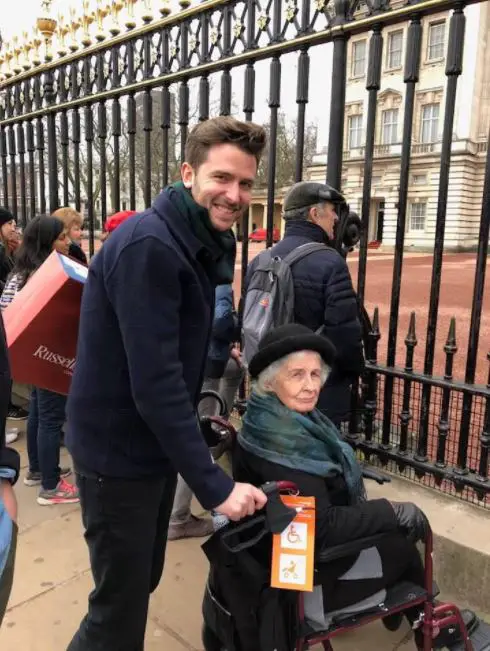 "They thought she was the queen, it was quite hysterical, she was queen for a day," Jason Knauf recalled in an interview with The Courier of Montgomery County.
Facts About Jason Knauf
Jason told his mother that he wanted to be the president of the United States when he was only five.
More From StuffsThatMatter: Who Is Siesta Key Star Amanda Miller? Who Is She Dating?
He graduated as Valedictorian of his high school class, according to his grandmother.
When he was 17, Jason had a chance to meet former US Press Secretary Madeleine Albright during his visit to The White House. 
His grandfather, Joseph R. Smith attended the White House when he was 16 as an Eagle Scout during Queen Elizabeth's visit.
His great uncle, Edward Post, served as President Calvin Coolidge's Page. 
Bullying Allegations Against Meghan Markle
Jason sent the email of bullying accusations against Meghan Markle in 2018, two months after the wedding of Meghan Markle and Prince Harry.
"I am very concerned that the Duchess was able to bully two PAs out of the household in the past year," he wrote in the email. "The Duchess seems intent on always having someone in her sights. She is bullying (name removed) and seeking to undermine her confidence...I remain concerned that nothing will be done."
While You Are Here: Get Along With Devon Hales From 'Teenage Bounty Hunters'
Jason resigned as the advisor a month after the claim and took a new position in Kensington Palace in March 2020, serving the Cambridges' Royal Foundation as the chief executive.