Amanda Miller popped up from time to time for the first three seasons of Siesta Key and soon became a familiar face. Siesta Key is a show which covers drama, love, heartbreak, and parties of the cast members. Likewise, Amanda also gained a lot of attention after her physical fight with Chloe Trautman, where she broke her nose. 
Now with the new season of the show, Amanda has officially become a prominent cast member. In addition, her father, Dr. Miller, also made an appearance on the first season four episode. So, who is Amanda's parents? Along with it also learn about her dating life and many more. 
Amanda Miller's Parents
Amanda Miller was born on 11th June 1996 to Angi Miller and Dr. Miller. Her mother is not featured in the show as her father, but she is a great deal younger than her father. Angi attended Wayne High School, and in her 80s, studied nursing at the State College of Florida. Now, she works at Sarasota Memorial Health Care System. As a mother of Amanda, she also often meets up with the mother of other Siesta Key's cast members. 
Meanwhile, Amanda's father, Dr. Miller, was featured on the fourth season of Siesta Key. Despite him being a person from outside the show business, he supports his daughter's career in the entertainment field. 
More From Us: Who Is Chloe Veitch From Netflix's 'The Circle' Season 2?
Dr. Miller is considerably older than the other cast member's parents, but that hasn't stopped him from being a supportive and calming presence in Amanda's life. 
Her father, who is in his 80s, was a combat medic in Vietnam during his youth. In 1956, he was also part of the Admiral Farragut Academy in the Best Drill Cadet. Similarly, in 1965, he was on the Kitty Hawk Aircraft Carrier, Pacific Ocean. He also owns a business called Sierra Sierra Balloon World.
Amanda spent her COVID pandemic quarantine with her family, where she learned how much her father had gone through.
"Despite the age gap, I couldn't imagine having a dad who was younger because he's been through so much."
Siblings
Amanda has five siblings that include her biological brother Spencer and the remaining steps. Spencer Miller is her biological brother. He and Amanda share a close bond and often spend time out on Siesta Key. 
Her Dating Life
Amanda Miller is currently dating a mystery boyfriend. During an interview with MEAWW, Chloe revealed that Amanda is seeing someone and has fallen in love with her. 
 
It was not the same in the past as the second and third seasons of Siesta Key documented Amanda's dating life. She was previously linked with JJ Mizell and Brandon Gomes. Meanwhile, Brandon has also moved on and is now a father to his newborn.
Her fans are well familiar with her failed relationships with them. 
In an interview with MEAWW, she opened up about her past relationship and said being with JJ would not have served her right even though they had made future plans. 
"My relationship with JJ was extremely toxic. And he is one of those people that I truly believe that when you really fall in love with somebody, you never stop loving them. You just love them differently. And him and I, for some reason always will have that connection."

"And we've always told each other, like, You know, like we thought we were gonna get married. We thought we were going to be together forever and life just throws curve balls at you. And I think I just realized that I deserve more. I deserve better and I don't need to be with somebody that I have such a toxic past with."
Later, on 30th January 2019, Amanda introduced her new man named Joe Iorio, a professional basketball player. She dated him for a year before calling it quits.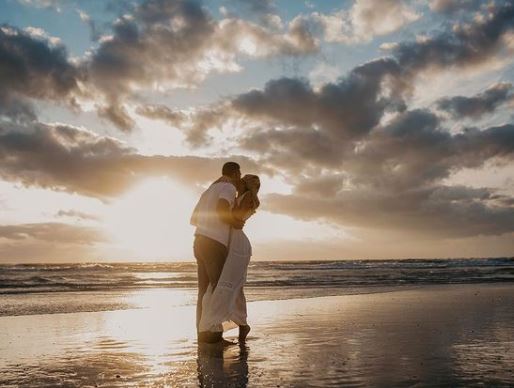 However, both the couple have moved on, and both are is a relationship with someone else. On 27th April 2021, Joe shared a picture with his new girlfriend, Taylor Wiley. 
Amanda's Net Worth
Amanda, 24, standing tall at the height of 5 feet 6 inches (1.67 meters), reportedly made an estimated $350K net worth from her work. 
Miller worked as a calendar girl for Hooters and competed at the restaurant's Miss Hooters Bikini pageant. 
As of now, she is a social media influencer and makes money through promoting partnerships with brands like Malana CBD, Fashion Nova, and many more.