Roxy Horner is the stunning model who stole the heart of an English comedian, presenter, actor, and writer Jack Whitehall. The couple has been dating for just over a year and lives in London together. 
She has worked with brands such as Boohoo, Quiz, and Boux Avenue, to name a handful.
Recently, Roxy again became the talk of the town after she was rushed to hospital. Let's find out why she was rushed to the hospital and also about her wiki, age, bio, height, net worth, and many more. 
Rushed To Hospital
Roxy, 29, was rushed to the hospital due to an autoimmune disease on Sunday. She shared her hospital dash on her IG, wearing a medical gown with a cannula in her arm. 
"Currently sitting in hospital not knowing to laugh or cry every 5 mins but I'm going to choose to try and laugh because life is too damn short 🥰.

"Screw autoimmune diseases though!"
However, Roxy has not disclosed what type of autoimmune disease she is battling. She spent a day in a hospital before she got discharged. After she was discharged she shared a lovely picture with Jack on her IG and wrote, 
'I'm so lucky and grateful for my man, my biggest support through everything. I don't know what I would have done this past year without you.'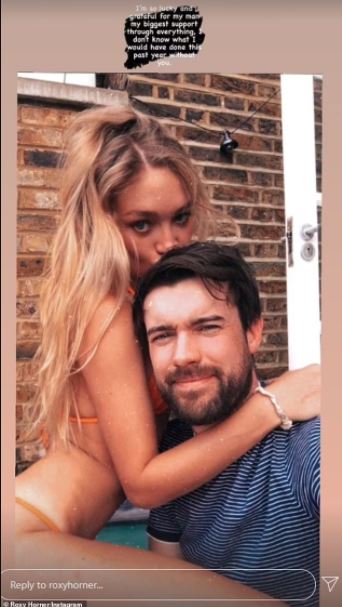 Roxy Horner & Jack Whitehall Love Story
Roxy and Jack first met on a trip to Australia and soon started dating. Horner also moved into Jack's house in London just after a few weeks of dating.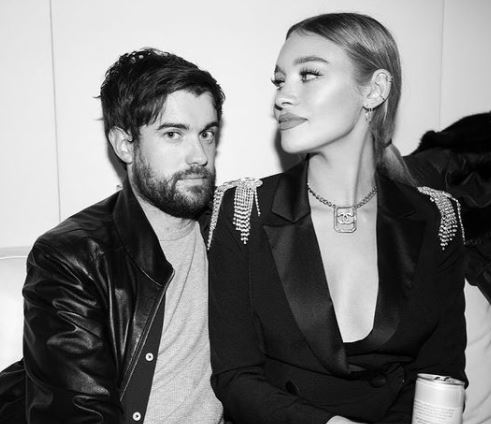 Jack once admitted saying they moved in a relationship very fast and missed out on doing ordinary things like cinema and restaurant dates. 
During the COVID pandemic, they spent time together, and on the Couples Quarantine podcast, Jack said, 
'Weirdly that was quite nice because we spent a lot of time together and it accelerates the relationship in a way.

'Then when the lockdown ended, there's a lot of things we realised. We'd never gone to see a film together. We'd never been to a restaurant in England because we met in Australia.'  
Roxy and Jack's relationship escalated so quickly that Jack even let his partner "butcher" his hair. 
Past Relationships
Before dating Jack, Roxy made headlines with Jake Bugg, 27, Joey Essex, 39, and Leonardo DiCaprio, 46. Roxy and DiCaprio were pictured together at Chiltern Firehouse restaurant at Tape nightclub. They were also spotted at a few BAFTA after-parties together. 
However, Roxy later stated that she and Leo are just friends and enjoy one another's a company in a friends-only manner. 
Likewise, Roxy's boyfriend Jack Whitehall was caught flirting with TV sports host Kristy Gallacher and was in a serious relationship with Gemma Chan, 38, between 2011 and 2017. He also admitted that he regretted not marrying Gemma. 
During an episode of his Netflix series Travels With My Father, which was filmed before he dated Roxy, he told his mother, Hilary, 
 'I f****d up my chance of that. I did. I could have got married but I messed it up.'
Jack also apologized to his mother for being the single member of their family and attending his sister Molly's wedding alone. 
'I'm sorry I'll be attending the wedding alone and I'm sorry you have two children who have model relationships and one who is going to be there on his own trying to s**g a bridesmaid.'
Interestingly, now, Jack is no more single; he can attend any wedding with his girlfriend and might even walk down the aisle with her. (hopefully, fingers crossed)
Facts On Roxy Horner
Roxy was born on 20th June 1991 in Essex, London, to her musician dad named PJ Hawn and Lisa Rae Horner. Her father is an Australian national who worked as an international songwriter and music producer. He also worked for Sexy Records as a songwriter. Meanwhile, her mother owned Music For Pilates and worked as a pilates instructor. 
More about her family, she has two sisters Riana Rae Horner and Josie Horner. Her sister Riana is a blogger and an Instagram model, whereas Josie is a hairstylist based in Brisbane, Australia. 
Moving back to Roxy, she stands at the height of 5 feet 8 inches (1.72 meters) with the measurements of 32-35-36. Her hour-glass figure is perfect for modeling, and on her Instagram account, where she has 181K followers, she flaunts her alluring pictures. Her blonde hair and greenish-blue eyes add more beauty to her. 
She began her modeling career at the age of 13 but faced hardship for not being tall enough. She heard criticisms like her bum was too big, her skin was not perfect, and her hips were too wide. However, she kept her focus on her career and ignored all the criticism. 
At the age of 17, she got a chance to feature on British Vogue. From her career, she has made an estimated net worth of $2 million.