Jeff Devlin is an experienced contractor, architect, carpenter, and television host of DIY Network's Stone House Revival. With massive experience in the construction industry, Jeff earned recognition through his appearances on the DIY network show 'I Hate My Bath,' 'Ellen's Design Challenge,' and 'HGTV's 'Spice Up My Kitchen.' 
Devlin takes on the challenge of complete reformation in his show 'Stone House Revival,' be it the kitchen, bathroom, or bedroom. 
Jeff with his team renovates and reforms historic stone houses into modern, comfortable living spaces while maintaining and protecting the historical value of the building.
Ahead of seeing all-new builds on Stone House Revival this season, here are things you need to know about Jeff Devlin, on and offset. 
Who Is Jeff Devlin?
Jeff was born on 19th May 1973 in Bucks County, Pennsylvania, United States. He stands at the height of 6 feet 1 inch (1.85 meters). 
His parents are named Joseph Devlin and Ada Devlin. Sadly, his father passed away on 21st March 2012 at the age of 84 in Langhorne, Pennsylvania. 
Other than that he has never given away any details on his parents. 
Moreover, he has six brothers; Adam Devlin, Dave Devlin, Joseph Devlin Jr., Mark Devlin, and Tom Devlin. 
Don't Miss: Everything You Need To Know About HeyImBee
One of his brothers, Dave Devlin attended Bucks County Community College. He is in a relationship with Kim Allison and has two kids. Moreover, he had owned 877GRASSCUT, Landscape Contractor since 1997. However, it has been permanently closed as of now. 
Jeff's other brother Mark Devlin works at Mark Devlin Visual Design. He attended Neshaminy Maple Point and studied Graphic design at Tyler School of Art, Temple University.
Back to Jeff, he attended Neshaminy High School; henceforth graduating in 1991. 
Career & Net Worth
During his teenage year, Jeff found his passion for carpentry after he watched The Old House on PBS. He used to mess around with the furniture of his house building birdhouses. Eventually, he found his niche with birdhouses which he sold at his church's craft fair.
Later, in his life, his childhood passion turned into a career and soon rose to fame after his appearances on various TV shows. 
Check Out: Alina De Almeida: The Suspected Girlfriend Of Billionaire John Paulson
Moreover, Jeff is the founder and owner of SchoolHouse Woodworking since January 1995. He has also worked as a cameraman while running his woodworking business. He has shoot events like water polo, mountain biking, drag racing, concerts, and a few renovation shows like HGTV's Save My Bath. 
During his successful career, he has made an estimated net worth of $3 million.
Jeff Previously Married 
Jeff Devlin, 48, was previously married to Christine Devlin. Their married life lasted for two decades before they went separate ways. His former wife is a veterinary nurse by profession.
They have two children Reese and Aidan and are co-parenting them.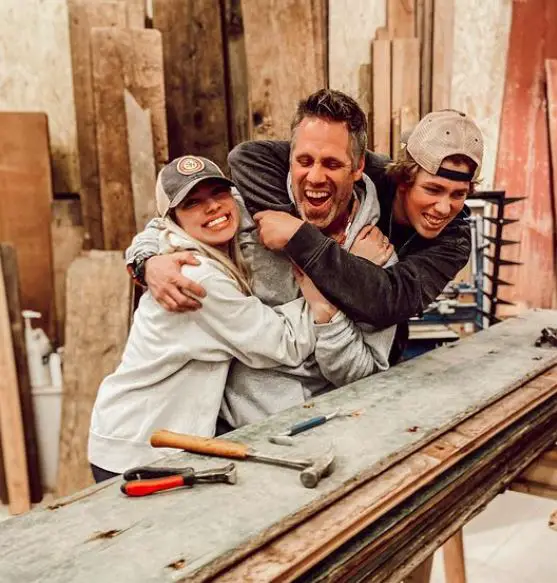 Although they are not together they have not deleted any traces of their marriage pictures from their Instagram. 
Fiance Janelle Burdette
Jeff Devlin is currently engaged to Janelle Burdette. They have known each other since 2015 but they were romantically involved only in 2018. 
His fiance Janelle hailing from West Virginia studied audiology at West Virginia University and A.T. Still University. She is currently working as a clinical sales associate at Midlantic Technologies. 
More From Us: Monica Aldama Admits Divorcing Chris Was A 'Blessing': Our Marriage Has Now 'Flourished' Because Of It
Before Jeff, she was married previously and has two sons named Gavin Burdette born in 2000, and Walker Burdette born in 2003.
Janelle is not only romantically involved with Jeff but has also connected with his children Aidan and Reese. 
Back to Jeff and Janelle, the couple got engaged on Christmas 2020 and made it official through Jeff's Facebook.