Kimora Lee Simmons is a successful fashion designer and entrepreneur who began her career as a model in her early teens. She rose to prominence after marrying the celebrated American entrepreneur, hip-hop record producer, and author Russell Simmons, and is now a successful fashion designer and entrepreneur. 
Kimora Lee Simmons, a stunningly tall model who began her modeling career under an exclusive deal with 'Chanel' when she was just 14 years old, has become a well-known face. 
After her marriage to the high-profile Russell Simmons, Kimora joined her husband's men's apparel line, 'Phat Farm.' She was able to quickly increase the company's prominence as well as build and run a popular brand called 'Baby Phat,' which offers fashionable urban apparel and accessories for women and children, thanks to her flare and outspoken style. 
Kimora's celebrity quickly moved to other fields such as jewelry, shoes, and cosmetics. Even after Kimora and Russell split and later divorced, the Baby Phat's popularity persisted, with Kimora remaining in charge. 
Kimora also had minor roles in films and hosted her television reality program.
Kimora Lee Simmons: Who Is She?
Kimora Simmons was born in St. Louis, Missouri, on 3rd May 1975 to Joanne "Kyoko" Perkins and Vernon Whitlock Jr.
Her mother was a Korean-born Japanese woman who was adopted by a US serviceman during the Korean War, while her father, Vernon Whitlock Jr., was an African-American who worked as a Federal Marshal, an investigator for the 'Equal Employment Opportunity Commission,' a bail bondsman, and even a barber in St. Louis.
See More: Learn Everything To Know About Julia Garner From The Netflix Series Ozark.
Kimora grew up in Florissant, a lower-middle-class suburb in northern St. Louis where life was harsh. She was a persistent target of taunting and bullying at Lutheran North High School, notably because of her height, which was worsened by her mixed origin. 
Kimora was already 5 feet 10 inches tall when she was ten years old. Her father was arrested for drug dealing when she was still in school and sentenced to 24 years in jail after refusing to turn informer in return for probation. His marriage fell apart after he was released after completing three years of his term, and Kimora was raised by her mother.
Modeling Career 
Kimora's mother enrolled her in a modeling school when she was 11 years old to help her gain the confidence and poise she needed to deal with her height. 
Marie-Christine Kollock, a representative for the prestigious Paris modeling agency 'Glamour,' spotted Kimora as she was competing in a Kansas City model hunt competition just a few years later.
When she arrived in Paris at the early age of 14, she was quickly noticed by 'Chanel' designer Karl Lagerfeld, who offered her an exclusive contract with the prestigious fashion house. 
Kimora Lee Simmons starred as the show's finale in 1989, dressed opulently as a young bride for Karl Lagerfeld's haute couture line. "Everything people thought was unusual about me previously was suddenly good," Kimora remarked in an interview with 'People Weekly.'
Also Read: Chanelle Howell: Everything You Need To Know About Newest Member Of Survivor 42
Kimora made quite a splash in the fashion industry, and she went on to become a highly successful model after working with Lagerfeld for the next few seasons. She developed a taste for expensive luxury products during this period of heady success, and by the age of 15, she had spent the majority of her not inconsiderable money on designer bags, a 'Rolex' wristwatch, and a 'BMW' convertible, despite her mother's advice to be cautious.
To her credit, Kimora continued to shuttle between Paris and St. Louis, and with the help of an academic coach, she graduated from Lutheran North High School in St. Louis on time.
Married/Divorced & Children 
For all of the attention paid to Kimora's love life over the years, it's surprising to learn that she's only married twice. Kimora isn't a fan of having too many husbands, and she takes her relationships quite seriously as well. Sadly, despite how seriously she took her prior relationships, her efforts have gone little unnoticed until now.
Timothy Leissner, a businessman and investment banker, is Kimora's current husband. On October 31, 1971, her spouse was born in Germany to rich Brazilian and German parents.
Following Kimora's breakup with actor Djimon Hounsou in 2012, the two began dating. With Djimon, she has a son named Kenzo Lee Hounsou.
They began dating in January 2013 before deciding to make their relationship official in February 2013. According to some reports, Kimora and Timothy married in December while on a Christmas family vacation in St Barts.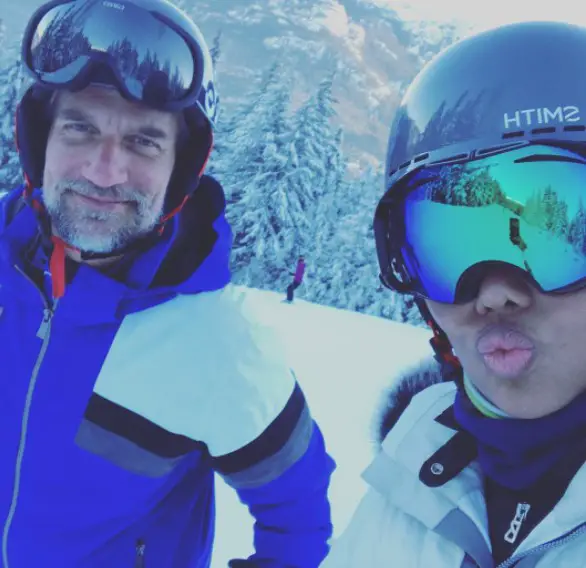 Their marriage was later confirmed after they were both photographed wearing wedding bands by paparazzi. Since then, they've been together. Wolfe Lee Leissner, their son, was born to them (b. April 14, 2015).
Despite the fact that Kimora and Tim have remained together, their marriage has recently been rough. After being accused in a Malaysian fraud case, the German investor was requested to resign from his position at Goldman in 2016. In 2017, he was accused in court and pleaded guilty, receiving a $44 million punishment and a permanent ban from the financial industry.
Kimora didn't escape unscathed, as her fashion brand was allegedly funded with illegitimate funds. She, on the other hand, did not take the accusations lightly and offered proof of her lack of involvement in the controversy. Tim was caught on camera in a compromising position with an unknown woman, thus their marriage appears to have suffered a hit since the occurrence.
Kimora hasn't posted a photo of her husband since Father's Day in 2019, according to additional investigation.
Continue Reading: Is 'Love Is Blind' Star Giannina Gibelli Dating Bachelorette's Blake Horstmann?
Kimora previously married Russell Simmons in December 1998, but the couple split in 2006. Ming Lee Simmons (born January 2000) and Aoki Lee Simmons are the couple's daughters (born August 2002).
Kimora became a mother of five when she adopted 10-year-old Gary Lee in January 2020.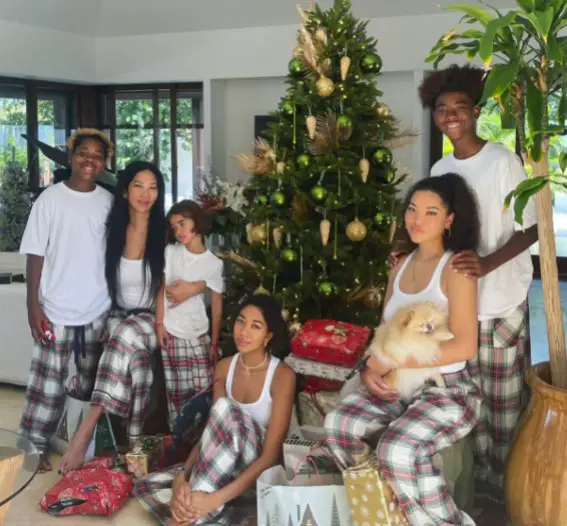 Kimora's Net Worth
Kimora Lee Simmons has made an estimated net worth of $200 million per Celebrity Net Worth.