Derek Dallas Carr is an American football player for the 'National Football League (NFL)"s 'Oakland Raiders.' He is currently one of the most highly compensated quarterbacks in NFL history. He was born and bred in California, and he followed in his older brother, David Carr, who was also an NFL quarterback. 
Carr attended Fresno State University after playing high school football in Texas and Bakersfield, California. He was twice named 'Mountain West Conference Player of the Year and twice named to the 'All-America Selection' while at 'Fresno State.' 
He set a number of school records as well as a number of national records. The 'Oakland Raiders' selected him in the second round of the '2014 NFL Draft.' He's one of only 19 FBS quarterbacks to throw for over 10,000 yards and 100 touchdowns. His 113-to-24 touchdown-to-interception ratio is the second-best in FBS history. He was selected for Pro-Bowl three years in a row. 
Aside from his professional work, Derek's life revolves around two things: his family and his faith. Carr is married to Heather Neel and has four children with her. 
Derek has spoken about the three things stated above on numerous occasions, including on his personal website. He said his family was the cornerstone for who he was as a person in a video posted on his YouTube channel.
"I'm thankful for my family. Every morning I wake up, I see my beautiful wife. And then I sit down. I'm watching a film, reading my bible, whatever, and one kid comes running out, and then another one, and then another one," he said.

"All four of my kids, soon they are sitting on my lap. You know, I'm just like, 'Man I'm winning. I'm gonna be alright.'"
Who Is Derek Carr?
Derek Carr was born in Bakersfield, California, on March 28, 1991, to Rodger and Sheryl Carr. He is the youngest of three brothers and sisters. 
The 'Houston Texans' selected his older brother David Carr's first overall in 2002. As a result, the Carr family moved to Sugar Land, Texas, before returning to Bakersfield for Derek's senior year.
Carr attended Sugar Land, Texas's 'Clements High School,' where he began playing football on the freshman squad. He started his second season as a backup quarterback, but when another quarterback suffered a preseason injury, he asked to play 
quarterback.
He led his team, the 'Clements High School Rangers,' to an undefeated 13-0 season during his junior year before losing in the quarterfinals of the '2007 Class 5A Division 2 State Playoffs in Region 3.'
During junior year, he received scholarship offers from institutions. (He verbally committed to Fresno State University in May 2008)
Carr went to Bakersfield Christian High School for his senior year. He guided the 'Eagles' to a 12-1 record and the Central Section Division V Championship of the California Interscholastic Federation. 
On October 29, 2008, 'ESPN RISE' named him the 'National Football Player of the Week,' and 'The Bakersfield Californian' named him the '2008 All-Area Football Player of the Year.' 
Carr was named 'National Player of the Year 2009' by the 'National Private Schools Athletic Association' at the completion of his senior year.
Married Life & Children
Derek has been married to Heather for almost a decade. Together, they have four children.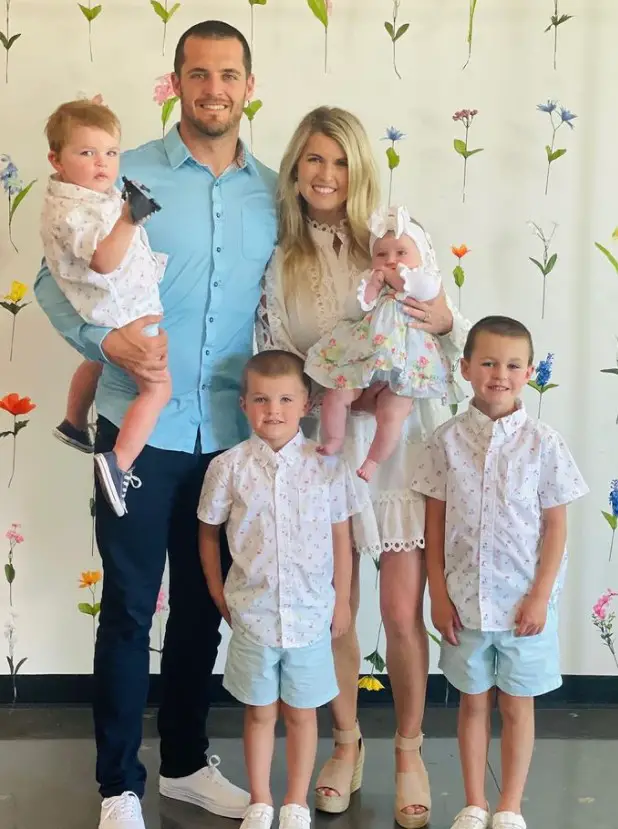 In 2010, Derek met his wife for the first time. When she ran into him, she was working at a BJ's Brewhouse while finishing her studies.
In a 2013 interview with ABC, Derek's wife retold the story of their first meeting.
"I had like diamond earrings in my ear and I had them both. I knew I did," she said. "And he said, 'Why are you only wearing one earring?'"

"And it made me check my ears. And I was like, 'that's your pickup line?' (It worked) it did work. I talked to him."
On June 29, 2012, they were married. A year into their marriage, Derek and his wife welcomed their first child, Dallas Carr.
Dallas was born with a disease that caused his intestines to become clogged. He had three procedures to untangle his intestines within twelve hours of his birth.
Heather gave birth to their boys, Deker Carr and Deakon Derek Carr, in 2016 and May 2019, respectively, bringing their family of three to three.
Continue Reading: Kansas City Chiefs Quarterback Patrick Mahomes Marries Longtime Love Brittany Matthews In Hawaii!
In December 2020, Derek and Heather welcomed their fourth child together, Brooklyn Mae Carr. On Twitter, he posted a short video announcing Brooklyn's birth.
Derek joked about being a father for the fourth time not long after she arrived, saying Heather did all the work and he got to hold her.