MTV's Siesta Key series dropped its new episode on 12th May 2021 with a recurring cast and new faces. Siesta Key is about a group of young adults working on their issues of love, betrayal, heartbreak, and many more. 
Mike Vazquez was one of them and was introduced as Sam Logan, boyfriend of Siesta Key star Juliette Porter. 
Mike is not the main cast member of the show but let's delve into his life to learn his age, bio, height, dating status, and many more. 
Facts On Mike Vazquez
Mike was born on 6th March 1986 as Miguel in Argentina. His parents are named Carlos Vazquez and Wanda Vazquez.
His father has lived in the US for 25 years, and not long ago, he officially became a United States citizen. His parents live in Cincinnati. 
More about his family, he has two sisters Clara Vazquez and Maria Angelina, and a little brother named Jose Vazquez. Jose is a certified personal trainer; meanwhile, Clara is a mother of two beautiful girls. 
Mike stands tall at 5 feet 10 inches (1.77 meters) with a well-tamed physique. 
His Instagram handle goes by username @mikeavaz and has 27.5K followers. 
For education, Vazquez earned his master's of science in Sports Management from Liberty University. He works in merchant services, at IMG Basketball Academy as a basketball coach, and as an ambassador at IMG Academy. 
Also Read: '90 Day Fiance': Angela Deem Weight Loss Journey!
In addition, he has added Siesta Key as one of his part-time ventures. 
Previously, he was a former assistant basketball coach at State College of Florida. 
He has an estimated net worth of $750K. 
Let's take a look at his dating life. Is he dating anyone? Well, the answer for that is absolute "YES." He is dating Lexie Salameh, who is Juliette Porter's friend. Besides being Juliette's friend, she works in the Real Estate Service and is an Instagram blogger. Lexie also made an appearance in Siesta Key as Juliette's new co-worker.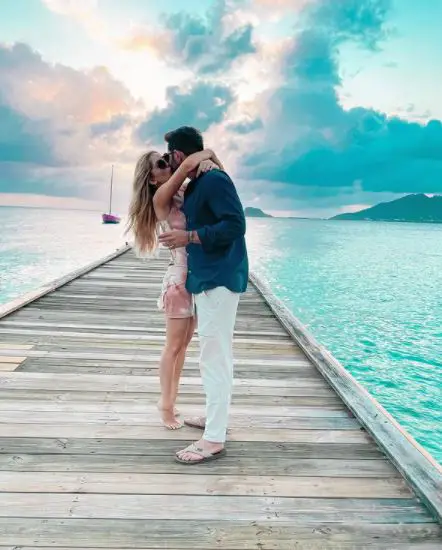 The couple has been dating for over a year, and this Valentine's day, they celebrated their year of togetherness. 
Lexie made an appearance on Mike's social media on the earliest of 2020, and since then, they have been Instagramming their romance. They even go on a double date with Sam and Juliette. 
Mike and Lexie, as a couple, travel a lot, creating beautiful memories. They went on a jungle safari, partied in the yacht in Key Biscayne, and went skiing and snowboarding at Snowmass Moutain.