Big Brother 23 is premiering on 7th July 2021, and CBS has already given a sneak peek of the new season. First, it introduced a new houseguest who will be competing for the half a million-dollar grand prize. 
Travis Long is amongst them, and he is the young one among the group. Originally hailing from Austin, Texas currently resides in Honolulu, Hawaii. He describes himself as a rambunctious, curious, and strong-willed guy who is not afraid to risk. 
Travis motivates himself with his favorite quote, 
"So many brilliant things lay on the other side of discomfort."
Now viewers watching the show will get a chance to see Travis, who openly said that his intention in the house is to pull little pranks and swap the blame to other people to create chaos. 
Let's move on to this article to know more about the new cast member. 
Travis Long On Big Brother 23
On 1st July 2021, CBS released 16 new cast members for Big Brother 23. The contestants will be living together, competing for the grand prize. 
This season Travis Long is joined by his co-contestants Britini D'Angelo, Azah Awasum, Derek Xiao, Xavier Prather, Hannah Chaddha, Kyland Young, Tiffany Mitchell, Sarah Steagall, Whitney Williams, Alyssa Lopez, Brent Champagne, Christie Valdiserri, Christian Birkenberger, Brandon "Frenchie" French, and Derek Frazier. 
Peek Inside: Meet Claudia Heffner Peltz! Facts About Nicola Peltz's Mother
Travis said that his game plan on the show is to form close one-on-one relationships with members and utilize his charismatic personality to connect with people. 
Long also revealed that he had been a fan of Big brother and his favorite house duos are Brett and Winston on Big Brother 20. He also mentioned his favorite moment was when Brett lied about Rockstar flipping the vote in one last effort to stay on the show. 
On Big Brother 23, Travis might be stirring up some drama in the house, so houseguests better keep an eye out for him. 
Who Is Travis?
Travis is a 22-year-old tech sales consultant but isn't working at the moment. 
He loves spending his time on "Spearfishing, cinematography, shark diving, cliff jumping, soccer, sand volleyball, bouldering, skydiving, and surfing."
Travis earned his BBA degree from the University of Texas at Austin - Red McCombs School of Business. In 2019, he also completed his social entrepreneurship course at Universidad de Costa Rica. 
After high school, he ventured into entrepreneurship and started multiple businesses. However, it was reported that he was sued by massive titans of industry. 
Check Out: Who Is Gabe Erales? "Top Chef" Winner's Past Reveals Sexual Harassment Accusations
In 2021, Long worked as a VP of global sales at Docforce. 
Previously, he also worked as a writer and editor at Austin Startups, Marketing Co-ordinator at Peepteam, author at The Mysterious Pink Van, and Sales Consultant at JobSiteCheck.
Travis has a net worth of under $150K, and after his show Big Brother, he might add a big chunk of value. 
Moving towards his love life, Travis was dating Katie Casey, an aspiring model, and a competitive boat rower. 
The couple was seen together in 2019 on Travis' Instagram account. On 2019 Valentine's Day 2019, Travis's girlfriend posted a picture of them and wished him Happy Valentine's Day.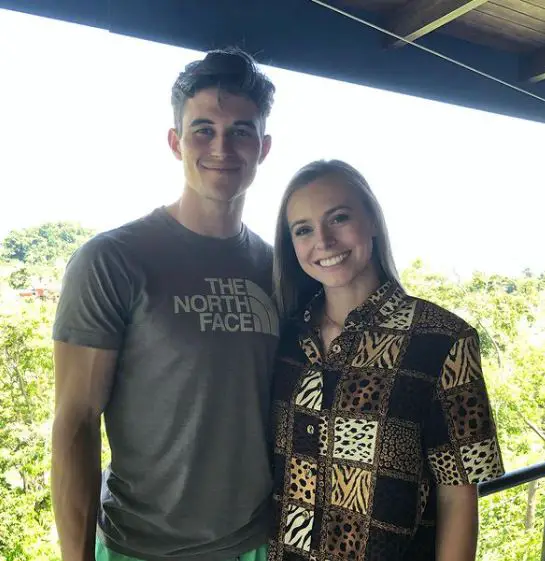 Around late 2019, Travis and Katie were last seen together, and since then, they have stopped posting pictures together. 
Travis has not opened up about his current status.