Susi Cahn is the wife of celebrity chef Mario Batali. People have been rather curious about Susi ever since Mario has been making headlines with his actions that followed sexual harassment accusations from workers in his restaurant. 
In this article, we learn about Susi Cahn.
Who is Susi Cahn?
Susan "Susi" Cahn comes from a wealthy successful family as her father and mother have known to run several businesses. One of the most notable businesses of the family was Coach, Inc.
Susi's father sold the company in 1985, but the family continued their participation in running other business ventures.
Interesting Read: YouTuber Gabbie Hanna Stepping Away From The Internet, Why?
Susi is also helping with Mario Batali Foundation, which runs on the principle that children are well-fed, well-read, and well-cared for.
In an interview, Susi revealed more about the organization: 
"We're actually up here tonight thanks to my mother Lillian Cahn, who met Kathy Goldman in the early '80s - 30 years ago - and right away she became one of the supporters and contributors to the food band. Her spirit and enthusiasm for this cause is what inspired Mario and me to be involved."
Susi Cahn and Mario Batali Relationship 
Susi and Mario met at a food event in New York in 1992. Susi attended these events often as her family was involved in the food business. After the meeting, Susi and Mario started dating and got married two years later. 
Peep This: New Islanders Gabe Sadowsky On Love Island: Casa Amor Twist For Season 3
They exchanged their wedding vows in November 1994 on a beach in the Caribbean. The couple held a reception six months after the wedding with their close friends.
Susi and Mario are parents to two sons, Benno and Leo.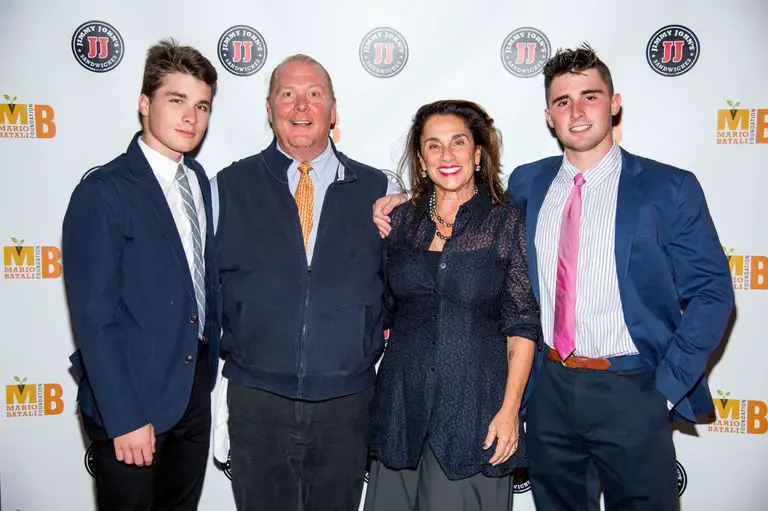 Much like their father, Benno and Leo are also interested in cooking. The two even have a cookbook together called "Batali Brothers cookbook."
The sons also help out with the family business.
Mario Batali Sexual Harassment Allegations
It has been confirmed that Mario Batali and Joe Bastianich and their New York restaurant company have agreed to pay $600K to at least 20 former employees who were sexually harassed on the job.
It was on Friday that New York Attorney General Letitia James announced the agreement with the celebrity chefs and their management group, B&B hospitality. 
While You're Here: Who Is Georgia Townend? Meet The Love Island, 2021 New Bombshell Contestant
The settlement comes after a four-year investigation by the attorney general's office that "found that B&B, Batali, and Bastianich had engaged in unlawful sex discrimination and retaliation, in violation of state and city human right laws," at their restaurants, according to the agreement filed with the court. 
Letitia James detailed in the statement, "Celebrity and fame does not absolve someone from following the law." The statement continued, "Sexual harassment is unacceptable for anyone, anywhere - no matter how powerful the perpetrator."
"Batali and Bastianich permitted an intolerable work environment and allowed shameful behavior that is inappropriate in any setting. I thank the men and women who reported this abhorrent behavior for their bravery, selflessness, and commitment to accountability." - Letitia James
According to the investigation, both men and women were harassed. "Several female employees were forcibly groped, hugged, and/or kissed by male colleagues," the attorney general's office claimed. 
The investigation found that "Batali himself sexually harassed a female server by making explicit comments to her and grabbing her hand while she was serving him and pulling it towards his crotch." More revealed, "On another occasion, Batali showed a male server at Lupa an unwelcome pornographic video."