Gabbie Hanna is an American Internet personality, singer-songwriter, author, and actress. She gained prominence on Vine and YouTube's video platforms, creating content under The Gabbie Show's name. 
Although she made her way out on Vine and later onto YouTube after Vine got shut down in 2016, she entirely focused on YouTube. However, her journey was problematic for the entire ride. 
Recently, she faced controversies with prominent creators such as Trisha Paytas, Joey Graceffa, Bo Burnham, and Jessi Smiles. Since Gabbie created her series on her channel calling out influencers, she got into a feud in the last two months. 
Gabbie took a two weeks break and returned with a music video,
"Sorry…I'm Late." Her video contained a very long caption that ended with her saying, "From here on out, I'm offline entirely."

"I knew coming into this that it would be difficult, but I wasn't able to handle it the way I thought I was."
Hanna also discussed that her mental health was being compromised by being online.
In this piece below, let's discover Gabbie's life beyond the camera. 
Who Is Gabbie Hanna?
Gabrielle Jeannette Hanna was born on 7th February 1991 and is a multi-talented personality who never let herself be limited to a particular field throughout her career.
Post-Vine fame, she started her own YouTube channel where she posted vlogs, pranks, challenges, and more funny content.
Formally, she started her career as a Viner and YouTuber but later became recognized as an artist capable of writing poems, performing acts, and singing songs. 
Peek Inside: Who Is Georgia Townend? Meet The Love Island, 2021 New Bombshell Contestant
As a writer, she published a book titled Adultolescence, and as a singer, she debuted her single "Out Loud." 
Gabbie has also guest-starred in podcasts like "Box of Thoughts" and many more. 
As of now, she has made an estimated net worth of $2 million per Celebrity Net Worth. 
Family & Education
Gabbie was raised in New Castle, Pennsylvania, by her parents James and Michelle Hanna. 
She is the third oldest amongst her six siblings; two older sisters: Monica & Cherisa, and four smaller siblings: Cecilia, Genny, Madelynn, and Sam. 
One of her younger sisters, Cecilia, is also a social media influencer. 
Check Out: Insight TikTok Star Brooke Monk's Professional & Personal Life!
As per Gabbie's education, she graduated from the University of Pittsburgh with a degree in Psychology and communications. After completing her education, she started working for a marketing company that sold products out of a Sam's Club. Later after she became the top salesperson, she moved to Cleveland, Ohio, to help start a new company branch. 
However, after she realized that she relied on a pyramid scheme, she departed from the company. 
Dating Life
Gabbie is currently single after dating a guy named Payton Saxon for two years.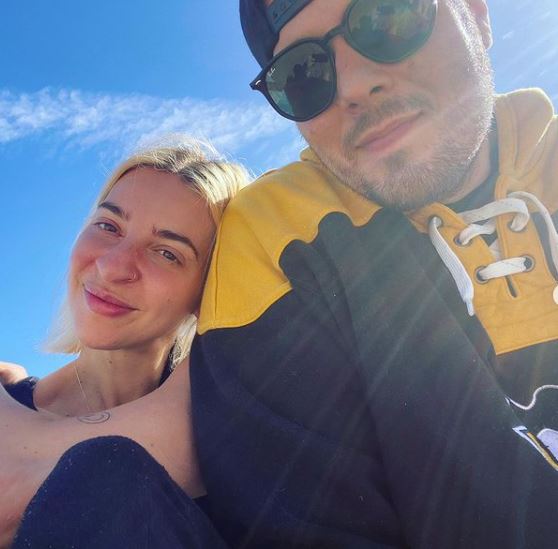 She started dating him in 2019, and their connection was strong and was very close. Although Payton was not from the entertainment field, he supported Gabbie's work and shared her work through his social media handles. 
Sadly, the couple ended their relationship; however, she explained on her YouTube video on 23rd June 2021 that they broke up with mutual understanding. 
Gabbie also mentioned that she loved the memories she created with her former boyfriend, Payton. 
Moreover, Hanna also shared about her terrible dating experience. She dated a guy who abused her emotionally and also lied about his profession to her. 
In 2018, Gabbie dated Andrew Siwicki, best known for being the cameraman of Shane Dawson.