Zaila Avant-Garde, a basketball prodigy, won on the word "murraya," (a genus of tropical Asiatic and Australian trees), becoming the first African American winner in the 96-year history the Scripps National Spelling Bee. 
On Thursday night, she made a remarkable achievement. Before her, the only previous Black winner was Jody-Anne Maxwell of Jamaica in 1998. 
Zaila had previously set three Guinness world records for bouncing, dribbling, and juggling basketballs. She has set an example for people watching her and dreaming of following in her footsteps. 
"I'm hoping that within the next few years, I can see a little bit of an influx of African Americans, and not many Hispanic people, either, so I'm hoping to see them there, too."
Being a basketball standout, Zaila made spelling a side hobby and practiced for seven hours a day. 
After winning the word "murraya," she twirled and leaped with excitement. So let's move on to learn more about Louisiana-based genius. 
Zaila Avant-grade Spelling Bee Winner
The Scripps National Spelling bee was organized on 8th July 2021 at the ESPN Wide World of Sports Complex at Walt Disney World Resort in Florida. There were 209 spellers from age 9 to 15 from five different countries: the US, Canada, Japan, the Bahamas, and Ghana. 11 contestants made it to the final, including Zaila Avant-grande.
Zaila has earned the name as the winner of the 2021 Scripps National Spelling Bee championship, becoming the first African-American contestant to win the show. In the last set, she spelled MURRAY correctly and left the event with a $50K cash prize.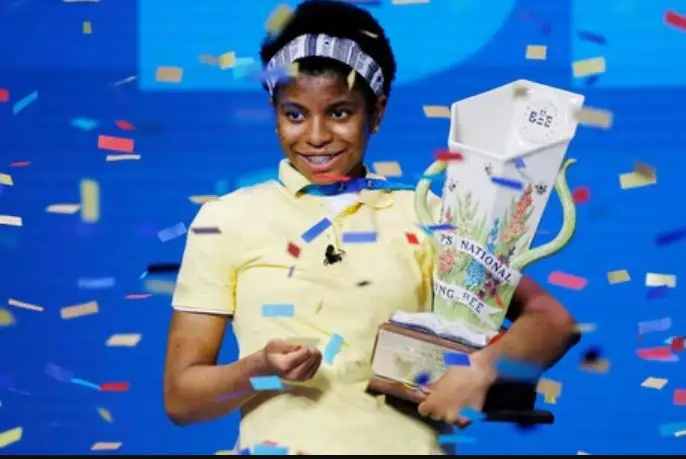 Moreover, in 2020, she had won the Kaplan-Hexco Online Spelling Bee and prize money of $10K. 
Facts On Zaila 
Zaila competed in the Spelling Bee event at 14. She was born in Harvey, Louisiana, the United States, to her father, Jawara 'Spacetime' Heard, and her mother, Alma Vernice Herd.
Once when her father was watching the finals of Scripps National Bee, where the winning word was Knaidel, he asked his daughter to spell the word. She spelled it perfectly. 
More about her family, Zaila has three brothers Sol Heard, Zwe Heard, and Wonder Heard.
Also Read: A 9-Year-Old Victoria Brinker Gets The Latest Golden Buzzer & Makes History!
Avant-garde stands at the height of 5 feet 2 inches (1.57 meters), weighing 45 kgs. 
For education, she was homeschooled due to her tight schedule. She spends over 7 hours per day practicing spelling and also plays basketball.
As a basketballer, Zaila has appeared in an Under Armor commercial alongside NBA star Steph Curry. 
Since the age of 5, she has been playing basketball and has been dubbed a basketball prodigy.