Bravo's hit show The Real Housewives of Orange County (RHOC) is returning with its 16th season on December 1!
This season is back with two new housewives and one former participant returning to the fold, according to Bravo.
The two of the newcomers are Dr. Jen Armstrong and Noelle Bergener. And, there are some interesting things to know when it comes to Dr. Jen Armstrong's life behind the camera. 
Who is Dr. Jen Armstrong?
Dr. Jennifer "Jen" Armstrong is a professional dermatologist. According to her website, Dr. Armstrong contributes as the CEO of Advanced Skincare Dermatology and Plastic Surgery. 
"Born with a passion for the arts and sciences, Dr Armstrong is naturally gifted in the field of aesthetic medicine. Dr Armstrong enjoys helping her patients achieve their aesthetic goals through use of injectables, lasers, and other non-invasive treatments." - Bio on her website
Her work has led her to receive two awards for sculpture and two international awards in laser technology. In addition to that, she has also spoken at national and international meetings on the topic of laser advancements.
Her Education
Jennifer Armstrong attended Georgetown University and graduated with a 4.0 GPA with her Master's degree in Biophysics and Physiology. There, her studies focus on the field of Complementary and Alternative Medicine.
Interesting Read: Facts About Georgiana Bronfman | What You Need To Know About Nigel Havers' Wife
After getting her master's degree, Dr. Armstrong joined John A. Burns School of Medicine at the University of Hawaii and to get a Doctorate of Medicine. Following that, she attended a residency program at the University of California, Los Angeles. 
Dr. Jen Armstrong Faced a Lawsuit 
One of the common things plastic surgeons share is the consequence of letting down a patient. And, Jennifer Armstrong wasn't an exception, when a former patient named Judy Hecht filed a civil lawsuit against the doctor and her medical center.
The legal document states that Jennifer misdiagnosed Judy Hecht's condition leading to the accusations of "medical negligence, battery, and failure to obtain informed consent."
Jennifer and Judy initially met in 2019 when Judy wanted to get filler treatment for her cheeks.
"Plaintiff is informed and believes and thereon alleges that as a result of the manner and method by which Defendants performed the Exilis treatment, her previously infected fillers below the surface of her skin melted, causing issues that needed correction and deformity in her face." - Statement from the lawsuit
Judy didn't obtain the results she wanted even after several visits to Jennifer, so she went to another doctor who fixed the issue. That was when Judy filed the lawsuit to get her money back. Reports say that the case is still ongoing.
Dr. Jen Armstrong's Married Life with Husband
Dr. Jen Armstrong is married to her husband, Ryne, and the couple shares three children. (Two of them are twins)
Peep This: Facts About Opal Stone Perlman You Need To Know | Who Is Ron Pearlman's Ex Wife?
It is obvious from a look at her Instagram that she is quite a family person. Every opportunity she gets, Jennifer gives a glimpse of the time she shares with her family.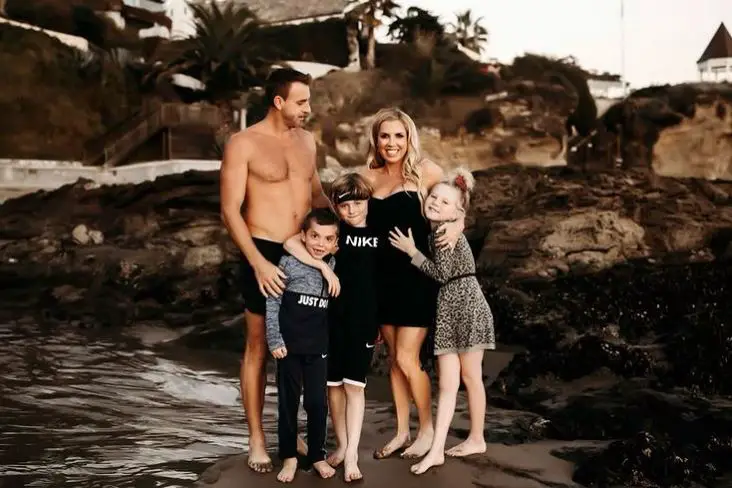 The soon-to-be RHOC star is also not shy of showing her appreciation for her husband. In June 2021, she wrote some heartfelt words for her husband on Father's Day.
"Happy Father's Day💕💫 I'm so blessed to have Ryne in my life," Jennifer wrote. "I don't know what I would do without this man. He makes our house a home. Taking on most of the parenting duties with a smile. Love you Always♥️"
Jennifer's family also has an adorable chihuahua. The dog even has its own Instagram account under the username @_mrpups_