Lenox Tillman rose to prominence after competing on America's Next Top Model in 2021. While competing on ANTM, she was a student at the University of North Georgia and lived in Newnan, Georgia with her mother.
Lenox signed with Next Models Miami and WANTED Model Management Mexico after the show. Santa Barbara Life & Style, Jute, La +Plus Belle, Yes! The Magazine, Dreamingless UK, Last Daze, Fitradio, Sudio Sweden, Fantasticsmag, NASTY, and Draw IV were among the publications that featured her. Tyra has also hired her to model Tyra Beauty outside of the show.
However, on TikTok in 2022, a video of Tyra giving Lenox a one became a global meme. Let's learn what happened and where is Lenox now. 
What Happened To Lenox Tillman At ANTM?
Lenox Tillman is better recognized for a tape of Tyra Banks grading her sexy concept challenge than for her performance in the competition.
After watching Lenox's embarrassing video, Banks can be seen expressing her complete discontent before criticizing harshly.
"It is so bad, I want to give you a zero," Banks says. "But that's not possible, so I give you a one."
It's the lowest score ever awarded on the show, and the words have spread throughout the internet in numerous ways. Individuals using the audio in lip-dub skits on TikTok, where people reminisce about their horrible life decisions, is the most known example.
Tillman has shared several anecdotes about the audio, which has gone around the internet in many formats, in multiple TikTok videos.
Don't Miss: Who Is Paige Taylor & How Old Is She? TikTok, Hype House, Net Worth
She used the aforementioned video format in one of her posts, lip-syncing to Banks' words as a video of her performance being judged played in the background.
he was frank in another about whether she would change anything about the scenario.
"No, I don't think I would have done anything differently," she said. "At least for that scene, no. No."
"I did my best. I gotta cut myself some slack. I was 19 and very insecure and shy and overwhelmed. Tyra got pissed because I was being disrespectful, which is probably fair."
Tillman went on to discuss her terrible performance, admitting that she had never kissed someone before and was very uncomfortable with the "very sexual" footage taken.
"I was very uncomfortable doing things with guys and it wasn't my thing," she added.
Tyra Banks 'It Is So Bad I Want to Give You a Zero' Went Viral
It quickly became a popular format on the video-sharing platform, with Charli D'Amelio, Joe Jonas, Ashley Tisdale, and Noah Beck among those who posted videos.
As they reveal part of their background, they can be seen lip-syncing over the audio of Banks' review of Tillman's performance.
Jonas tweeted a photo of himself high at Coachella, while Charli D'Amelio shared a photo of herself with transparent braces and black rubber bands. Tisdale and Beck both posted identical photos, with the former presenting a photo of herself in a revealing gown at a premiere and the latter a carefully manipulated college soccer photo.
Where Is Lenox Tillman Now?
Lenox uses TikTok and occasionally publishes there, generally in response to inquiries directed at her.
She released a short montage of herself and her girlfriend on various travels in August 2021, with Barry Louis Polisar's "All I Want Is You" playing in the background.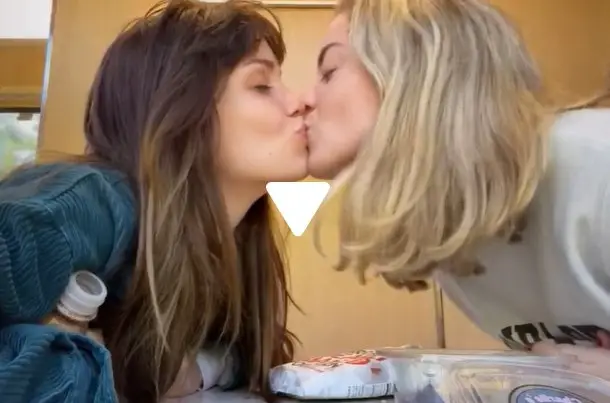 While Tillman has told various anecdotes about her time on reality TV, she has kept her personal life private. Her current location is unknown due to this, as well as a lack of information on her life.