Season 15 of Married at First Sight featured a number of intriguing couples. In the show, the couples shared their intention of marrying a stranger to their families and friends. Some backed their decision, while others urged them to think rationally.
Moreover, Lindy and Miguel are one of the couples introduced in the show. They chose to take a big risk by undertaking something that most others would find difficult.
Marrying a complete stranger based on the advice of love experts appears to be a great risk. Lindy and Miguel saw the risk as worthwhile because they were tired of looking high and low for their ideal mate. 
However, Married at First Sight fans showed their dissatisfaction and commented saying there was chance that their marriage would work in real life. 
Fans Dissatisfaction Towards Miguel 
Fans of Married at First Sight thought Miguel was strange and that his marriage to Lindy would never work in real life.
What made fans fell strange towards Miguel?
Fans were taken aback by Miguel and Linda's differences in the most recent episode.
Lindy, who suffers from anxiety, described herself as an overthinker in need of a calm man. She said that she grew up in a devout family as a Seventh-day Adventist, which influenced her dating life.
Also Read: Who Is Caroline Manzo's Daughter Lauren Manzo? Who Is Lauren's Husband?
Miguel, on the other hand, stated that he need a spouse who was highly emotional. He also wanted to expose his wife to the Dungeons & Dragons world because it provided him with an escape from reality.
Many Married at First Sight supporters thought the couple would fail since they were was to different. 
Furthermore, in one of the Season 15 teasers, Miguel informs his buddies that he would be marrying a stranger while dressed up in a weird costume. The incident completely emphasized Miguel's personality, as he definitely has some quirky tendencies.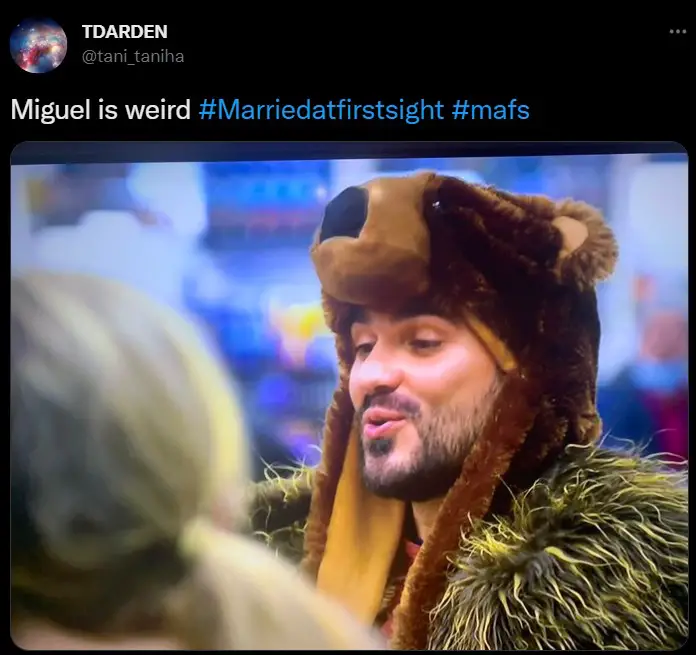 Are Lindy and Miguel an ideal match? Will they be able to overcome the difficulties of marriage and be together for the rest of their lives, or will they split up by the end of the show?
Viewers will have to check in to Lifetime on Wednesday to follow their adventure on Married at First Sight. The show will premiere on Lifetime with a three-hour episode.
Trivia 
Lindy, 29, was born and raised in a close-knit family in Olympia, Washington, and has maintained a strong bond with her parents to this day. She even credits her success to her parents, and she appears to be really appreciative for everything they have done for her. 
Lindy is currently a doctor of physical therapy and has created a reputation for herself in her area.
Miguel, who is originally from Manhattan in New York City, had a tough upbringing. 
Miguel's parents divorced when he was 10 years old, forcing him to leave his Manhattan home and travel to Puerto Rico. 
Life in a foreign country was difficult for the little child, but he soon toughened up and resolved to make his imprint on the world.