Critic's Choice Award-winning Married at Frist sight is slated for another drama-filled season. On a sneak peek at season 13, premiering July 21 on Lifetime, the five new couples matched together by relationship experts —  Michaela and Zack Freeman, Myrla and Gil, Brett and Ryan, Rachel and Jose, Bao and Johnny — are preparing to tie the knot. 
We will be seeing the couples picking out their wedding looks in the show, celebrating their bachelor and bachelorette parties. So, folks, get ready for the five weddings. 
In this article, we will focus on Zack Freeman, a Baton Rouge native. 
Zack Freeman & Michaela Clark At Married At First Sight
Zack Freeman hailing from Baton Rouge, traveled to Houston, Texas, to get married to Michaela Clark. On the season 13 teaser, it was revealed that Zack was quarantined with his stranger bride Michaela Clark.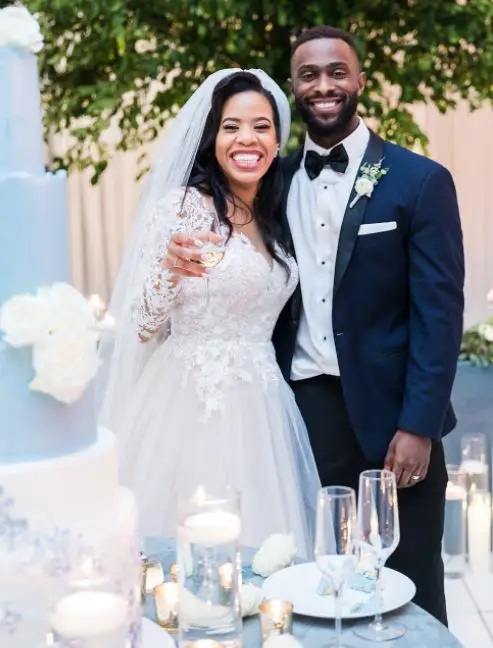 The show has relationship experts who use their experience to make things work between the couple who met each other for the first time. Likewise, the relationship expert said Zack and Michaela have mutual devotion and aspirations to do things for real. 
The couple, however, are well prepared for the challenges coming there as Zack's family is not supportive of their marriage. 
Similar: Who Is Paige Banks? Married At First Sight Bride Whose Partner Has A Dark Secret
Zack's mother said she was not ready for her son to get married to any random girl. His mother was also mad as the experts did not call her about her son's marriage. She said if they had given her a call, she could have provided input on what she thought or with whom her son should be matched. 
On the other hand, Michaela is still confident that her chemistry with Zack is nine out of ten. 
That been said, if Zack and Michaela are still together or not is still a mystery; thus, stay tuned with the show to find out if Zack finds a happily ever after with Michaela or not. 
Who Is Zack Freeman?
Zack is the co-founder of a new social networking app called Friends. His two brothers also work alongside him as other co-founders.
Freeman's full name is Zachary Freeman, and he was born on 24th September 1993. Zack, 27, is the youngest cast member of Married at First Sight and three years younger than Michaela. 
His parents are named Dayne Freeman and Joseph Freeman and have been married for more than 25 years. 
More From Us: Facts About Ryan Oubre From Lifetime's 'Married At First Sight'
His mother, Dayne, is the UI Director at the Maryland Department of Labor. 
Zack is the eldest amongst three brothers. One of his brothers, Hunter Freeman, a Baylor University graduate, is engaged to his fiancee named Kenzie Chakara. 
His other brother Toliver Freeman studied at Saint Joseph's University and is currently a student at LSU School of Medicine in New Orleans. 
Back to Zack, he stands at the height of 5 feet 11 inches (1.80 meters). 
For education, he graduated from Duke University in 2015. Then, he became an employee at Bernhard Capital. 
Don't Miss: Meet Mercedes Myrick, Chris From Married At First Sight's Ex-Fiancee
For now, Freeman has an estimated net worth under $300K. 
Talking about his social media presence, he couldn't be located on Instagram; however, he is active on his  Twitter account under username @ThisIsSpartaKus.