Online images of the rumored K-Pop coupling BLACKPINK's Jennie and BTS's V have been making the rounds according to Gurumi Haribo (@gurumiharibo), a user on Twitter and Telegram.
When V unintentionally followed Jennie's Instagram account in December 2021, dating rumors about the two women started to circulate. However, it wouldn't be until May of this year that the first "dating photo" of the stars would surface.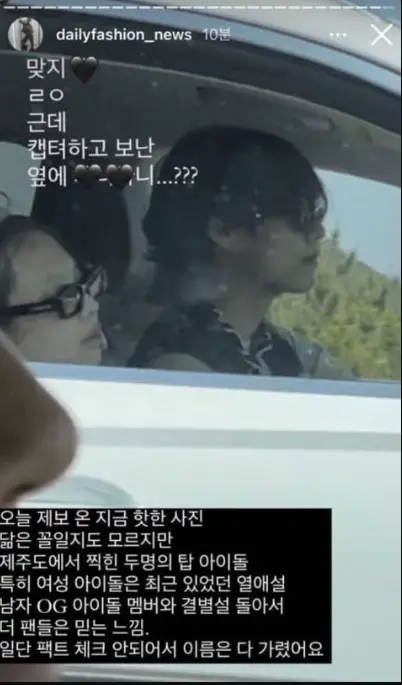 "This is a photo that was sent in today. It might be they're lookalikes, but it is allegedly a photo of two top idols. The female idol, in particular, has been rumored to have broken up with an OG idol member. So fans seem to be more receptive to this photo as true. We won't name any names as we are not able to fact-check the photo."
Many fans thought the aforementioned image was fraudulent when it was first released, probably altered from a snapshot of BTS's program BTS In the SOOP or another piece of publicly accessible media.
The initial image made public by Gurumi Haribo showed a woman (perhaps Jennie) taking a selfie in a backstage mirror as a hairdresser was curling V's hair. The original images of Jennie and V have been difficult to find, according to internet users who think the picture is a composite selfie. They have, however, called attention to apparent editing errors.
In addition to the backstage selfie, Gurumi Haribo also posted a full-body mirror selfie that she said was taken inside V's apartment as well as a close-up selfie of "V" and "Jennie" wearing matching Winnie the Pooh shirts.
Who is Gurumi Haribo?
Some followers think the user is a hacker who took pre-edited images from V and Jennie's accounts or someone who physically gained access to the idols' phones. According to Twitter user Neon (@Neon86342259), who claims to have contacted Gurumi Haribo as a client, the user is interested in taking on commissions to modify the images of famous people.
⚠️ THREAD : THE DARK TRUTH ABOUT GURUMIHARIBO ⚠️
I send them an email saying I was looking for an edit to create a new scandal. I also let them know that if I was wrong about them, they should just ignore my email. However they replied asking which members I wanted to involve AND — Neon (@Neon86342259) August 24, 2022
Despite the suspension of Gurumi Haribo's Twitter account, the user is still active on Telegram, a messaging service that enables users to create groups for up to 20,000 people. Gurumi Haribo recently answered questions in a group chat that has thousands of online users participating.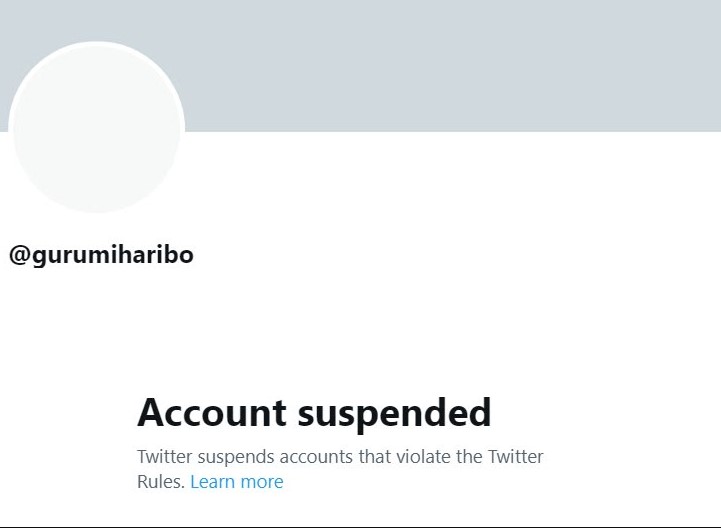 Although Gurumi Haribo claims to be working alone, it indicates they did not have direct access to the sources of the images.
Prior to their suspension, according to Gurumi Haribo, they left "a very large hint" on Twitter that pointed to the individual who had originally supplied them with the pictures.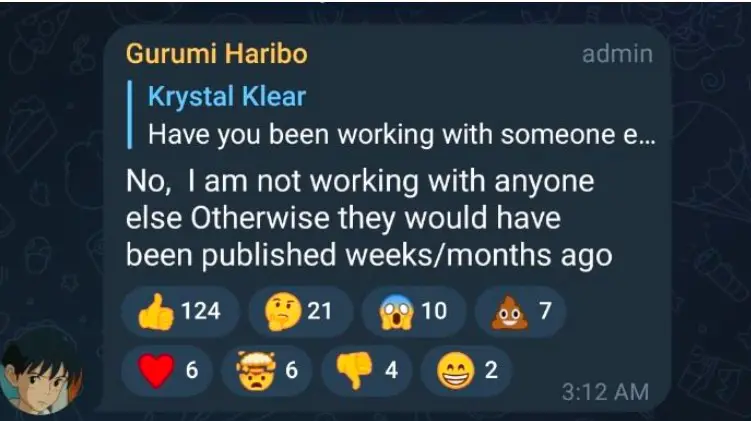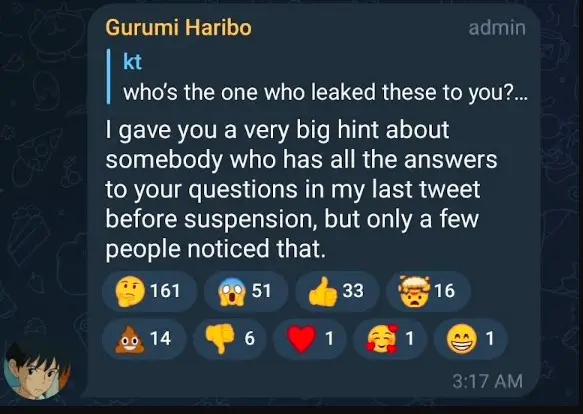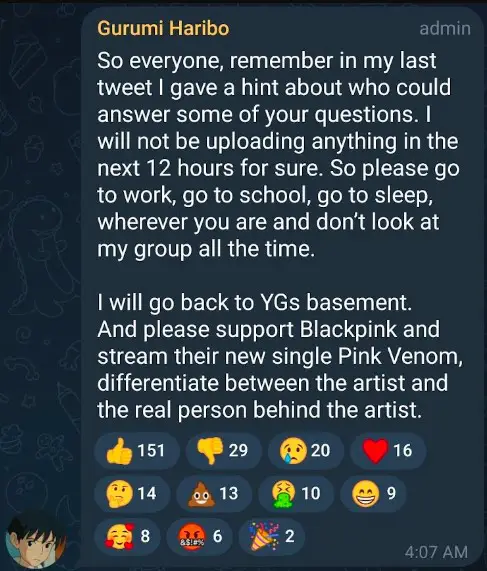 Gurumi Haribo claimed that they contacted two individuals—implied to be Jennie and V—before sharing the pictures.
Jennie, according to the user, has not replied to their messages.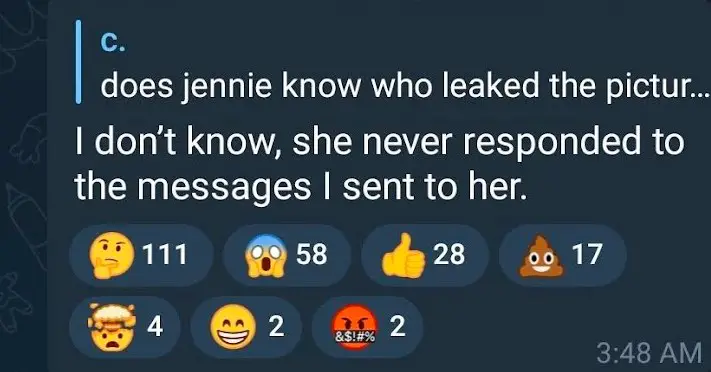 In addition, according to Gurumi Haribo, only Jennie and V can be seen in the images they have published.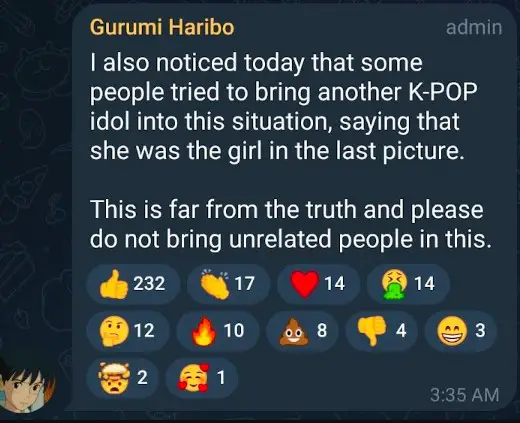 Gurumi Haribo was pressed by a participant in the group chat to divulge details regarding the other six BTS members, but she said, "I do not have knowledge of the other 6 members of BTS."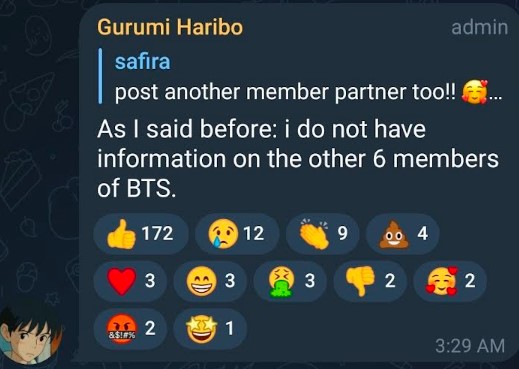 Since the inception of K-Pop, "dating" and "scandal" has been inextricably linked, in part because dating shatters the fantasy that fans have that their stars are genuinely approachable romantically. News of a relationship can also start fan fights, lower the stock value of agencies, and incite animosity toward the couple's respective celebrities.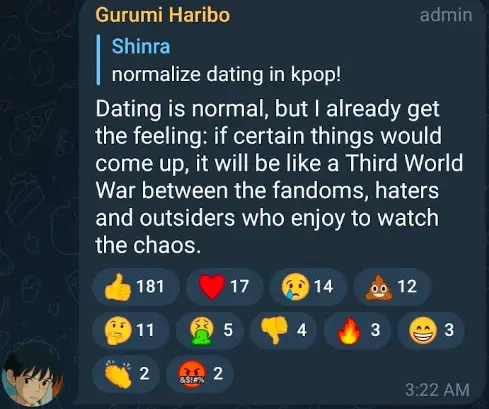 HYBE Labels and YG Entertainment have not responded to Gurumi Haribo's images, and more may be on the way. The agencies are being urged by many fans to speak out and defend their talents.