On May 23, speculations began circulating on the internet that BTS' V and BLACKPINK's Jennie had just taken a vacation in Jeju Island, South Korea. Many people assumed the two artists were dating and spending time together as a result of this.
The rumors started when fans saw a photo of member V driving a car with Jennie in the passenger seat.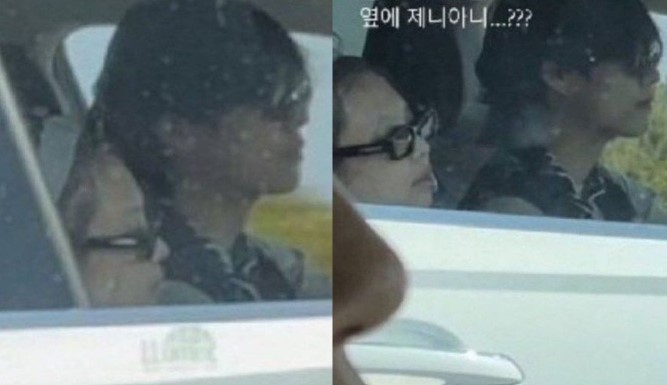 While others claimed the photo was doctored, one anonymous airline employee came to social media to say they saw the two traveling together in person.
The person took to Blind — an anonymous workplace social networking application that requires verification before publishing — to reveal that the two were traveling in business class on a T'way airline to Jeju.
The post read, "We all thought they were dating publicly because they weren't secretive at all about it."
According to the employee, Jennie and V — actual name Kim Taehyung — departed Gimpo Airport on May 21 and arrived in Jeju at 2:15 p.m. on the same day.
As of this writing, nothing has been confirmed. Jennie's management, YG Entertainment, responded to the rumors by saying:
"We have nothing to say [regarding this matter]. We will inform you if we have a different response to share."
Meanwhile, BTS ARMY and Blinks, the Blackpink fandom, continue to assume that the viral photo of V and Jennie was staged. This isn't the first time V and Jennie have been linked to one another. V had previously made news for 'accidentally' following Jennie on Instagram, just after BTS members RM, Jimin, Jin, V, Jungkook, J-Hope, and Suga had made their Instagram debut.
Check Out: Everything You Need To Know About Travis Barker's Son Landon Barker | His Age, TikTok, New Mom, Net Worth
BTS is presently working on its anthology album Proof, which will be released later this year. The new album is rumored to include a mix of classic and new songs, including Yet To Come, Run BTS, Born Singer, Boy in Luv, Danger, IDOL, Dynamite, On, Butter, and Life Goes On. On June 10th, it will be launched.
Fan's Reactions To Dating Rumors
Fans' humorous reactions to the dating allegations involving BTS member V and BLACKPINK member Jennie.