Dixie D'Amelio has created a buzz on the Instagram platform and has amassed quite a large fan following. Her followers currently clock at 24.9 million but not anything closer to the popularity of her younger sister Charlie D'Amelio. Her sister has around 44.1 million followers on her IG. 
Moreover, Dixie gained prominence after her appearance in the popular YouTube series Attaway General.
She also regularly collaborates with Charlie and other popular TikTokers, in making videos. In addition, she and her younger sister had become a member of the LA-based TikTok collaborative collective The Hype House in early 2019. 
With the rising of popularity, people try to learn more about them in-depth. So, we have attempted to craft this article to give you a closer look at Dixie's professional and personal life. 
Who Is Dixie D'Amelio?
Dixie D'Amelio was born on 12th August 2001 in Norwalk, the United States, to Marc D'Amelio and Heidi D'Amelio. Her father is a politician and businessman whereas her mother is a photographer. 
In 2014, her father was arrested for drunk driving and following his arrest, he became sober for nine months. 
Moreover, Dixie has a younger sister named Charlie D'Amelio, a TikTok star. She has over 125.4 million followers on her TikTok account. 
Dixie stands at the height of 5 feet 6 inches (1.67 meters), weighing 54 kgs. 
Career & Net Worth
Dixie was first introduced to Instagram in 2015 and after six years, she has amassed over 24.9 million followers. In early 2018, she first got her modeling gig. 
In late 2019, she and her sister became a member of 'The Hype House.' Dixie received an opportunity for several brand deals and endorsements along with an alliance with other famous TikTok stars like Wyatt Xavier, Addison Rae, Chase Hudson, Tony Lopez, and Ondreaz Lopez after she became part of The Hype House. 
Also Read: Cynthia Bailey Is Speaking Out About Leaving The Real Housewives Of Atlanta
Later, in 2020, Dixie and her sister Charlie left The Hype House. In the same year, Dixie drew criticism after being accused of mocking cosplayers on the TikTok video. Dixie soon offered an apology after Cosplay Twitter opined about taking an offense. She released a statement saying, 
"I just got off the plane to the cosplay community being not very happy with me. My friend and I made a video where we were doing it [dancing] and it was completely taken the wrong way and I didn't mean for it to happen that way at all."

"I was not trying to bring down anyone, I respect and love all types of content creation,' she continued. 'I'm so sorry if you thought I was trying to bully or bring you guys down in any way, that's not the type of person that I am."

"I've learned from what happened and it will not happen again. I love you all so much and please stay safe with all the corona stuff."
Moving forward, Dixie is also an athlete and has participated in several track events in her high school. On her Instagram account, you can find her posts related to her hockey games. 
As of now, she has made an estimated net worth of $1.8 million. Meanwhile, her sister Charlie has an estimated net worth of $9 million. 
Dating, Lesbian, Girlfriend 
Dixie D'Amelio ignited lesbian rumors due to her closeness with Addison Rae, a TikTok star and an internet influencer. They are quite close; however, they dodged the gossip leaving fans clueless regarding that matter. 
Moreover, Dixie is currently in a relationship with Noah Beck. He is an American social media personality most known for his content on TikTok.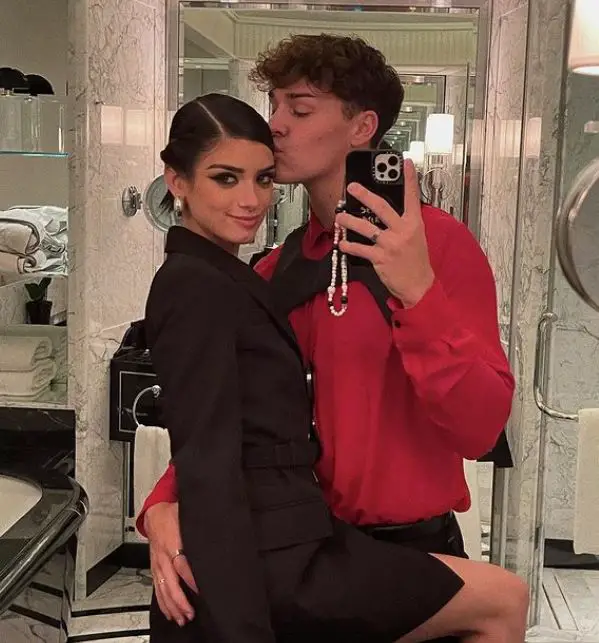 The couple started dating in 2020, and in September 2021, they celebrated their 1 year of togetherness. 
Previously, Dixie dated her high school boyfriend Matt Gravel. She was also rumored to be dating Griffin Johnson, a member of Sway House. In March 2020, when she visited her dentist to extract her teeth, Griffin accompanied her there. However, they never confirmed their relationship.