On May 2, 2022, Jaden Hossler (aka Jxdn), an influencer who began his musical career in February 2020, and Nessa Barrett, who released her debut track, "Pain," in July 2020, announced their breakup.
After working on Nessa's smash song "La Di Die," Jaden and Nessa began spending time together. In the summer of 2021, they made their relationship official. Why did they call it quits? What went wrong?
Jaden Hossler & Nessa Barrett Inside Drama 
During their year-long romance, TikTok faves Jaden Hossler and Nessa Barrett have been through a lot. The duo overcame the backlash from their breakups with Mads Lewis and Josh Richards, which included Jaden's mother, Amy Denaé Hossler, being embroiled in the TikTok scandal. 
As of now, Jaden and Nessa had unfollowed each other on social media, and also released a statement announcing their breakup. The couple said, 
"Last month we broke up to take time to focus on our own careers and mental health." 

"Please don't send hate or make assumptions. We would like to heal privately and hope you all can respect that. We love you all so much."
However, their fans didn't react too well to the break-up news. 
@noa_hanrahan tweeted, "Wishing @jxdn and @nessabarrett the best in healing after their breakup. Love you two lots. Both of you have helped me so much with your music, and I am thankful even though hearing about the breakup has saddened me as a fan. I will continue to support both of you."
@ishbishhhh said, "I need Nessa Barrett to release the best breakup album of this summer."
When Did They Start Dating?
Jaden and Nessa had known one other for a long time. Before it closed in February 2021, they both spent a lot of time in the Sway House.
Later, during a radio interview with Audacy's Kevan Kenney in June 2021, Jaden acknowledged that he was Nessa's boyfriend.
When asked about their connection, Jaden remained tight-lipped. He said, 
"I don't know anything about that, but we're just trying to enjoy ourselves." 
"Really trying to be happy." He went on to say that he feels that they handled the situation "respectfully and privately" and that he's "the happiest he's ever been." 
Of course, the paparazzi questioned Nessa if she's ever been happier, to which she replied, "Yeah."
While it's nice that they've both moved on, the TikTok world has gone crazy because their new relationship appears dodgy.
Furthermore, Mads had the impression that Nessa was attempting to kidnap Jaden. The fact that Jaden and Nessa became a couple later supported her case.
Even worse, Jaden went on Instagram Live to talk about the new development and Mads' dissatisfaction.
"I understand she's going through a lot of hurts and that's why she might have been handling things the way she has been," he said. "Do I agree with it? No. I think it made us get to this point, which is not where I want us to be."
Is Nessa Barrett Getting Back Together With Josh Richards?
It's all everyone has been talking about since Jaden Hossler and Nessa Barrett broke up. People are wondering if Nessa and Josh Richards are back together.
Nessa Barrett has been photographed with ex-boyfriend Josh Richards, just two weeks after she and Jaden Hossler announced their split.
They were photographed strolling Josh's dog in sweatpants, looking relaxed.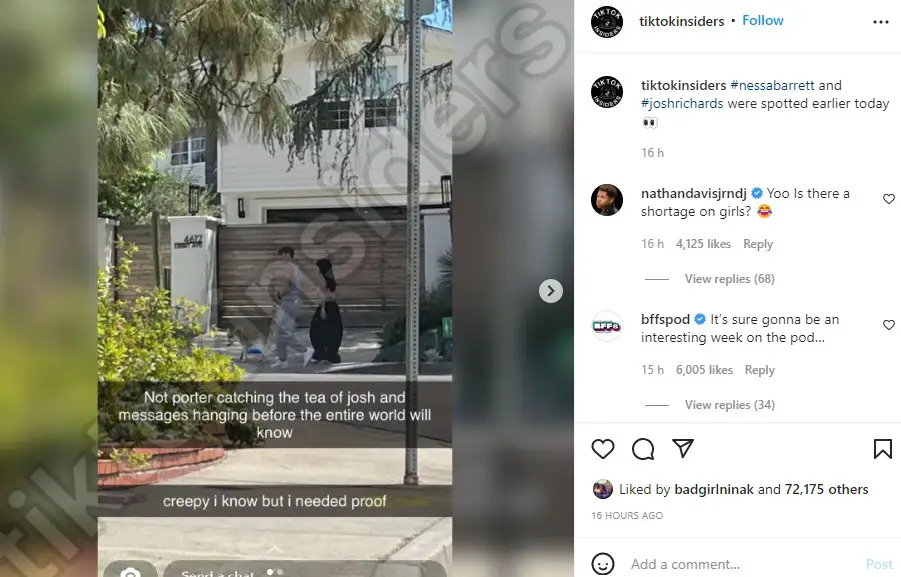 Could this be the reunion fans have been waiting for all year, one year after the famed love square that saw Nessa leave Josh for Jaden and Jaden leave Mads Lewis for Nessa?
At the time of publication, neither Nessa nor Josh had responded to the photo.
Don't Miss: Who Is Renata Ri? Why She Was Kicked Out From Hype House?