Kat Stickler appeared to be playing a joke on her mother when she told her she wanted to join OnlyFans.
On May 20, 2022, the internet personality posted a video she created with her mother to her TikTok account, as well as to her YouTube channel. She told her mother in the video that she wanted to join OnlyFans, an internet content subscription service.
Kat began the brief video by saying, "Okay, so, tell me what you think, honestly. I think I'm gonna start an only fans." 
Her mother instantly inquired and asked, "What's that?" 
In response, the TikTok sensation asked her mother if she recalled when she [Kat] did the bikini dance video. To which her mother said, "Oh, that must have gotten a ton of views."
Kat remarked in an overlay caption that she wasn't expecting her mother's reaction, and the camera seemed to zoom in on her. "And what would you do for those fans only?" Kat's mother asked.
Kat takes a step back from her mother. "Are you turning Kardashian on me?" her mother asked again. "There is just a lot of money in it, a lot!" Kat replied. Her mother swiftly followed up with another question, saying, "Like how much?"
Kat sped through the chat, and the video moved to a period where her mother inquired,  "like 'patitas'? — feet are called patitas in Hispanic — that you have to show the patitas? Is that what it is?"
In her response, Kat said, "I'd probably show the patitas, yeah," and they burst out laughing. "They pay you like $10,000 just to see your feet," Kat continued.
Her mother was taken aback when she learned that, as she put it, "Wow." Kat further jokingly said, "We can even just show them your feet." 
"Cono, let's think about it. It's a fine line," her mother said.  "Would you do it if you were me?" Kat asked her mom. "Oh yeah," her mother said with a laugh.
She then asked Kat whether she wanted to join OnlyFans, to which Kat replied, "Yes." "I think so, like, why not." Kat's mother then asked her if she covers her face.  "I guess so," Kat responded.
Her mother continued, "You know, they do those Publix bags with the…." "The holes!?" Kat completed the sentence. Both of them again laughed.
Kat finally asked her mother whether she agreed with her. If joining OnlyFans was something she wanted to do, her mother advised her to go ahead and do it, but not too far.
The mom and daughter combination received a lot of appreciation from TikTok fans. Many of them said Kat's mother was supportive, while others said the act was funny and Kat's mother "is honestly the best."
Kat is not actually joining OnlyFans, and the whole thing was just a fun thing a daughter and her mother did together. "All kidding," says the caption on her TikTok video.
Who Is Kat Stickler?
Kat Stickler, 26, is a Miami, Florida native. Stickler stumbled into the social media world by downloading TikTok during the pandemic. Her ennui became a full-fledged influence career, and she now has a net worth of $500,000.
Kat recalls using the app as a way to express herself creatively. Who thought it would lead to such a prosperous career? Kat also has a big Youtube channel and has over 830K Instagram followers.
Talking about her married life, Kat and Mike were admired for their realistic portrayal of married couples. They had a lot of fun with one other and performed a lot of pranks on each other. They shared their small family with the rest of the world.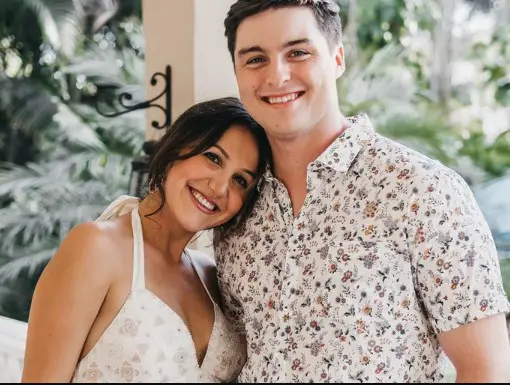 Unfortunately for the TikTok duo, it wasn't all rainbows and sunshine. Fans believed they were seeing a realistic performance, but they were just seeing the highlights. Kat and Mike's fans were devastated when they announced their split on March 17th, 2021.