'The Real Housewives of Beverly Hills' has brought in some interesting people throughout the years. Among those people is Dana Wilkey, who made sure to let everyone know about her $25K sunglasses.
Dana came to the show in the second season as a "friend" of former cast member Taylor Armstrong.
However, she did not stay long in the show. Since she left the show, fans are wondering what she is up to now.
Where is Dana Wilkey Now?
After leaving the show, Dana Wilkey has been occupied with several things.
In an interview with Heavy, she revealed that she went to London after the show and shot another show called 'Rick and Ditched' which didn't make it to the screen. 
"But it was super fun, I had a great time, I lived in Chelsea. I had a ball, I like, sang my $25,000 song in a nightclub. I got to have such a good time and it was such a cool experience."
Soon after that, Dana discovered that her ex-fiance, John Flynn, had been cheating on her. That incident pushed Dana to move back to Miami because she wanted to be close with her parents who lived there. 
"...because for me, my ex, it turns out, had been cheating on me since I was eight months pregnant. I was engaged to him at the time, and the way I found out was that the girl called me and said 'I want you to know that we're engaged.' So my life changed really quickly, and I had to recover...it's like a book, what I went through."
She then went to work on some films with her friend and then came the legal issues with her ex.
Interesting Read: Who Is Marlene Wilkerson? Influencer Has Welcomed A Baby With Kyrie Irving
She explained, "I had some legal issues that were started by my ex and I ended up settling those legal issues, I did not go to jail and get any fraud charges, which nobody knows."
"It was kind of interesting that the world thought I did. When this really bad press came out, I said, you know, if that's what people really want to believe, then let them believe it. It's just easier."
After that, Dana moved on from the situation, headed to Miami, and took care of her son and grandmother. That was also when she started doing marketing and publicity.
She Spills on Her Instagram Page 
Dana has interestingly become one of the sources among the fans for anything related to Real Housewives news and gossip. She only started her Instagram page when COVID-19 hit the world.
"I really wanted something I could express myself on, and I found Instagram," Dana revealed to Heavy. "I didn't know how to use it even, and I started posting two or three things. I started going, you know, I'm so bored and it felt terrible. I was like, maybe I should start watching some of the (Housewives) shows. I started allowing myself to look at pop culture again."
She then started to share her stories after noticing that Bravo had been doing the same thing. And, while Dana has been providing some juicy takes on the show, she wants the page to be a safe space for her followers.
"My Instagram is a community that I set up and it's an expression of my art, which is the tea. It's the one common ground that we can all hang around, and that's pop culture. For me, that's the key, it's a place to safely be silly, and be free."
Dana Wilkey's Son
While her union with John Flynn didn't turn out great, the relationship did give her a lovely gift, her son, John Cayden Flynn. 
Her son often makes appearances on Dana's social media. One of those moments was when Dana posted a picture with her son during Christmas on Instagram in 2020.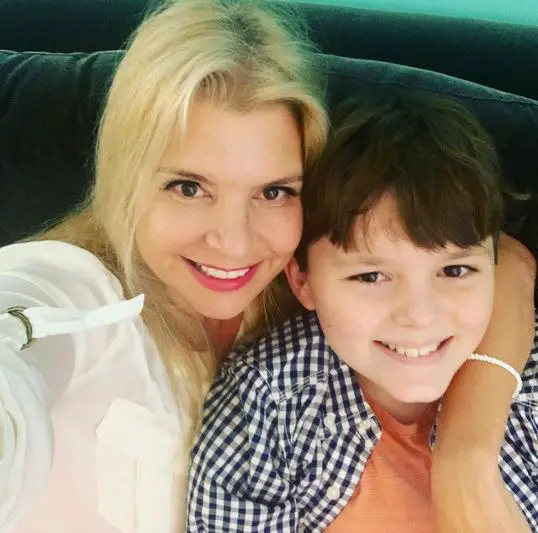 She Recently Featured in 'The Housewife and the Hustler'
More recently, Dana made an appearance in Hulu's 'The Housewife and the Hustler,' the new documentary on Erika Jayne and the legal drama of her estranged husband Tom Girardi.
It was not surprising that Dana was featured in it considering her history of public feuds with Erika Jayne.