Marlene Wilkerson and Kyrie Irving are parents now!
Marlene let the public in on the news by publishing a YouTube video on her channel, 'The Find Guru,' where she welcomed a baby with clips from her home birth. 
The 11-minute video, titled 'Our Pregnancy Journey,' showed a montage of moments that led to the natural birth. We see Kyrie Irving comforting Marlene throughout the video that reveals the couple welcoming their child in a bathtub. 
Who is Marlene Wilkerson? Bio
Marlene Wilkerson was born on August 18, 1993, under the zodiac sign of Leo.
Interesting Read: 7 Little Johnstons: Insight Anna Johnston Life Explored
While there is no detailed information on Marlene's family, we do know that her mother's name is Alaine Lee Lugo.
For her education, Marlene went to San Jacinto High School. After that, she attended California State University in Dominguez Hills and graduated with a bachelor's degree in Marketing in 2015.
Career
In one of her YouTube videos, Marlene talks about how she started business at the age of 20-21.
In the video, she talked about how she was able to start and maintain a clothing line from ground level with no experience and money of her own (she apparently depended on her mum financially).
Now, she is maintaining her profile as a businesswoman and a model on Instagram. Her brand, 'The Find' has come a long way and is thriving as we speak.
Her Social Media
Marlene has a considerable presence on social media with over 407K followers on Instagram where she posts and promotes under the username @goldennn_xo
Peep This: Fox Fires SU Alum Ivory Hecker | Alleges She's Being "Muzzled" By Station
On top of that, she also runs her YouTube channel, 'The Find Guru,' where she posts vlogs and tutorials on several topics like fashion, workout, and makeup. 
"Hey Youtube! I am Los Angeles native that shares my favorite curly hair tips and tricks. I will also share some of my personal beauty tips, fashion advice, and fitness routines."
She has put out different sections on her YouTube to help people find what they're looking for easily. 
For example, she has put all of her workout and diet videos on a section called 'How I Stay Fit,' her business-related videos on 'Business Videos,' and her hairstyling videos on 'Hair Videos.'
Her YouTube channel has more than 773K subscribers with over 46 million views in total.
Marlene Wilkerson Relationship with Kyrie Irving
Marlene and Kyrie have been dating for quite some time now. However, they have managed to keep their relationship details under the covers.
While You're Here: 'Married To Medicine's Contessa Metcalfe Opens Up About Her Marital Issues!
Some people were even assuming that the couple had broken up since there was no recent news of them, until the birth video of the baby. 
The video showcased the couple sharing loving moments with behind-the-scenes moments of their union. They welcomed a baby son through natural birth.
The end of the video says, 'A dedication to indigenous women to reclaim their bodies and heal our lineage through sacred natural birth. May you find your way to that inner knowing. May we educate, empower, and assist each other through the sacred journey of becoming and being a mother."
Kyrie is not a first-time dad; he welcomed his first child, daughter Azurie Elizabeth, in 2015. Kyrie announced the arrival of his daughter on Instagram in a November 2015 post, where he revealed that he had given his daughter the name of his late mother.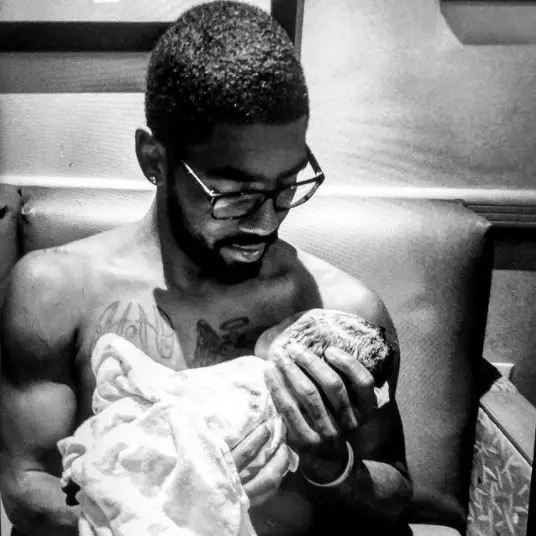 He shared a picture of him holding baby Azurie as the caption read:
"Azurie Elizabeth Irving 11/23/15 35 hours of labor from her great mother and she came into the world to bring a shine to my world that I never thought was possible. I love you so much, and my heart grew the first time I felt your heart against mine. Mommy, I gave her your name because I know you will bless her and our family the same way you blessed me. I love you."