Kelley Flanagan one of the famous faces of Bachelor Nation is a contestant of The Bachelor's Show 24th Season. She is also a model, former tax attorney, an influencer who shares modeling and cooking-related content through her Instagram. 
Recently, she was diagnosed with Lyme disease diagnosis. However, Kelley isn't letting her diagnosis stop her from living her best life.
Kelley Flanagan Reveals How Lyme Disease Battle Impacts Her Daily Life
During an exclusive interview with E! News, the former Bachelor contestant said, 
"I've been exhausted. This is the first actual day that we've been moving and grooving," Kelley explained of her health. "I'm trying to take it easy and just trying to do whatever I possibly can."
"You have some good days and you have some bad days. This morning, I wasn't doing my best. Right now, I got some energy back."
At the end of August, Kelley shared an emotional video about being diagnosed with tick-borne illness, which is caused by the bacterium Borrelia burgdorferi.
She also mentioned she noticed a difference in her health while she was filming The Bachelor in 2020.
"I was getting a lot moodier in certain situations, and I knew that wasn't me totally," she recalled, adding, "Everyone on the show knew I had issues health-wise when I was there. Every single girl in the house knew that I wasn't doing so well. They just thought that maybe [I had] a typical cold or something, but now it makes a little bit more sense."
Flanagan explained that certain Lyme Disease symptoms didn't raise any red flags for her because she believed they got it while participating in the ABC dating show.
"The anxiety," she shared, "which I also thought was brought on from the show... 'Maybe it was the Lyme. Maybe it was the show?'... I can go on a list of things that have affected me."
The Bachelorette couple Ryan and Trista Sutter was also diagnosed with Lyme Disease in the past. 
Dating History
Kelley Flanagan dated Peter Weber after filming the 24th season of The Bachelor in 2020. He is a pilot and one of the participants of The Bachelor.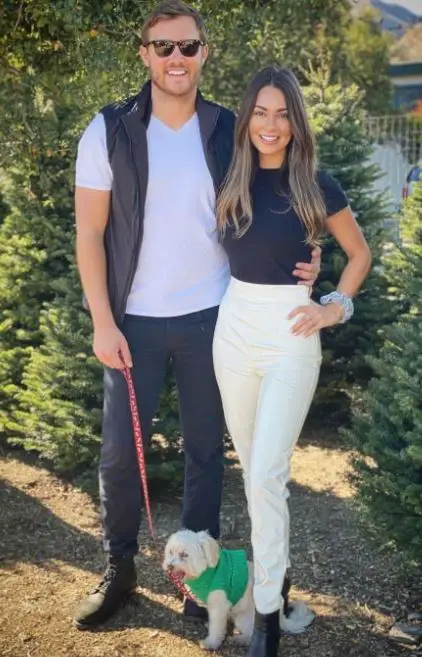 She met Peter before the show but started dating only after the show after they subsequently grew feelings for each other. 
Don't Miss: Is Lisa Joyner Still Married To Jon Cryer?
In January 2021, Kelley and Peter went through a public breakup. A month later after their break up they were spotted partying together in Tampa, Florida. 
Sadly, in March 2021, following a brief reconciliation and Valentine's Day date in New York City, the pair split for good in February.
Moreover, she also revealed to E! News that she's focused on her health and not looking to find love. 
"I'm single right now, every single, which I'm OK with," she said. "I mean, it'd be great if someone came into my life, but right now I just have to figure out my health."
Facts On Kelley Flanagan
Kelley was born on 25th February 1992 in North Barrington, Illinois, United States. 
She completed her Bachelor's degree in Marketing at the University Of Alabama. She then attended the University of Alabama to become an attorney. 
Kelley completed her J.D at Chicago Kent College Of Law and went to work at Flanagan Bilton as soon as she graduated.
She stands at the height of 5 feet 4 inches (1.62 meters), weighing 58 kgs.