ABC's new sports reality series, The Ultimate Surfer, is every up-and-coming surfer's dream. 14 athletes will get a chance to compete in the World Surfing League Championship Tour. The contestants will battle it out at the World Surf League's (WSL) Surf Ranch in Lemoore, California to win a $100,000 cash prize. 
Malia Ward is among the compelling surfer contestants Alejandro Moreda, Kai Barger, Koa Smith, Luke Davis, Mason Barnes, Zeke Lau, Austin Clouse, Anastasia Ashley, Brianna Cope, Bruna Zaun, Juli Hernandez, Kayla Durden, and Tia Blanco.
Malia Ward On 'The Ultimate Surfer'
Malia Ward was pretty much born with a surfboard under her feet and at 23 she is already known as a rising star in the surfing world. She is the daughter of pro surfer father Chris Ward and fitness model mother Jacqueline Miller. 
Malia surfing trajectory has almost always been linear and she said, 
"I was pretty much born into surfing," she says. Her dad would take her tandem surfing as a kid but avoided forcing her into the sport as a child. It was something she would have to love on her own and decide to pursue without his influence.

"I paddled out and I would catch waves easily, stand up, ride them all the way in." 

"And it was an exhilarating feeling… I was like, wow, I get it now. I was so passionate about it and I loved the way it made me feel. It made me feel powerful."
Malia hopes to win an opportunity to compete on the WSL Championship Tour and is excited about her 'The Ultimate Surfer' stint. The Ultimate Surfer's prize was not what initially drew Ward in. 
"I think [the draw was] more the experience of being a part of something that is so groundbreaking in surfing."

"The Ultimate Surfer is a really cool avenue for surfing to become something more than just competing. People say surf is dead, you know? Doing things outside of the surf world and making it mesh is really good for the sport to grow and for more people to learn about it. I think the informational aspect is huge — so much more exposure for surfing to the rest of the world."
She further added saying, 
"I think it's a huge win for surfing to be in the Olympics."

"It's definitely raising its credibility as a sport because there's still people that ask, 'Is surfing a real sport?'"
'The Ultimate Surfer' will be hosted by former NFL quarterback Jesse Palmer alongside a commentator and special correspondent are Joe Turpel and Kelly Slater, respectively. Stay connected with the show to experience more surfing adventures.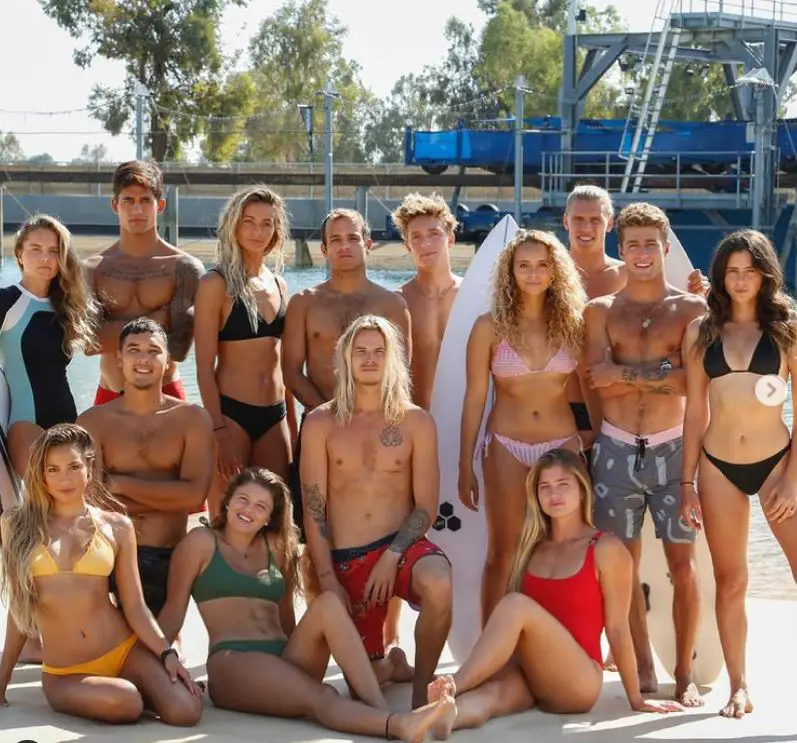 More Facts On The Young Surfer
Malia Ward was born on 20th September 1997 making her Virgo. 
She stands at the height of 5 feet 6 inches (1.68 meters). 
Her father Chris Ward and mother Jacqueline Miller welcomed her into this world when they were 19 and 17, with the two on the verge of their own skyrocketing careers. People questioned them whether it was a good idea to become parents while on the precipice of stardom to which Chris replied saying, "checked out it as an optimistic factor."
Sadly, her parents are no longer together. Malia and her mother Jacqueline lead a fabulous existence without Chris. The mother-daughter duo was living in a five-storied house with a private beach in Corona Del Mar, California. More than a mother and daughter, they look like a pair of sisters. 
As per Malia's father, Chris married Michelle Marie. However, in 2015, he was charged with allegedly assaulting his wife. On June 17, 2016, he was taken into custody and was sentenced to 60 days in jail. According to the charging document filed against Chris read, 
On August 18, 2015, Wardo was charged with committing misdemeanor domestic battery resulting in a traumatic condition against his wife, Michele. On April 7th of this year, Chris entered a plea of guilty to that same charge of domestic battery, admitting that, "On or about 2/16/15 in Orange County, I willfully and unlawfully inflicted corporal injury resulting in a traumatic condition upon Jane Doe, whom I was cohabiting with at the time." He entered that plea of guilty with a negotiated sentence that included three years of probation and 60 days to be spent in county jail. Chris is eligible for what's commonly known as "half time", meaning as long as he behaves himself, he will serve 30 days of the 60. Because he pled to a crime of domestic violence he is required to attend 52 weeks of domestic violence classes, from which he has already been terminated for excessive absences and had a violation of probation filed against him.
The incident was first brought to light after Chris' wife Michele used his Instagram account to upload a photo of her bruised and battered face with the caption,
"I'm a professional athlete. I love my wife. But I spread lies about her. So here's the truth. This is how I love it. Truth is here." The photo was removed from IG within the hour it was posted.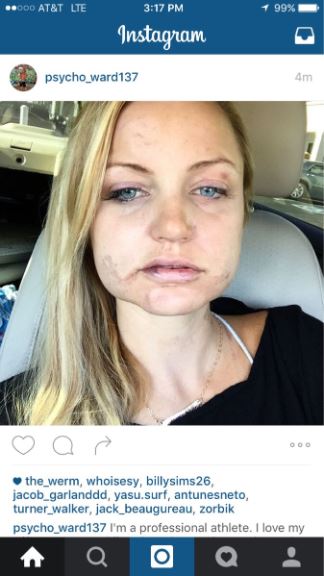 Moreover, this isn't Chris Ward's first run-in with the law. In 2008, he was arrested outside of the Whiskey Creek Bar in Mammoth Lakes, California after allegedly threatening one woman with a chunk of ice and punching another woman who tried to intervene. 
Although Chris had a dark past, he actually put an effort into his daughter Malia to become a surfer. Although he was not around a lot, when he spends time with Malia they had the best of times. 
Malia while getting close to the ocean, she did not miss her education. She enrolled at the University of Southern California where she studied Communications until 2020.
She also pursued commercial and theatrical acting stints, played tennis, and DJ'ed on the side. 
Malia was also credited by IMDB for playing Michelle in 2016's Code Blue: A Love Story. 
As of now, she is said to have an estimated net worth of $300K.