Anya Taylor Joy is an example to those who are committed to doing what they love. From childhood till now, she has carved out a unique niche earning global fame and recognition. She has dully earned the nickname Scream Queen for holding down the roles in scary thriller movies like; The Witch, Morgan, and Split. 
The multifaceted American actress is rated as one of the fast-rising actresses in the film industry, earning a massive fanbase.
Currently, Anya is on the verge of major stardom in the latest film Emma. 
About Anya Taylor's Family Origin 
Anya Taylor was born on 16th April 1996 with the full name Anya Josephine Marie Taylor-Joy in Miami, Florida, USA. She is the youngest and last child of her parents, who are of different descent. 
Her father is Scottish-Argentinian, whereas her mother is African-Spanish-English. Her father is a former international banker who gave up his job to venture into motorboat racing, and her mother worked in photography and interior design.
Due to Anya's parent's different heritage, she grew up in lots of different places. She was born in Miami but moved straight away to Argentina before relocating to London due to Argentina's political situation. However, she did not appreciate London's move and didn't learn English to go back to Argentina. 
Anya once said, 
" Belonging to all of them, you also belong to none of them."
Struggled With Bullying
When Anya and her family moved to London, she was enrolled in an elite West London private school where she faced bully. She was bullied for her eyes, which are set far apart from most people. 
She was also bullied for her language as she only spoke Spanish until she became conversant in English at the age of eight.
Anya said,  
'I was too English to be Argentine, too Argentine to be English, too American to be anything, the kids just didn't understand me.'
The bullying really did not affect her until one of the Facebook users tagged her in a fish photo, telling her she looked like it. The bullying got to her at some point where she avoided mirrors and struggled a bit with sports.
However, with the change of time, Anya standing at the height of 5 feet 8 inches (1.73 m), has become a lot less awkward and didn't really care much about her physical appearance. She said, 
"I've got really bad eyesight so I can't see my reflection in car windows or anything. I very early on decided that I didn't want to be about physical appearance if that makes sense?"
Fell in Love with Acting At A Very Young Age
Since a very young age, Anya Taylor harbored a dream of becoming an actress. However, during her teenage period, things took a turn down as she was bullied, due to which she dropped out of school. 
On the other hand, the good fortune soon smiled her way as a modeling agency scouted her. When Anya was on her shopping trip to Harrods, she was spotted by Storm Models' founder, Sarah Doukas.
At first, Anya mistook Sarah for a kidnapper when she followed Anya in her car. Anya took the next turn and tried to run; however, the car continued to tail her, and Anya became more alert and was on a go-to run away. 
But Anya was soon stopped by Sarah, and that moment changed her life forever. Sarah gave Anya her card and asked her to come to her office with her parents. Sarah also warned her not to stop for anyone's call. 
However, luckily, that call changed her life, and the rest became history. Two years after beginning her career, she landed on her dream job -- an acting career. She portrayed the role of Philippa Collins-Davidson in the TV series Endeavour.
Breakthrough From The Witch
Anya Taylor got her first career breakthrough in 2015 when she delineated Thomasin's character in Robert Eggers' horror movie, The Witch. Her critically and acclaimed performance in the movie was spectacular in that it earned her several nominations from different bodies, winning a handful of awards. 
The Witch's role made a significant impact on Anya's career, after which career has fared. After the breakthrough role, Anya took the movie industry by storm with her lead role in the 2016 movie Split.
Since then, Anya has worked in Thoroughbreds, The Secret of Marrowbone, Playmobil: The Movie, Glass, Radioactive, Emma, Here Are the Young Men, The New Mutants, and on The Miniaturist, The Dark Crystal: Age of Resistance, and Peaky Blinders.
She is recently seen in the TV series The Queen's Gambit, where she plays Beth Harmon's character. 
She Nailed Tournament Scene In Queens's Gambit
The Queen's Gambit debuted in October 2020 became the streaming platform's No. 1 show among sixty-three countries and the most-watched "limited scripted series" ever. Lead actor Anya Taylor-Joy played chess prodigy, Beth Harmon who has become a global phenomenon herself.
Before playing the lead, Anya took a crash course from the hypercompetitive players around in all things chess. 
During an interview, she said she had never played chess, and to portray the lead, she had to understand the theory of chess really well. 
The character Beth is an orphan who gets addicted to tranquilizer pills at a very young age. She discovers an innate talent for chess she begins her quest to become the top-ranked chess player in the world. Alongside her passion, she also battles with drug and alcohol addiction.
Anya's Tv series The Queen's Gambit is one of the fall's biggest new hits debuted in chaotic continuing pandemic and the week-long election night. 
Anya was very passionate about her role and had always been nailing the role she gets.
Before this series, she was equally praised and loved for her role in M. Night Shyamalan's horror-thriller film Split and The New Mutants' superhero horror film. 
Anya Taylor Joy's Net Worth & Perfume Deals
Anya has come a long way since doing an indie movie, and today she has appeared in a big-budget movie like The New Mutants, which falls under the popular Marvel franchises.
She is also the face of Viktor and Rolf Flowerbomb Midnight and Viktor & Rolf Flowerbomb Dew.
There's no doubt, Anya's net worth is increasing day by day; however, her exact verified net worth has not been published. 
Anya's Ring Mystery
Anya Taylor Joy is very meticulous about her dating life. She is said to be dating Irish actor Eoin Macken who is 13 years older than her.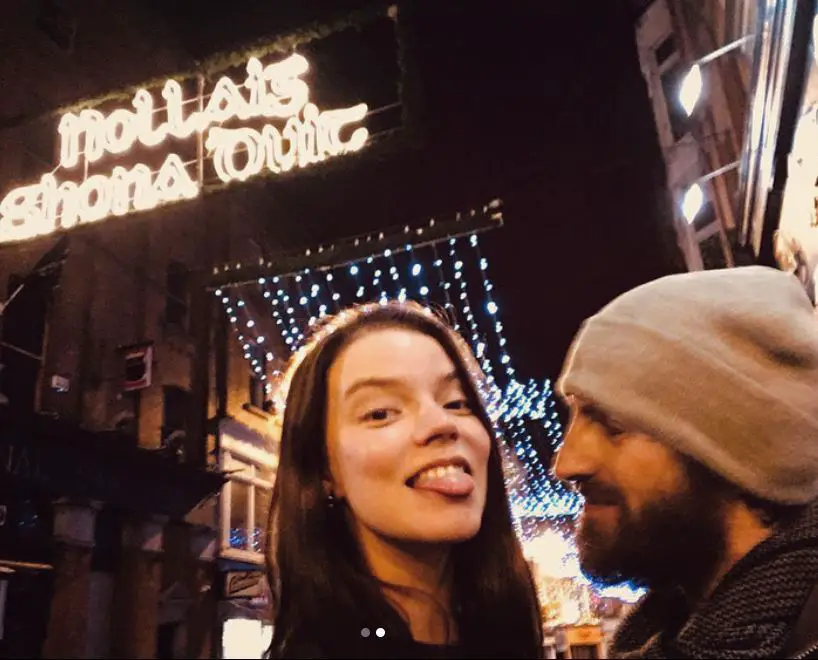 She is also said to be engaged to Eoin and is often seen flaunting a ring. However, her finger's ring is still a mystery, as it seems like she is a ring lover.
Anya is often seen wearing rings on all her fingers. On her 24th August 2018 Instagram video, she flaunted a ring on her ring finger. 
For now, neither Anya nor Eoin has openly talked on the matter; thus, about the engagement, let's wait for the revelation from the couple themselves.