Adam Gottschalk and Raven Gates are expecting their first child!
On July 25, 2021, the Bachelor couple posted a series of photos on Instagram that showed Adam carrying Raven as she held up ultrasound images.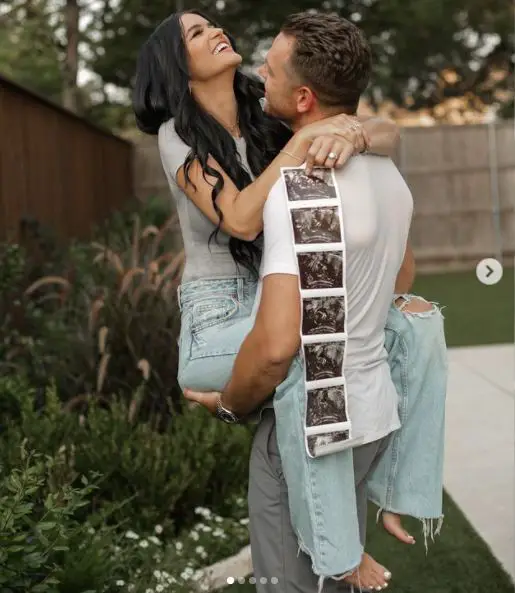 Raven captioned the post, "OVER THE MOON EXCITED TO SHARE THE NEWS! Our Honeymoon baby will be here in January!"
On the other hand, Adam captioned his post, "Beyond excited to announce our little baby into this world. Your Mom has already started to like Daddy's food groups and I think that's a great start. Cheers to fatherhood. Coming soon… January 2022"
Who is Adam Gottschalk? His Bio
Adam Gottschalk was born on April 19, 1990, under the zodiac sign of Aries. He was born to his parents, Bill and Patricia, in Dallas Texas. 
When it comes to siblings, Adam has two brothers. An interesting thing to note is that Adam and his brothers have all been football players at one point in their lives. 
Interesting Read: Who Is Susi Cahn? Wife Of Celebrity Chef Mario Batali
For his education, Adam went to the University of Arizona, where he studied Regional Development, Entrepreneurship, and Business Management. He graduated in 2012.
Adam Gottschalk's Job
Adam is a real estate agent by profession. According to his LinkedIn profile, his career started way back in 2009 as a co-owner of A Square Entertainment, LLC.
He was part of the company for two years as he booked musical artists, comedians, and entertainment personnel for shows and concerts, overseeing projects from "start to finish."
After that, Adam started working as an assistant of operations at the University of Arizona Football in November 2011. He contributed to The Milken Institute as an operations/event coordinator from July 2012 to July 2013.
Then, in August 2013, Adam joined Marcus and Millichap as a commercial agent, working there for two years as he left in September 2015. 
Peep This: Who Is Isabel Johnson From 'Love Island: Casa Amor?'
It was in September 2015 when Adam became part of STRIVE Real Estate as the vice president. He contributed as the Vice President until January 2020. Currently, he is a partner at STRIVE.
Adam Gottschalk and Raven Gates
The couple met and started dating during their time in "Bachelor in Paradise" in 2017. Even after the filming was done, their romance continued strongly. 
After two years of their relationship, Adam proposed to Raven in June 2019. Although they had planned to get married within a year, the pandemic led them to postpone their wedding three times.
Also Read: New Islanders Gabe Sadowsky On Love Island: Casa Amor Twist For Season 3
It was in April 2012 when Adam and Raven finally exchanged their wedding vows at The Olana in Dallas. The ceremony was attended by only 20 family members.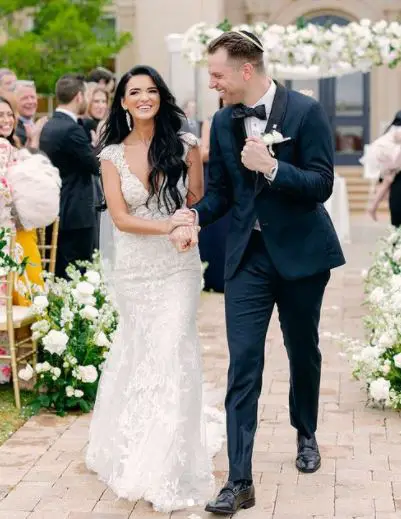 The couple is now waiting for their first baby together. Alongside the Instagram announcement, Raven also shared a video on her YouTube account that showed the duo reacting at the moment for the pregnancy test. 
Social Media
Adam is quite active on social media platforms, with more than 227K followers on Instagram under the username @adam_gottschalk. 
He is also active on Twitter where he tweets under the username @AdamJGottschalk