Tammy Kay Ly returned for the Season 7 of Bachelor in Paradise. She was in the process of taking over the world and if a man can't keep up, she wasn't afraid to leave them in the dust. She ended her last relationship by ghosting him.
In the article, learn more about Tammy below. 
Tammy On Bachelor In Paradise
When Tammy first arrived on the beach, she hit it off with Aaron Clancy and spent all of their time together Aaron feeling pretty secure in the relationship.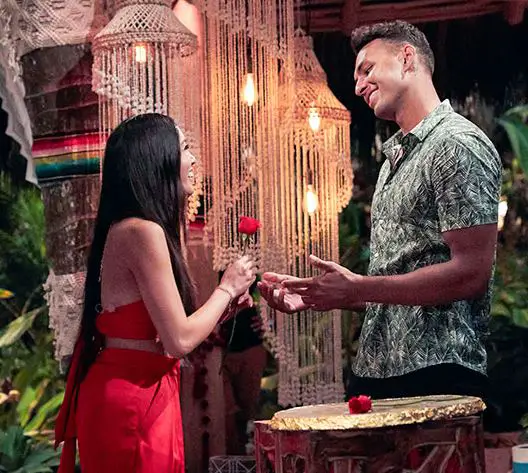 However, when Thomas, Aaron's sworn enemy walked onto the beach, things changed between Tammy and Aaron. She ended up making out with Thomas right in front of Aaron. 
Aaron told Tammy, 
"You've talked to him for one day, and you completely sacrificed everything we had built." 

"You will regret it like no other, I promise you. He's not a good person. He's not."
In episode 7, Tammy and Thomas were still together but the former Bachelorette Becca kufrin entered. She attended a VIP party with Thomas where Tammy was not invited. 
Before pursuing Thomas, Becca told Tammy that she was asking Thomas on a date. Tammy gave her blessing, despite hoping that Becca and Thomas didn't hit it off.
Don't Miss: Who Is Jamie Campbell? The Drag Queen Who Inspired "Everybody's Talking About Jamie"
Unfortunately for Tammy, Thomas and Becca's date went well, and shared a few kisses before the night ended. Tammy breaks down in tears knowing her fate on the rest of the show is unclear as she does not have a close connection. 
According to blogger Reality Steve, Tammy leaves the show after Thomas gives his rose to Becca.
Who Is Tammy Ly?
Tammy was born on 17th June 1995 in Syracuse, New York. 
She comes from a hardworking family that immigrated over to Syracuse during the Vietnam War.
She raised her younger sisters Jenn Ly and Kathy Ly after her parent's split up and since then she has been working. 
In an interview with BachelorNation.com, she shared that her mother neglected her and her father resented her. Until she turned 18, she did not know that patriarch was not her real father. 
Fast forward, Tammy made herself known personality with her hard work and also didn't hold any grudges against her parents.
She is now a business partner with her dad and he also helps her flip houses while her mother moves around. 
Tammy stands at a height of 5 feet 8 inches (1.72 meters). 
Also Read: Who Is Homestead Rescue Star Matt Raney's Wife Katie Raney?
Tammy considers herself a tomboy and doesn't relate well to the "blonde Barbie" types.
She is said to have an estimated net worth of $600K. She is a real estate agent, house flipper, real estate investor, insurance agent, model, actress, and part-time bartender. 
For education, she studied Business, Management, and Marketing at the State University of New York College from 2017 to 2019. 
In 2018, she was offered New York State Real Estate Salesperson License, and recently, she got her New York State Commercial Lines Insurance license.