Taylor Holder, 24, is TikTok's 159th most-followed user. On TikTok, he became famous for his hilarious lip-sync videos. His debut single, "Fallback," was released in August 2018. Tayler Holder is best known for playing Luke in the drama television series "Dirt" (2018) and the teen fantasy series "Total Eclipse" in the United States (2018).
However, after a number of high-profile influencers mass-unfollowed him in February 2022, he became the topic of controversy and speculation.
Let's find out what happened to the most-talked-about TikToker in this article. 
What Is Tayler Holder Drama?
In late January 2022, Tayler lost more than 40 high-profile TikTokers according to Internet commentator DefNoodles. His ex-girlfriend Charly Jordan, and TikTok stars Loren Grey and Bryce Hall were amongst the people who unfollowed him. 
Bryce Hall posted a cryptic image to his Instagram story saying "things about to get crazy." People believed that his message was directed towards Tayler. 
On 2nd February 2022, Tayler appeared on an episode of the "BFFs" podcast with Dave Portnoy and Josh Richards. There he talked about people unfollowing him; however, he did not disclose the reason behind it. 
Moreover, Dave Portnoy said, he was told there were "sexual misconduct allegations." 
Replying to his response, Tayler said,
"If it's something to that extent and that serious, I've dealt with people who went through stuff like that and it's something that I don't take lightly." 

He added, "I don't know why everyone runs to the internet, I think that it should definitely be something that's handled legally offline."
Per Insider, In a YouTube video posted on February 3, Hall said Holder had sent him a "cease and desist" letter. On February 4, Keem posted a purported screenshot of a cease and desist letter he said was sent to an unnamed "LA influencer" on behalf of Holder. 
Neither the law firm which appears to be associated with the letter nor representatives for Holder immediately responded to Insider's request for comment.
Who Is Tayler Holder?
Tayler Holder, who was born on August 19, 1997, will be 24 years old in 2021. He was born and raised in Alvarado, Texas, United States, in a middle-class Christian family.
His father is a businessman named Monte Holder, and his mother is Wendy Holder, who is also a well-known TikTok celebrity.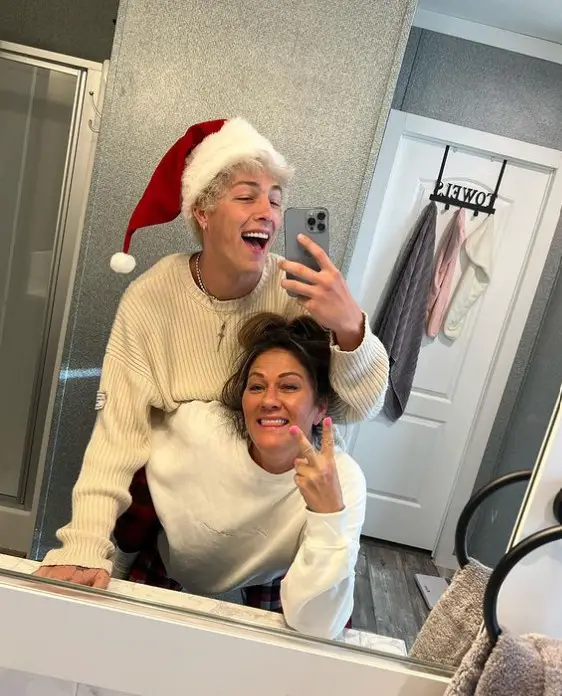 He only has one sibling, Trever Holder, who is also a well-known TikTok performer.
Furthermore, Tayler went to Carnegie Vanguard High School in Houston for his early education. Following that, he graduated from Loyola Marymount University in Los Angeles.
He had always been more interested in extracurricular activities since he was a child. He was particularly involved in sports. He began racing and competing in motocross at the age of three. He performed all over the world and met his followers. He's always aspired to be a major celebrity in the entertainment sector.
Tayer Dated  Charly Jordan
Tayler Holder and Charly Jordan's relationship had seen its ups and downs. Holder disclosed his courtship with Charly Jordan in a hush-hush Q&A video in October 2020, after parting ways with fit-influencer Sommer Ray in July of that year.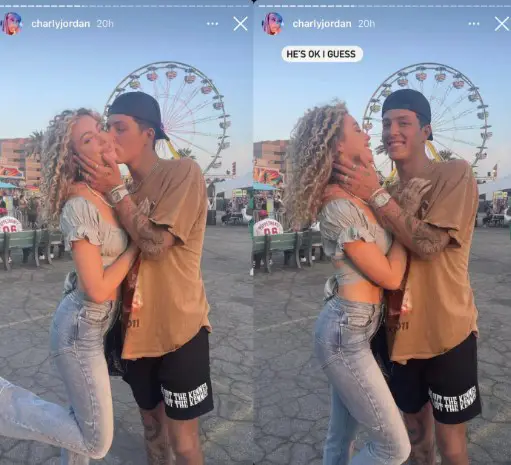 While things appeared to be going well on the surface, Holder and Jordan announced their split in March, while Holder was filming a reality show.
Jordan felt her side of the tale wasn't adequately portrayed in the show, while Holder argued that he'd given Charly many chances to be a part of it.
Tayler Relationship History
Tayler hasn't been hesitant about his relationships, as a handful of Holder's relationships played out in front of all of his fans. Furthermore, the current rumors say that the 23-year-old influencer is dating Sommer Ray, an American fitness model.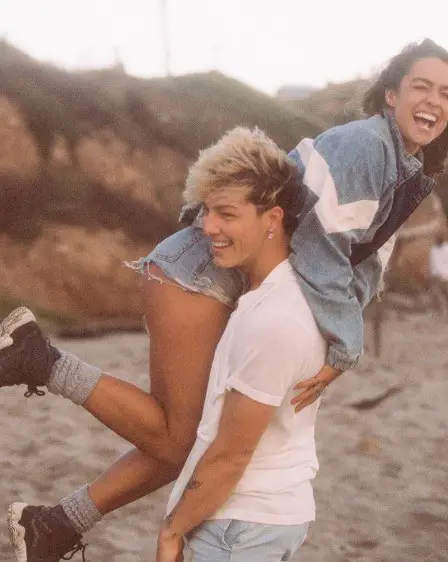 When asked about their relationship, however, they stated that they were merely friends.
Moreover, Tayler had been acquainted with Kelianne Stankus, an American gymnast, and dancer who recently become a TikTok content creator, for years.
Many of Tayler and Kelianne's followers have long felt that their connection is based on a closer bond than the two are willing to admit, despite their claims to be excellent friends.
Also Read: Facts On American Model Lucky Blue Smith | Also Find His Age, Height, Net Worth, Wife, Married, Kids
Tayler and Kelianne kissed in front of the camera in a 2017 video that went viral, but it appeared to be nothing more than a publicity gimmick. They remained friends after the video was released, but three years later, in 2020, they elaborated on the stunt in a video. This time, they pretended to be in a relationship, but Kelianne claims there was more to it than simply a ruse.
Kelianne confessed that they kept their relationship a secret, but that it began as a friendship.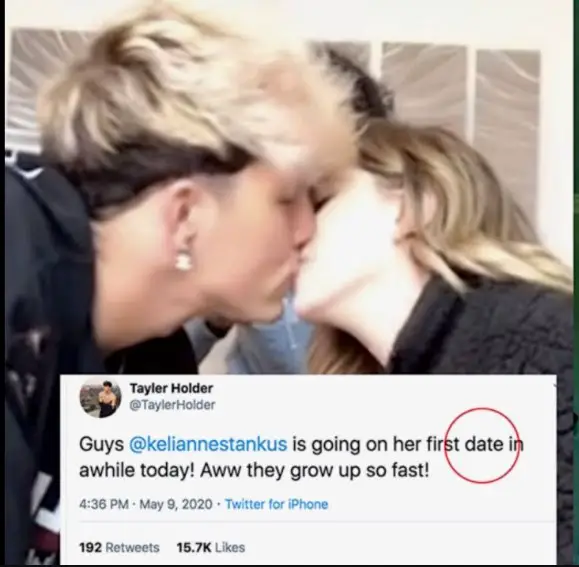 Stankus added that their relationship ended bitterly because they began seeing other people, but that it was for the better, according to her. She said that the connection was exceedingly perplexing, if not toxic and that it would have ended sooner or later, with Kelianne appearing to be relieved that it did.
Tayler and Kelianne appear to have put their differences aside and re-established a strong friendship since their breakup. Both have now moved on to new relationships.