According to her Instagram bio @mariartravel, Maria Travel is a cosmetic artist and beauty influencer who has a show on the French television channel W9. She also says she is a health and rejuvenation consultant. On her second Instagram account, which is for cosmetic activities, she shows her clients how to tighten their faces without surgery or injections.
A video of IU getting shoved on the red carpet by a French influencer has gone viral. On May 27th, the video was shot on the red carpet of the 75th Cannes Film Festival. In the footage, a woman is seen bumping into IU. The woman walked away as if nothing had happened, without even offering IU an explanation, which infuriated fans. IU smiled and handled herself well after the occurrence.
The woman was identified by netizens as Maria Travel who is a French influencer who recently talked about how she feels about what happened.
The influencer later apologized to IU and her followers, saying she made a mistake and didn't mean what she said. Maria explains how she came to be a cosmetics artist in Cannes. She described it as a magical place where her fantasies came true, and she confessed that this was her first trip to Can without knowing anyone and with very little money.
She continued, saying,
"I wanted so much to work as a professional makeup artist for the stars but it was very difficult without contacts and experience."
Her first major break came when she was requested to create a beautiful look for a Russian actress and a picture shoot with the famous Victoria Bonya. She has been working as a cosmetic artist at the festival since then, which is why she was on the red carpet for the can.
"I'm not good at English, but I will do my best to speak. I want to apologize for what happened on the red carpet today." The influencer added, "I want to apologize to actress Lee Ji-Eun. It was my mistake to hit her. I sincerely apologize." She went on to tag IU's Instagram handle (@dlwlrma) on the story and captioned the post with, "I am really sorry for what happened at the Red Carpet today."
Maria also posted a picture of her direct message she sent to IU, in which she professed her regret, but fans aren't buying it. They think she's being fake because she didn't apologize right after and the video is only available for 24 hours.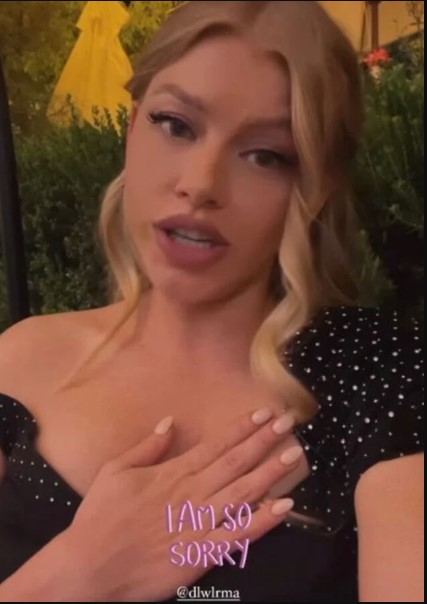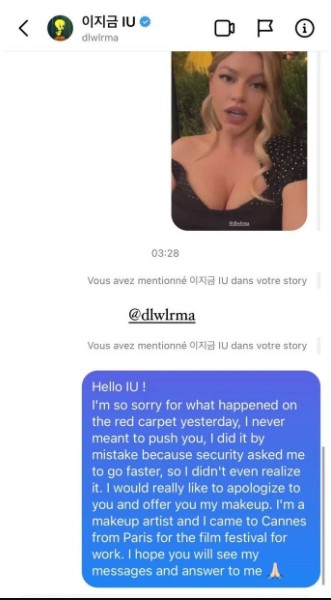 On one of her Instagram pictures, the influencer continues to receive nasty comments, one of which reads:
"What you did shows that you think you are more important than other people. You have no respect, you have no class, who do you think you are?" Another fan wrote, "You made a big mistake lady. You have to reflect on yourself."