Brooke Lehman, 21, a TikTok personality, model, and actress is a mother of Addison and Avaleigh. She created a buzz on TikTok with her heavy claims of being a "virgin" regardless of having given birth to two kids. 
Lehman uploaded a video calling herself and her partner a "virgin couple" regardless of having given birth to two kids. 
Her assertions dig some ground and got her pampered with questions. 
Let's find in detail what Brooke has said about the subject.
Brooke Lehman Comment On Pregnancy
The popular designer caused a commotion on TikTok earlier in the year when she claimed her fiance and her were a virgin pair despite having two children.
Brooke has amassed a sizable following on Instagram, with over 197,000 followers and 11 million likes. She is the mother of two lovely girls, Addison and Avaleigh, with who she stays at home.
Read More: TikTok Star Sienna Mae Gomez Denies Jack Wright's Sexual Assault Claims!
Brooke became pregnant in 2018 and gave birth to her first child, Addison Marie, with fiance Coby Meek. As of 2022, Brooke's daughter Addison is said to be three years old. Avaleigh Cade, the couple's second daughter, was born in 2021 and is barely 6 months old.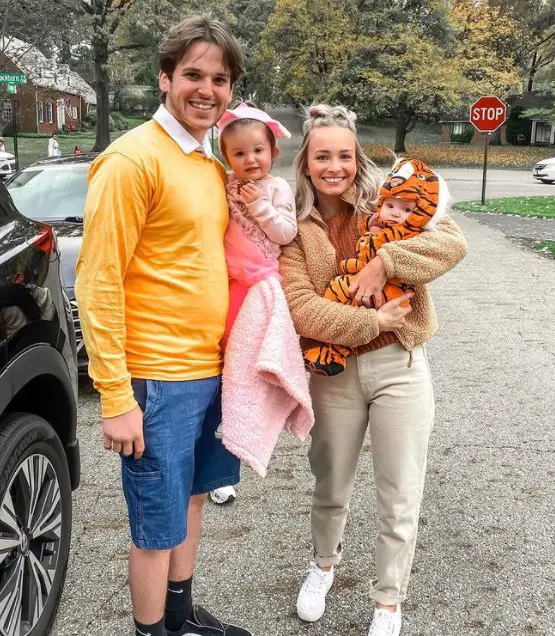 Brooke's films mostly concentrate upon parenthood and her experiences as a young mother. Despite being a young mother, Brooke appears to be a good mother to her daughters.
Brooke & Her Fiance A Virgin Parents?
Brooke claimed that she and her husband are both "virgin parents" in one of her videos. She drew a lot of criticism from her supporters.
She has continued to make the same assertions in her follow-up videos after the video went viral. Brooke claims she got pregnant both times just by sitting on her fiance's lap.
To play along, her supporters dubbed it nuance and added their strange assumptions. Brooke's fans remarked that it resembled a "Quinn and Finn" scene from Glee. Quinn falls pregnant with Puck's child while in a relationship with Finn, so she fabricates a ridiculous story, knowing that Finn would consume it whole, which he does.
Check Out: Who Is Amy Louise Wilson? "Redeeming Love" Star's Wiki, Age, And Relationship Details
Some fans requested "storytime," while others speculated that it could be accomplished through artificial insemination.
In response to people who said, "people who said you can't be a virgin and get pregnant," Brooke posted a video where she can be dancing with her daughter and singing  "I am out here living though."
However, everyone knows you can't get pregnant by sitting on someone's lap.
Engaged Or Married?
Brooke is engaged to Coby Meek, the father of her children, with whom she is preparing to marry. Coby, like his fiancee Brooke, is on Tiktok, though he is only sporadically active there.
The couple hasn't revealed how they met or how long they dated before getting engaged. 
Peek Inside: Where Is Holly Willoughby? Her Absence From ITV's "This Morning" Sparks Curiosity
Coby often features on Brooke's TikTok video and is recently residing in Ohio with their two daughters. 
Social Media Of Brooke Lehman
Brooke has a large following on Tiktok, with over 198.8K followers and 11.1 million likes. She also has a large following on Instagram, with over 5508 followers. 
Brooke started on YouTube in 2018 and already has 4.48K followers. Brookeeleman, a Tiktoker, also has her webpage.