TikTok Star Sienna Mae Gomez was accused of sexually assaulting Jack Wright. The video which was released on Friday showed Gomez straddling, groping, and kissing Wright while he was incapacitated.
18-year-old influencer Jack Wright posted a 17-minute-long YouTube video titled "What Sienna Mae Did To Me" on 20th January 2021. In a video, he detailed a string of alleged assaults by his former friend and online collaborator Gomez. 
Wright accused Sienna of four instances of assault, including one in Hawaii that was caught on video in May 2021.
Jack claimed, 
'The Hawaii incident happened where I was passed out, unconscious almost like the whole night. She got on top of me, took advantage of me, groped me.'
On 3rd June 2021, Lachlan Hannemann posted a video saying he was the friend of Jack that pulled Sienna Mae off Jack while condemning her behavior. Shortly thereafter, the video was no longer available to view on Hannemann's account.
Jack further added, 
"She would constantly come to my house, remembering my door codes. It got to the point where I was screaming at her to get out of my house, because she was like, breaking into my house."

"I would wake up and see her car sitting outside at 2 in the morning. She would break into my house, and, when I was sound asleep, she would come to my room, and I would wake up to her hand in my pants. It wasn't the only time it happened, too. I was just so used to it."
Gomez, 18, denied the allegations calling the claims 'fictitious' and an 'act of slander'. Sienna claimed her relationship with Jack was "consensual and cordial" and even blasted him for 'slut shaming her.
Jack cited another alleged incident at a party claiming Sienna allegedly picked the lock on his door and walked into the restroom while he was in the shower. 
After Sienna faced the accusation she lost upwards of 300,000 followers on TikTok, denting her massive current TikTok following of 14.1 million. 
However, Sienna denied the accusation in a statement provided to Yahoo. Moreover, Sienna alleged that past videos were "removed because of untruths." 
Her agent specifically denied the claims and called the accusation a "calculated action to hinder, hurt and harm not only Sienna's reputation and livelihood, but her as an individual human being as well.
The statement further added,
"Not only are these attacks baseless and false, but the release of his most recent video is also indicative of the public narrative that Jack and some of his friends hope to use as a crutch to further their lies."
"Jack and his collaborators have attempted to utilize blatant slut shaming culture to justify their fictitious claims and have effectively victimized a successful woman of color in a way that, regrettably, we have seen many times before, all to use her suffering as a catalyst for their gain. Those who have collaborated, in this act of slander, did so with the motivation to further associate themselves with Sienna after their professional relationship, and therefore their claim to any portion of her substantial success was terminated."
Sienna Mae Gomez Returns To Social Media
Sienna Mae has returned to social media, and netizens are not pleased. Mae had been accused of sexual assault by a colleague, Jack Wright, and she had deserted social media after receiving a lot of backlash.
The TikToker announced her return on her social media channels with a video. The following are the captions for the video: "I hope they cancel me."
The purpose of the film appears to be to mock cancel culture and internet haters.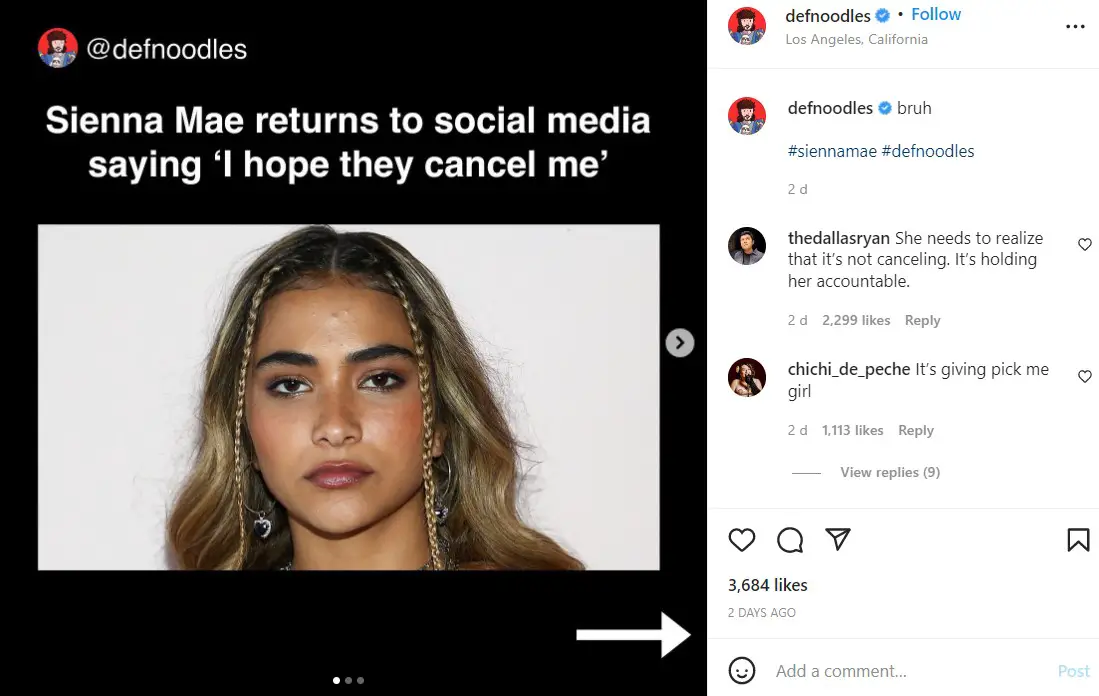 Mae was seen relaxing on a beach in the video. She used Dominic Fike's song Cancel Me as the video's background score. She lip-synced to the song on occasion, which has the lyrics:
I hope they cancel me, So I can go be with my family, So I can quit wearin' this mask, Tell the people, "Kiss my a*s"
 "This video is brought to you by Cancel Culture," says the text at the beginning of the 56-second video.
Mae's supporters were overjoyed to see her back after a five-month hiatus, but internet users swiftly pointed out that they had good reason to cancel her. Because the content creator's comments section was limited, users expressed their opinions on other social media channels such as Twitter.
sienna mae is a vile human, you didnt get "canceled" u literally commited a crime. — Soleil ☻ Got Soundcheck?? (@hyunepuppy) May 29, 2022
Sienna Mae making a joke out of being cancelled when she literally SA'd someone infuriates me so much. — ariss hadid (@juliettcarter) May 29, 2022
the audacity sienna mae has… — irene🦋✨ (@itssyogirlirene) May 28, 2022
sienna mae posting on tiktok making fun of being canceled and showing how "unbothered" she is as if she didn't sa someone like..you crazy girl — eris (@ticassss) May 28, 2022