Rob France and his longtime husband, Tan France are parents now! 
In August 2021, Tan announced the news on his Instagram as he happily informed about the arrival of their first child, Ismail France, via surrogacy in July. They only brought the newborn baby home from the hospital on August 2.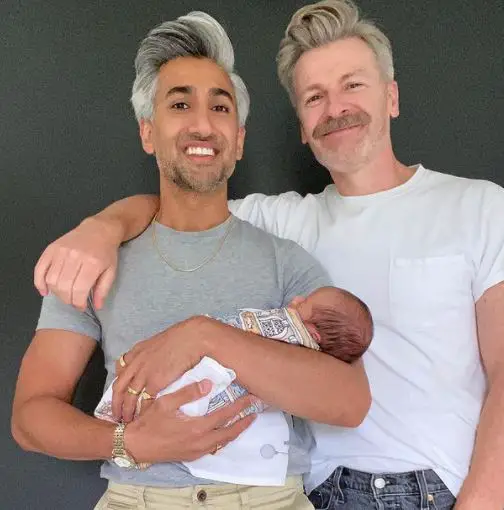 The picture showed the couple as they held their son and the caption read, "Give our son a warm welcome. Ismail France, born July 10th. He came 7 weeks early, so he's been in the NICU for the past 3 weeks. But, today, we finally got to bring him home. We love him so, so much. Like, fully obsessed."
Tan also addressed their surrogate, "Our Surrogate is doing so great, post labor, and we couldn't be more grateful for the greatest gift in our lives."
While Tan has been very open about his relationship with his husband and their life events, there is not much that people actually know about Rob France himself. 
So, let's get to know more about Rob through this article.
Who is Rob France? 
Rob France was born in Wyoming, the US. He has lived most of his life in Utah, mostly Salt Lake City.
Interesting Read: Who Is Anna Kane? Details On Evander Kane's Wife's Accusations Against The NHL Star
Rob is a self-taught freelance illustrator, who makes a living out of selling his unique pieces of art.
"I'm a freelance illustrator (self-taught, so it's all kind of experimental). I specialize in figure illustrations and the occasional abstract portrait. I love illustration so much. I pour my heart and soul into each piece, infusing emotion into each piece...which is the main reason I don't produce prints or replicas. Each piece is sold as a unique, exclusive original." - Rob France's introduction on his website
Before falling into the world of art, Rob was actually in the medical field. In a 2015 interview with City Weekly, the illustrator revealed that he was a pediatric nurse who touched art on the side. 
Rob France's Relationship with Tan France
An interview with the New York Post revealed that Rob and Tan met on a dating website in 2008. 
They hit it off right away as they shared similar values. Tan revealed that religion played a huge role in their companionship, "It made it easier to date somebody who had similarities to me. I don't smoke...We practice some of our religions' practices. We don't practice them all. We practice what works for us."
Rob and Tan soon got engaged, though there wasn't an actual proposal. Tan talked about their unique engagement on the second episode of Season 2 of "Queer Eye." 
Peep This: KTVN News Kenna Scott And Lorenzo Lama Are Engaged!
"You know there wasn't an actual proposal. It was a case of, 'we're going to get married one day, right?' 'Yeah, of course we are,'" Tan revealed to his cast members. "We just had agreed it was going to happen one day and then we arranged the date." (this is so cute)
Now, the two are already parents with their lovely son.