A new season of Survivor is back with its new cast! The cast this time, however, won't be able to use the previous seasons as a guide, following new changes among the show. 
According to host Jeff Probst, this season of Survivor will be a bit different, with a "game within the game" element that is "an interactive experience for junior, future Survivor players" who are expected to "spot and solve rebus puzzles hidden within each episode."
Season 41 has already got the viewers hyped up with its change and the competitors! Among the 18 participants with diverse backgrounds is former NFL player Danny McCray. Let's get to know Danny a bit more.
Danny McCray's Bio, Parents
Danny McCray was born on March 10, 1988, under the zodiac sign of Pisces. He was born to Roger Wayne Harris and LaQuita McCray-Harris in Houston, Texas, United States.
Interesting Read: Netflix's Titletown High - Everything About Grayson Leavy And His Relationship With Zoey Watson
During his time while attending Westfield High School, Danny helped the football team to a second-place finish at the Class 5A state championship in 2004. As a senior, he went on to earn first-team all-district honors in 2005.
After that, Danny played at Louisiana State University where he mostly contributed in special teams and as a backup at both safety and linebacker.
Danny McCray Married, Wife
Danny McCray is married to his wife, Kiki McCray, a psychotherapist. The two got married in April 2019.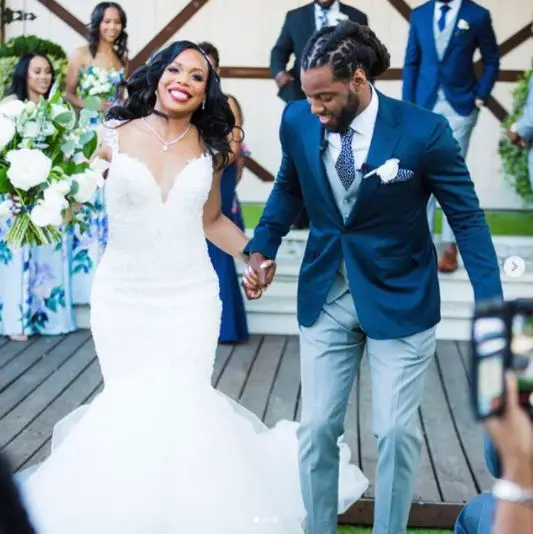 The husband-wife duo welcomed their first child, daughter Zoë Ann McCray, in September 2020.
The first time they announced that they were expecting a child was in May 2020 when Kiki posted her ultrasound video on Instagram. 
Peep This: Zoe Sugg And Alfie Deyes Have Welcomed Their Baby Daughter!! "Meet Ottilie Rue Deyes"
The caption read, "IT'S A GIRL! Zoë Ann McCray (heart emoji) It took me a while to process because I was convinced I was having a boy, but I'm officially going to be a #girlmom & I'm finally excited."
Danny often shares moments of him and his family together, on his Instagram. And, from the looks of it, it would not be difficult to assume that his little daughter has already got him wrapped around her finger. 
His Career: Dallas Cowboys and Chicago Bears
It was in 2010 when Danny was first signed by Dallas Cowboys as an undrafted free agent, following the recommendation of special teams coach Joe DeCamillis.
Danny was assigned uniform number 40, previously worn by Bill Bates. As a rookie, Danny had 28 special teams tackles, the third-most in the history of the team since 1988 and the most by a Cowboys player since Jim Schwantz's team record of 32 in 1996.
The next year, Danny once again led the team in special teams tackles (19) and became the first Cowboys player to do it consecutively, since Bill Bates in 1989-1990.
Two seasons of playing in defense as a hybrid linebacker and safety, he got his first career start at strong safety against the Chicago Bears in 2012. He started 10 games and finished second on the team in tackles (87), but as the season went on, Danny faced trouble in pass coverage, leading his special teams-play to drop to second in tackles (18). He then lost his starting position and played time in the final two games of the season.
While You're Here: Who Is American Basketball Player PJ Washington's Ex-Wife Brittany Renner?
In 2013, the Cowboys improved their depth at safety and Danny accepted a reduced salary to remain in the team and avoid being waived. 
In March 2014, Danny signed a one-year contract with the Chicago Bears where he reunited with special teams assistant Joe DeCamillis. He ranked fourth on the team following 10 special teams tackles; his best game was against the New York Jets when he had 10 tackles on defense.
On May 14, 2015, Danny found himself back to the Dallas Cowboys when he was signed to replace special teams player C. J. Spillman. After posting 4 special teams tackles, Danny was not re-signed after the season.