Toby Aromolaran is swapping the football pitch for the show Love Island. As the show is about to start after the long haul due to the pandemic, the full line-up of Love Island 2021 contestants is revealed. 
Amongst the names, Toby Aromolaran, 22, a semi-professional soccer player, is revealed as one of them. So, let's stay tuned to find out if Toby will be able to score during his journey in the villa. But for now, here is all the wiki on Aromolaran we know about!
Why did Toby Join Love Island?
A week before Love Island Season 7 premiered, Toby Aromolaran was announced as one of the contestants. With the release of the show's premiere, fans' excitement level has increased. The showrunners also released some details about the participants. 
Toby describes himself as a fun-loving and responsible guy, and his friends and family describe him as an optimistic guy. 
"I always see the bright side in the worst situations. I'm a fun guy when I go on a night out. Responsible guy as well."
Aromolaran said that he came to Love island to find a good match for him. 
"I've never been in a relationship. So I thought, 'If Love Island can't find me a relationship then no one can'."
Ideal Type Of Partner
Toby described his ideal girlfriend to be cute with nice feet. He also mentioned that he does not have a foot fetish but would appreciate nice feet. However, he doesn't like girls walking barefoot at the club. 
"Looks-wise, I'm a sucker for a cute face. Nice feet. That's a deal-breaker for me. I don't have a foot fetish, but I appreciate nice feet!

"I think you can judge someone by their feet. Girls who walk around at the club with no shoes on, that's one of my hates."
Hopefully, Toby finds the girl he is looking for in the show. 
Facts On Toby Aromolaran
Toby was born on 4th March 1999 in Essex to parents of different ethnicities and cultural backgrounds. His mother is a white British woman, and his father Adebisi Aromolaran, a Nigerian from Ilesha who later migrated to England. 
More about his family, he has two siblings, a younger brother, and a sister. 
Toby stands tall at the height of 5 feet 11 inches (1.80 meters). He has dark hair, brown eyes, and a muscular body. 
As he was announced as one of the Love Island contestants, his popularity is widely increasing on social media. On his Instagram account, he has reached 16.9K followers, and with the running time, he will gain more followers. Meanwhile, on his Twitter account, he has almost 1K followers and 72.5K followers on his TikTok channel. 
Check Out: Who Is Lisa Miles? Know More About Kris Jenner's Friend Of 42 Years!
Moving towards his professional life, he is a semi-professional soccer player in England. Recently, he played for Hashtag United, a social media football team formed by Youtube Spencer Owen in 2016.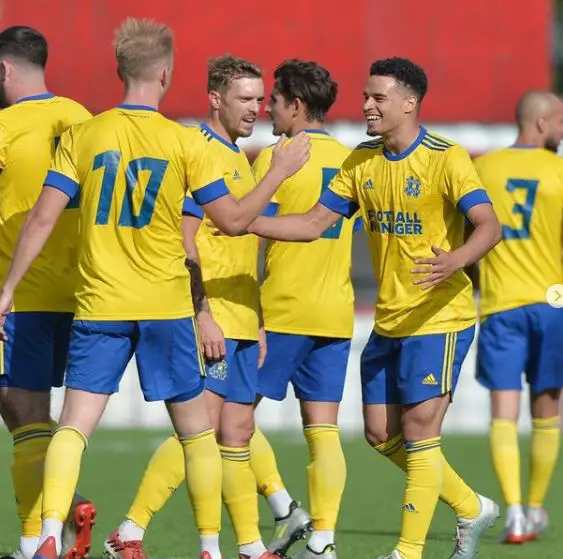 Previously, he also played for several soccer teams Witham Town, Coalville Town, Tilbury, and Loughborough University. Toby said that even after Love Island, he would continue playing football.
As a member of Hashtag United, the club respected his choice of joining Love Island and supported him. Some sources claimed that Toby's per-game wage is around £500, and his net worth is estimated to be around $100K.