Recently, Elijah Hewson and Olivia Rodrigo's dating rumor surfaced around the internet. Elijah Hewson is most well-known as a rock singer. He was born to Irish singer-songwriter Bono and Irish campaigner and businesswoman Alison Hewson. 
His father is the well-known U2 rock band's main singer and key lyricist. Despite being Bono's son, Elijah Hewson is building a successful music career on his own with the band Inhaler.
Moreover, actress and singer Olivia Isabel Rodrigo hails from the United States. With her leading performances in the Disney television series Bizaardvark and High School Musical: The Musical: The Series, she rose to prominence in the late 2010s.
Well, moving on is Elijah and Olivia romantically linked? Let's find out if the rumors are true or not.
Elijah & Olivia Dating Rumor 
The rumor of the couple dating sparked after DeuxMoi claimed that Olivia Rodrigo was seeing someone who is not from the US. The account also claimed that the couple met at Emmy Awards and bonded soon after. 
However, the dating rumor of Elijah and Olivia might not be legit as DeuxMoi only made verification per someone who dm them.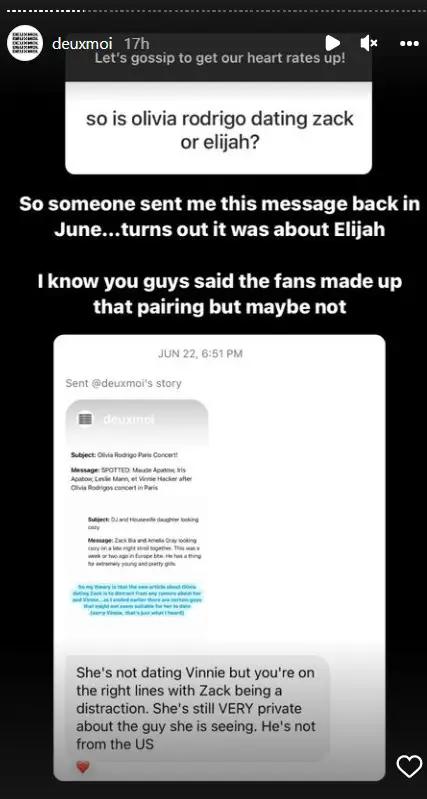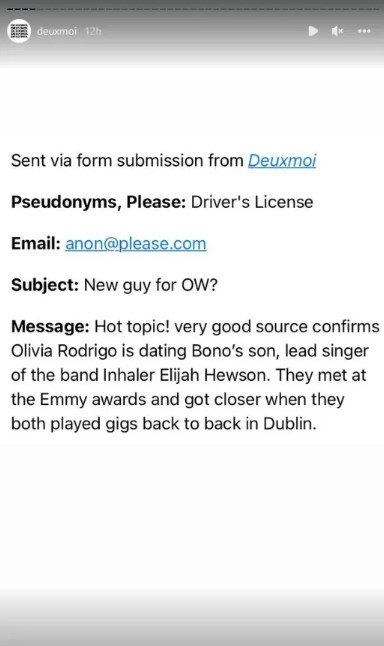 In addition, without the legit proof, and without confirmation from both parties, we cannot tag Elijah and Olivia as a couple. 
Olivia Rodrigo's Dating History
Despite being the queen of breakup songs for this generation, Olivia Rodrigo doesn't kiss and tell. Rodrigo takes comfort in using heartbreak as inspiration for lyrics, much like her musical idol Taylor Swift.
Although the "Traitor" singer isn't averse to getting brutally honest and open, her music is where she draws the line. Her heavily touted romance with Joshua Bassett, co-star of "High School Musical: The Musical: The Series," has never been confirmed by Rodrigo.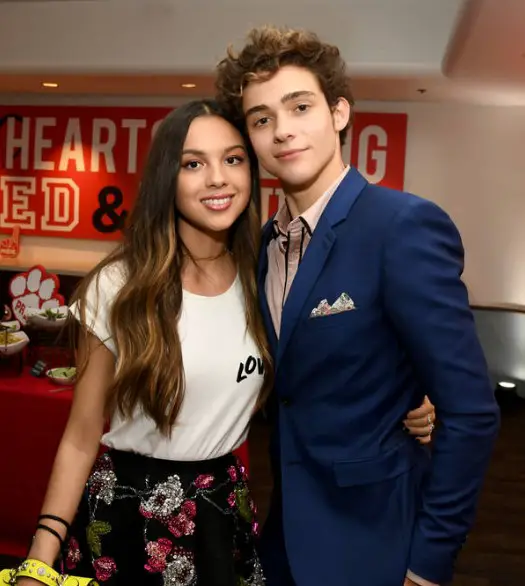 She appears to be sincerely enjoying herself while a teen star at the top of the charts. 
Olivia was rumored to be dating Conan Grey. Some viewers were misled into thinking that Conan Gray and Olivia had more going on than just a lovely friendship, but that's not the case!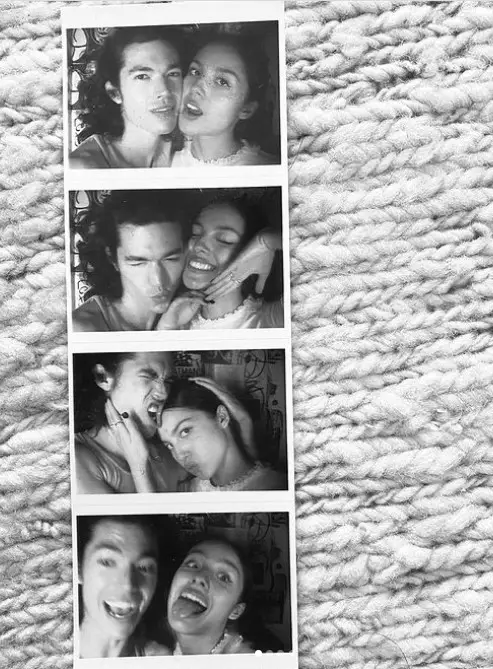 Despite persistent rumors, it is generally accepted that the two are merely friends and collaborators. Later, Olivia started dating her co-star in Bizaardvark, Ethan Wacker after they collaborated on the Disney Channel program.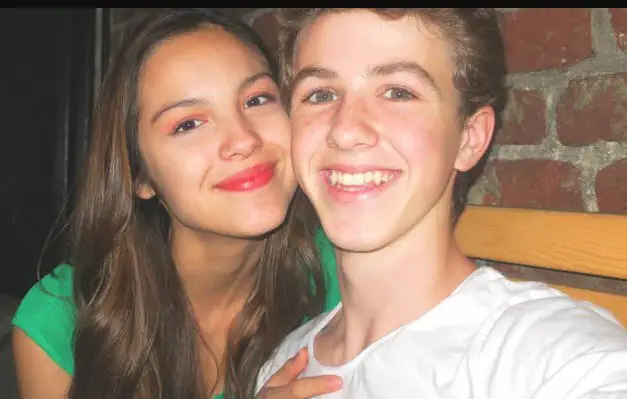 They first met when the series premiered in 2016, but things seem to have taken a love turn in 2018 — they even went on vacation together — and after six months, they made their relationship public.
They supposedly dated for less than a year before splitting up, but to this day neither side has spoken about it, and only a few PDA pictures are still on each other's Instagram accounts.
The rumors that Olivia had been dating music producer Adam Faze "for a few months" started to circulate over the summer of 2021.
The duo reportedly introduced Adam as "her boyfriend" at the Space Jam 2 premiere party on June 30. This gave the impression that the couple was engaged.
They may also be seen in a fan's video from this summer holding hands and maintaining a tight gaze.
Late in November, Page Six obtained images of the couple cuddling and seeming very in love. On a day out in Los Angeles, the attractive couple piled on the PDA while their lips were locked.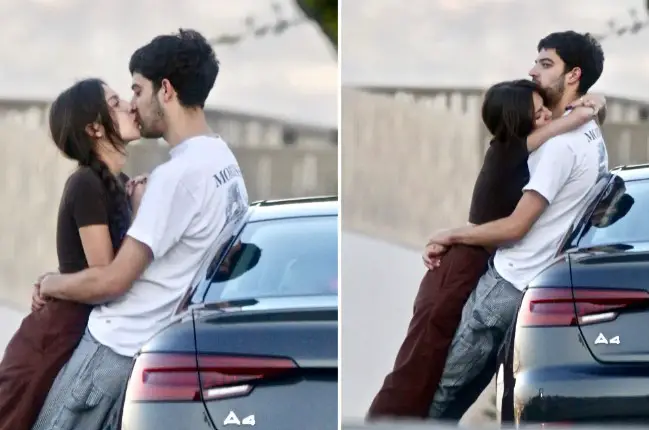 But only seven months after they were first photographed together, in February 2022, rumors of their breakup began to spread.
Olivia then after was rumored to be dating Vinnie Hacker; however, they turned out to be only pals. 
Moreover, Olivia was also rumored to be in a relationship with Zack Bia and actor Sebastian Croft. None of the news has been confirmed yet; however, Olivia was spotted with Zack at the Super Bowl.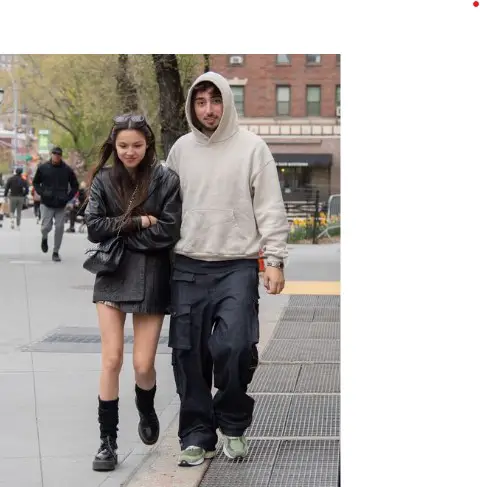 Olivia's Surprise Appearance With Joshua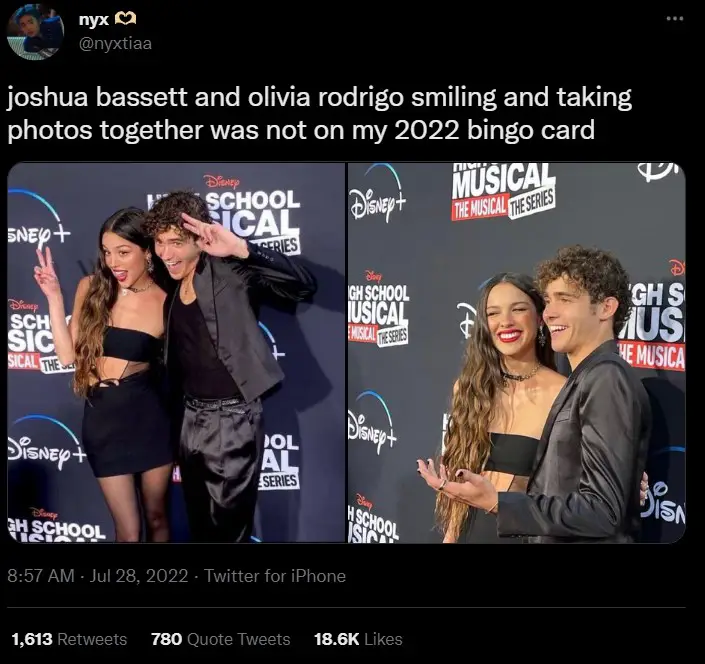 I didn't have Olivia Rodrigo and Joshua Bassett laughing and taking pictures together on my 2022 bingo card.
At the High School Musical: The Musical: The Series premiere on Wednesday night (July 27), when the suspected ex-couple posed for photos together, Olivia Rodrigo and Joshua Bassett looked content and healthy.
The Grammy Award winner, 19, looked stunning in a cutout black dress, tights, and big heels. A choker and red lipstick finished off her edgy ensemble.
The actor, who was 21 years old, matched his black suit and nails.
In pictures, the former couple seemed cordial. Along with smiling, the pair also extended their tongues and made the peace sign.
Fans of the on-screen lovers instantly expressed their shock on Twitter.
"Never in a million f–king years would i have predicted an olivia rodrigo and joshua bassett pic together," one social media user tweeted.

"Not going to lie… olivia rodrigo and joshua basset breathing the same air in 2022 is kinda iconic," another added.
Rodrigo had not "talked to" Bassett since the release of her debut single, "Drivers License," in January of that same year, according to a statement she made to GQ in December 2021. (It is popularly believed that the song is about him.)